TISSNET Preparation

Tips
February is the month which is very important for an aspirant of TISS, it is the month when the first stage of the exam and the test of a yearlong preparation is conducted. A lot of hustle bustle around test series, admit cards, centres and most importantly the perfect strategy to clear the written test. As it is said by many people before and will be said by many after me, there is no perfect strategy for anything, rather you should test and choose what suits you best. So here I am presenting a few important TISSNET preparation tips.
Before directly jumping to the strategy let's see a small introduction of the exam. TISSNET is the written preliminary exam conducted by Tata Institute of Social Sciences to select students for its 52 courses and three campuses. The exam is an online multiple choice test which is held throughout the country at different centres. It has three sections English, Mathematics & Logical Reasoning and General Awareness. Total there are 100 questions to attend and there is no negative marking. You can go through the website for details.
Get TISS Course 2024 by iQuanta
I have divided my strategy in two parts one is about studying which will include material and how to utilise the material in best possible manner. When it comes to studying the general practices of making a time table, revising the content again and again, making notes where possible, preparing a formula sheet etc will be dealt by me. The second part is about practice which include test series and their importance.
TISSNET Preparation Tips : Previous Year

Papers
Starting with TISSNET previous year papers, as the exam has no defined syllabus it is very important to analyse the past year papers to draw some contours of syllabus. Now analysis here means a through solution of past 5 year papers. It will help in developing the conceptual base of mathematics and English and at the same the recent two years papers will present an idea about the pattern of general awareness paper. One should attentively note down the formulae used in mathematics questions and consider it as the main formula sheet for all further practices.
TISSSNET Tips For

English, Math and Reasoning
Talking about books for English and Mathematics & Reasoning, I mostly relied on my CAT preparation. Now again the question is what material to choose, see it does matter. Take a relevant TISSNET material for a structured preparation and prepare for the exam.
TISSNET

General Awareness

Tips
Moving ahead with general awareness part, general awareness can be divided into two parts one deals with static knowledge and other with current affairs. My previous year paper analysis told me that the exam has a lot of weightage to current affairs and there are hardly questions from static part. For current affairs I went with a strategy of trusting one single source and following it diligently. I used to follow affairs cloud for daily current affairs and accordingly used to make notes. Talking about static GK, my UPSC background provided me a bit of help here. However I still revised my concepts by lucent GK which is very precise and useful for static part. My personal advice stick to current affairs and do static GK at the end or give less time to static GK and more to current affairs.
Key

Preparation Tips For TISSNET
Now some techniques to improve your efficiency, first would be making a time table. The time table should be divided in two parts one for long term for example 2 months or three months in advance where as other should deal with daily schedule. Now or how long you should prepare for TISSNET a basic 6 months preparation should be enough to clear the exam that is what worked for me.
Another technique is peer learning or group study, there are many people preparing for TISSNET and many informal groups are there on telegram, one can become part of a smaller group or ask people to join a smaller group where regular discussions or practice can help in improving the knowledge. Another important aspect of group study is regular motivation as everyone cannot be low on motivation same day so one or other person is always taking charge and motivating people.
Utilising TISSNET

Mock

Tests
Now talking about test series, they played an important role in my preparation as it is easy to attempt a test than sitting and revising some content it's not like I didn't revise but I was always motivated to solve a test. So solving a test should go beyond answering and looking at the score. AA serious attempt of your test can take more than 4 hours. First is to attempt the test. While attempting the test I used to mark my answers in three categories confident, 50-50 and blind guess. After answering I used to check how many confidents I am getting wrong because they will highlight if there is any lack of conceptual clarity. 50-50 is added to the knowledge base making sure that if repeated they should be marked as confident. Blind guesses are checked how many I got right because there will always be questions that I am unaware of so they were least of my worries.
After analysis of the test comes noting down whatever is important from the test and revising it before every test so these are called test notes that are really important. Talking about which test series should be taken. Again take any test series they are all same, have faith and choose any of them without pestering too much about it. I took Prateek Prasoon test series for my preparation.
Preparing for Emotional Upheaval
Lastly dealing with emotional aspects, I think there are always ups and downs in a preparation what helps is a healthy schedule. I remember every morning I used to revise the content of previous test now one can feel exhausted not motivated and stressed about the exam however in morning when I used to wake up if I am not studying I don't have anything else to do so either I will take a walk or do nothing that will make me feel bored because my brain has a habit of cramming in the morning. So deal with these things in whatever way possible at the end if you put hard work in this preparation you will see the results.
TISSNET Preparation :

Key Points

to Remember
Analyse Previous year papers
Make a proper schedule
Follow one source
Revise multiple times
Utilise mock tests to increase efficiency and effectiveness.
All the very best!
iQuanta's TISSNET 2023 preparation batch launched.. Visit www.iQuanta.in/mba Check out the course details down below: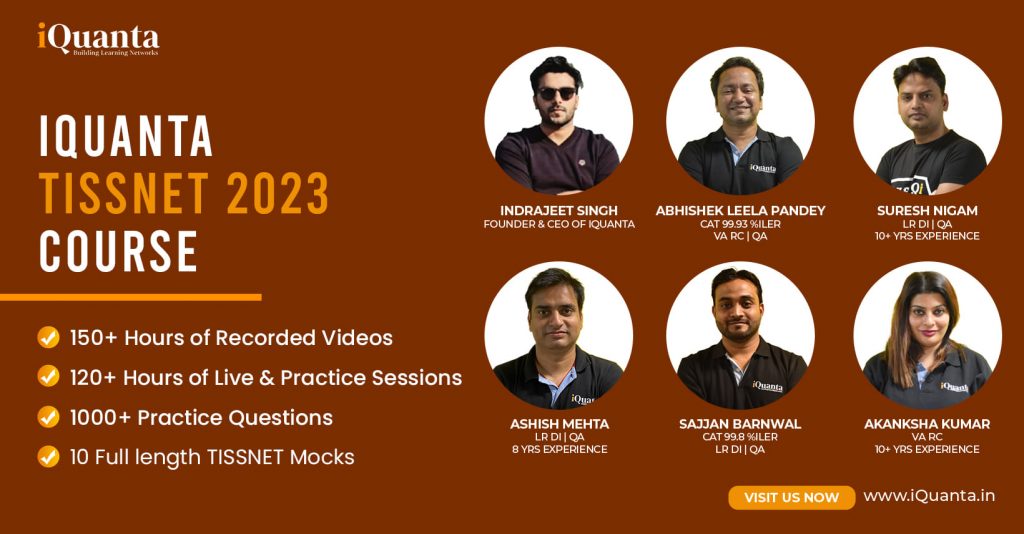 You can also join our MBA preparation group to engage with other aspirants, 24*7 doubts solving, and counselling support! Click on the banner below: