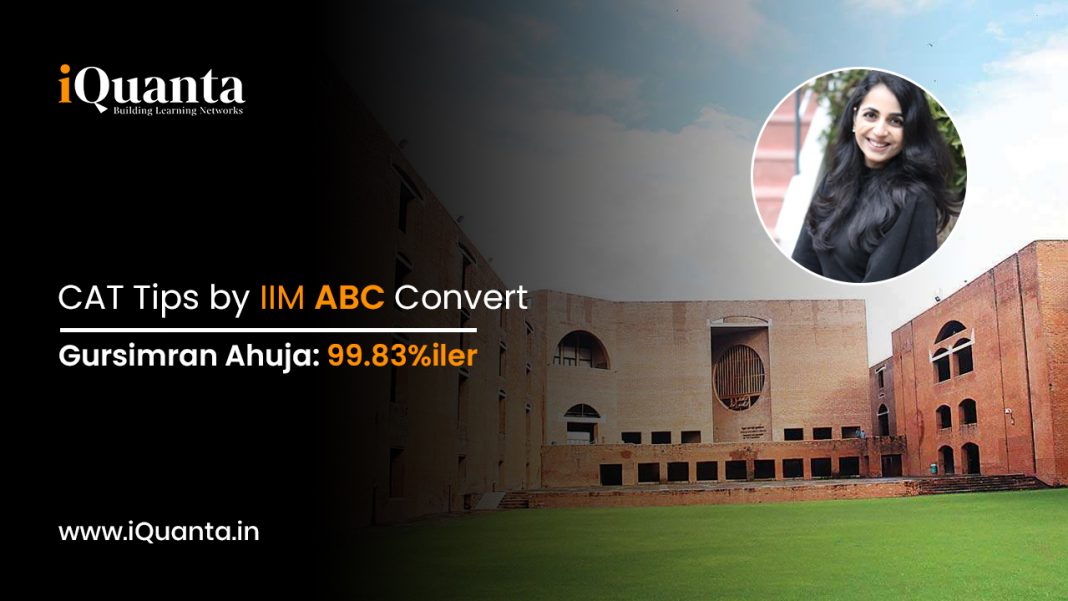 Gursimran Ahuja from Ludhiana graduated from IIT Roorkee, Got 99.83 in her first attempt in CAT and converted the Holy Trinity IIM A,B,C. She was one of the iQuanta students who topped the CAT exam. Here she has penned down her tips and strategy!!
---
                    
---
With the next CAT-2022 already on the radar, a lot of you must at least have an idea of what the exam is all about and what is expected of you. But, most of what I see expressed in student circles points to a negative connotation about the difficulty level of the exam. Well, I am no expert and I speak solely from my preparation experience when I say that at the end of the day, CAT is a test of the most basic skills, across all three sections. It is not about tough questions and whether you have the mathematical prowess to answer them. Rather, it is just an insight into your basics and your ability to use them in any question that may be posed. If you think of it that way and just go into the process with the purpose of learning, you are going to have a lot of fun. Here are some tips that I feel will address most of the concerns that I witness among the students:
For Quant, the key is practice. There is no use having a bunch of formulas in your notebook and not knowing where to apply them. Acclimatize yourself with as many questions as possible. Use a book, solve questions online, take mocks-just try to work on your ability to decode the concepts that the question demands. Believe it or not, 90% of the questions here will just be a twisted version of what you have already done, provided you know how to see beyond the range of phrases in which they are worded. After your study of the basics, make solving questions a daily ritual. For me, the group provided an ideal competitive environment to work on my Quant. The people answering questions at the drop of a hat may seem intimidating at first. Believe me, I have been there. But, just hang in there, keep trying to solve problems quickly and the tables will have turned even before you realize it.

Not to scare you or anything, but in the past two CATs, LR-DI has been the game-changer section. That's because it is heavy on the time investment and can create a lot of panic in exam scenarios if you seem to be making no progress on a particular set. For this section, apart from the "practise regularly" mantra that holds true no matter what, just try to write the whole set down in a table or flowchart or whatever decoded form you are comfortable with as you go through the problem. Don't create a mess because you may have to return to it later. Most of the times, this simple act alone can decode a lot of the problems for you. At this stage, time should not be your concern. Just focus on getting the questions correct, keep solving and time will take care of itself in due course. In the mocks, if you are not able to get the hang of a set in the first 3-4 minutes after you have written it down, just move on and avoid wasting any further time.
For VA, which I believe is the most dreaded section for some reason, I cannot stress enough how your English prowess has nothing to do with how well you do, as long as you can understand what the question specifies. CAT exam in recent years just tests your comprehension ability and not your grammar or vocabulary skills. So, leave all that and just work on enhancing your comprehension abilities. Try to read some editorials every day. Consult aldaily and Project Syndicate for a range of topics that could be put forward as RC passages and just focus on understanding the essence and what it means. Apart from this, make it a habit to solve 2-3 RCs every day. If you get the answers wrong initially, consult the solutions and find out why your line of reasoning was incorrect and try to work on the alternate approach the next time. Just try to grasp the essence of everything you come across here and you should be fine.
As far as I am concerned, I did not use many books for the preparation. I was regular at the iQuanta sessions and tried to be very religious with the mocks, solving any sets of questions available as part of the series. I was quite active on the CAT Preparation-iQuanta group and their paid group though and tried not to miss any questions posted
Success in CAT is a 50-50 thing. It means it is 50% what you have studied and 50% how your demeanour is at the time of the exam. Hence, I cannot stress enough on how important taking the mocks is for the actual exam. Have 1 or 2 good test series and religiously track all their mocks. Nothing can be better practice than sitting for three hours just like in an actual exam because not only will it give you the ability to improve on sitting for that span, but it will enable you to explore exams of all difficulty levels, at the same time giving you very detailed insight as to where you stand with respect to the other candidates as well as your past performances.
As far as the resources are concerned, I believe a set of books has already been recommended for each section by iQuanta.
Just keep in mind that clutter will get you nowhere. So, don't try to hog every learning material or resource that comes your way. Stick to what you have chosen for yourself so that there are no missing links or neglected topics for the final exam.
Be active in your classrooms or on whatever online learning portals you may be used for the purposes of the preparation. You have no idea how much other students' doubts or approaches can help you avoid mistakes and enable you to solve questions in a better and less time-consuming way, which is one of the major way in which iQuanta helps.So, make learning a team thing and you will be able to amplify what you can achieve in a given amount of time to a great extent.
All in all, CAT is probably simpler than all the entrance exams you may have already taken. Just think of it like that, have fun as you go along and you should be perfectly equipped to take on any challenge the IIMs may pose for you. All the very best!!