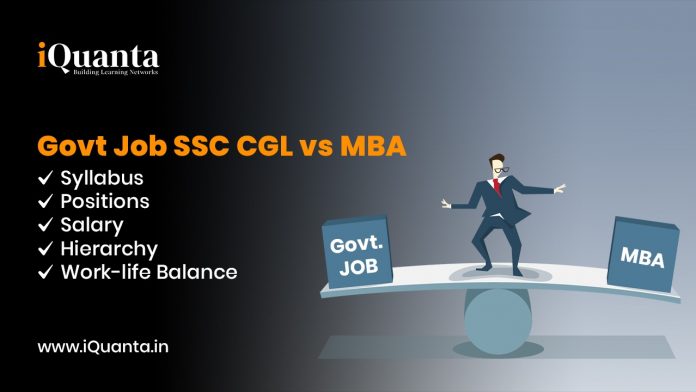 Govt Job SSC CGL vs MBA – Syllabus, Positions, Salary, Hierarchy, Work-life Balance
---
SSC CGL vs MBA creates a lot of confusion in many of the aspirants' minds. Especially when they have to make a choice between a government job and a private job. The points mentioned below will help you make an informed decision, check them out:
Syllabus: SSC CGL vs MBA
The syllabus for SSC CGL is the same as CAT but very easy. Just crack the written examination (no interview) and get prestigious group B central govt services.
While for MBA, you have to first clear entrance exams such as CAT/ NMAT/ XAT/ SNAP. Post this there will be GD/ WAT/ PI rounds for your selection into a B-school.
Positions Compared
Income Tax Inspector (Assistant Commissioner IRS, neeli batti, after 15 years of service)
Customs Examiner (Assistant Commissioner, neeli batti, after 12-15 years of service)
Assistant in Ministry of External Affairs (explore the world on govt expenses, 3 years Delhi posting, next 3 years posting in an Indian embassy abroad, fully furnished govt accommodation by that country, free education for children in prestigious Indian Embassy schools abroad)
Assistant in Central Secretariat Services (posting in Delhi throughout in different ministries, 2 bhk govt accommodation + various other perks)
CBI Sub Inspector (complete swag)
Assistant Enforcement Officer
Assistant Audit Officer (group B gazetted service, desirable qualification, MBA, Economics, Finance)
Even after an MBA from the top 30 B-schools, you will be in a position of responsibility, managing people and resources, scheduling and planning events and activities, driving and leading a team and working to bring higher value to your organization.
Salary: SSC CGL vs MBA
Rs 52000+ in hand (+2 bhk govt accommodation + medical facilities for the whole family + various other perks) for all Inspector/Assistant posts
Rs 56000+ in hand (+perks+accommodation) for Assistant Audit Officer
Rs 35000-40000 (+perks+accommodation) for Auditors, Divisional Accountants
For an MBA graduate from the top 30 b-schools in India, the earning opportunities are far higher if you have the right attitude and mindset to work and learn on the job. Your work experience in a Corporate or a Start-up company can earn you lacs and crores of rupees in the future and it all boils down to you – whether you are ready to take risks and grow.
Work-Life Balance
Prestigious services, 5 days a week work, no stress, lot of holidays and free time, job security, chances of reaching up to Additional Commissioner/Commissioner if one joins at the age of 23-24.
Work-Life Balance in a Govt Job would be definitely better than in a job after MBA. But, a job after MBA from the top 30 colleges will give you tremendous growth and learning opportunities while working in a Corporate or a start-up that is faster than that of a Govt. Job.
Govt hierarchy is usually like this:
Many of you must be having a passion for making a career in the ruthless corporate world. But just appearing for B school entrance examinations without any worthwhile work experience makes it difficult to convert a B school to the top 15 (or say top 30). When the syllabus is almost the same, same pattern, and no interview, you just have to appear for this exam, continue with your B school preparation, and join the central govt service. So that you will get an awesome work experience + stability + Rs 52000+ in hand. And also, a central govt work experience adds considerable weight to your Resume while appearing for B school interviews.
Also, govt machines are on an overhaul spree. Gone are the days when a typical govt office used to be a den of corruption, with unscrupulous lazy people loitering around spitting betel leaves here and there. Job security + awesome starting salary + perks + govt accommodation + prestige + power has been attracting the youth towards govt sector for the last 3-4 years.
Having said that, MBA opens the door for a wonderful career but only if you pursue it from a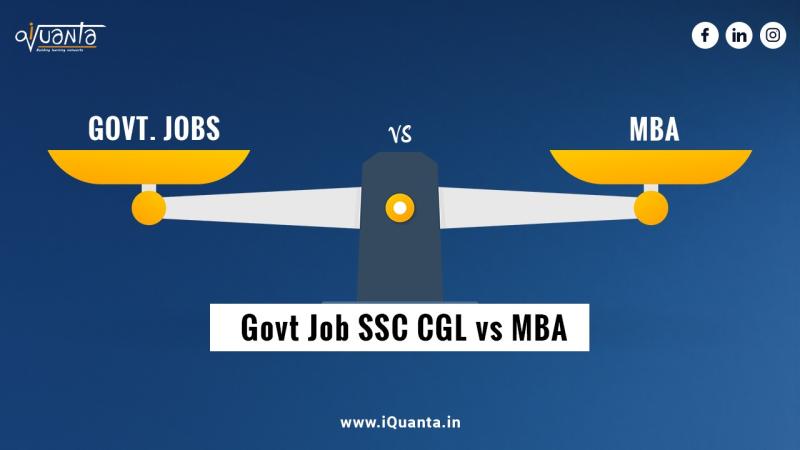 top 15 B school (or top 30 max)…..otherwise you can explore this opportunity or pursue a master's from abroad or continue with your present job.
PS: I am in no way suggesting you give preference to a particular field. Just shared with you my thoughts/opinions on this so that you can make well-informed decisions. Rest is all up to you on what sort of career path you want to take based on your aspirations and interests in life.
All the very best for your future!
---
Get comprehensive CAT coaching with assured 24*7 doubts solving, and peer-to-peer learning, along with iQuanta's unique interactive + live application classes. Enrol now: