MBA is one of the most prestigious degree in the world. Be it a lavish lifestyle or a job with an A-listed company, there is nothing that an MBA from a reputed institute cannot get you. Now the question is, whether you should pursue MBA from India or from a foreign country. Let's discuss the differences between MBA in India and abroad.

Cost of Study
MBA is an expensive course be it in India or abroad. The cost and fees are a major deciding factor for students when it comes to higher studies. Considering this the expenses for studying abroad are definitely higher for college as well as living. Pursuing an MBA from a reputed private B-school in India is also expensive but comparatively less than that in countries like Canada, the UK, etc.
Entrance Exams
In India, to pursue an MBA, you have to clear exams such as the Common Admission Test (CAT) which is the most popular one and can get you into top Indian B-schools (IIM BLACKI, SP Jain, etc.). Other exams include XAT conducted by XLRI Jamshedpur (Asia's best college in HR), SNAP by SIU Pune, NMAT by GMAC, MAT, CMAT, etc. If you wish to study abroad then you'll have to appear for GMAT/GRE which are computer adaptive in nature and also IELTS and TOEFL to prove your English proficiency.
Required Work Experience 
Most of the B-schools in India admits students with even little to no work experience. Of course, there is leverage for candidates with work experience but it doesn't affect the eligibility of candidates. On the other hand, universities in the USA, Australia, Europe and other countries require minimum 2 years of work experience from the candidates. Based on this, you can decide where you want to pursue an MBA from.
Curriculum Structure
The MBA course structure abroad is mainly application based. They provide a realistic approach with case studies given to students to study. The curriculum in India is more theoretical in nature.
Placements
Universities in other countries aid their students with placements but there's also a lot of struggle involved. You might not get a job as per your interest and might have to start from the bottom. Getting placements from Indian B-schools is relatively easier. Students from top colleges even get placed as Managers.
Salary
A lot of factors determine what salary you'll be getting. These factors include the institution you are a part of, your skillsets, specialisation and expertise. The package offered to graduates from a reputed B-school in India is between 20- 25 lakhs. According to statistics, the average salary of an MBA from the USA was around $138,000 in 2020. The reason is great skill sets, a business mind, and effective communication skills.
Networking
B-schools give you a chance for better networking. If you are pursuing an MBA, you are sitting with people who are going to be managers and CEOs in the future. So maintaining connections is important. Considering this fact, if you're going for an MBA abroad, you will find people belonging to different cultural and educational backgrounds. This gives pursuing MBA from a different country an upper hand.
Pros and Cons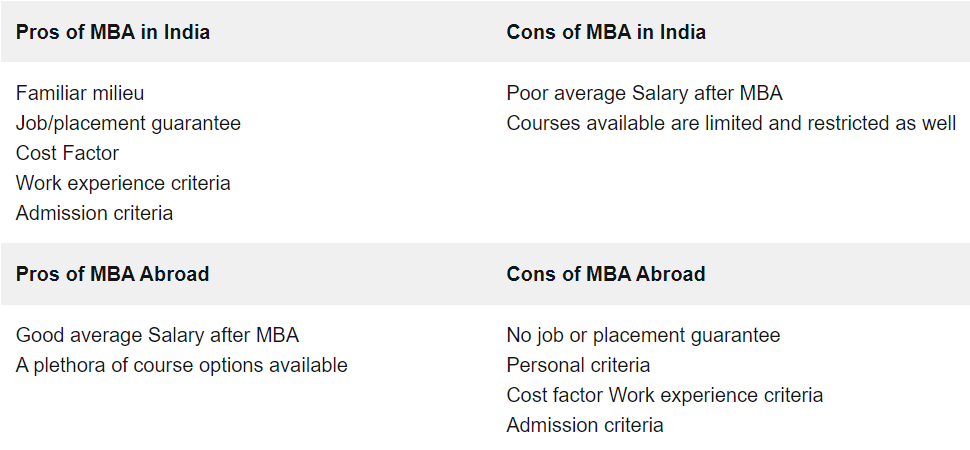 Coming to the end of this article, just make sure that you go through the aforementioned factors before making a decision. Self evaluation is a major part before you decide on whether to pursue an MBA from India or from other countries.
Visit the link below and join our GMAT preparation community for free 24*7 doubt solving and multiple practice questions every day.
For comprehensive counselling and to enroll for the iQuanta GMAT Course, visit the link below.

For 24*7 doubt solving and free practice question, join iQuanta's GMAT Preparation Facebook group.