Every CAT aspirant has heard about mock tests. Yet they are afraid to appear for one. Let's understand the 7 reasons why mock tests are important in CAT 2023 preparation, and why is everyone telling you to attempt mock tests?
Students who are preparing for the CAT 2023 exam often think that the time they devote to their studies is already consuming them. They give reasoning of added pressure for not taking mock tests. Much time, it is the fear of failure in mock tests or their casual attitude towards CAT exam that drives the students away.
Whatever may be your limiting thoughts about mock tests, we decided to break the ice. This is an attempt to help you figure out the importance of mock tests in CAT exam preparation. To help you scale your performance in the CAT exam 2023, iQuanta offers 24×7 support with live sessions and pre-recorded video sessions. First, let's understand what are mock tests?
What Are Mock Tests?
Mock Tests Are Important In CAT 2023 Preparation
Mock Tests are the replica of the CAT exam paper. It is created with the exact number of questions that come in the actual CAT exam. The time duration is 120 minutes to finish the mock tests. These 120 minutes are divided into 3 sections, with 40 minutes of sectional time limit. In simple terms, mock tests are taken to evaluate and understand your performance outcome in the actual CAT exam.
Get a head start in your CAT 2023 preparation. Enroll for iQuanta's CAT 2023 Course. Click on the image down below.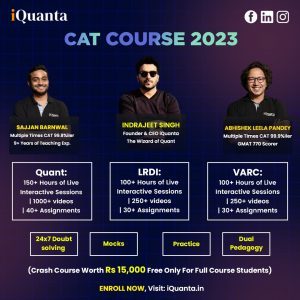 The objective of attempting Mock Tests in CAT 2023 Preparation
An astonishing fact is that out of the thousands of aspirants, who prepare for the CAT exam, only 25% to 30% of students take mock tests. Many of you take the first attempt casually. Our aim is to push every CAT aspirant to attempt mock tests, as it increases your chance to crack CAT 2023.
The purpose of the CAT mock tests is to provide you a fair idea of the actual CAT 2023 exam. Attempting mock tests regularly, from the pre-preparation stage to the post preparation, lets you monitor and evaluate your performance and test scores. You get a detailed analysis of your performance, and you can identify your weak areas and begin working on strengthening those.
List of 7 Reasons Why Mock Tests Are Important In CAT 2023 Preparation
A Guide To Get You Kick-Started On Cracking The CAT Exam 
Opting to attempt mock tests for CAT exam 2023 is an individual preference. To help you decide, we have curated a list of 7 reasons why mock tests are important in CAT 2023 preparation:
Replica of the Actual CAT 2023 Exam: Mock tests are the exact copy of the actual CAT exam 2023. Appearing for mock tests will give you a fair idea of the type of questions that come in the CAT exam. And every previous mock test becomes the deciding factor in the next stage of your planning and preparations for the CAT 2023 exam.
Speed and Accuracy: The real test of your speed for CAT 2023 is calculated by attempting the mock tests. CAT exam is a computer-based timed test. There are 66 questions to be completed in a limited time of 120 minutes. Practice is the only way to improve your speed and accuracy.
Tracking Progress: The greatest benefit of taking mock tests is evaluating and tracking your progress. One, two or three attempts are not enough. For serious CAT aspirants, it is recommended to attempt mock tests on regular interval.
Know Your Weak Areas: If we do not know where our weakness lies, we will not know if we are progressing or regressing. Mock tests help identify your weak areas. Change your study strategy and get the required outcome.
Keep reading further to understand the importance of mock tests for

CAT

preparations
Understanding Test Giving Strategies: With continuous mock tests, you can change and design your test giving strategies. You will become better equipped to design a plan of action to help you scale the real CAT 2023 exam.
Understanding Exam Style: Repeated actions generate better results. Taking mock tests for the CAT 2023 exam will help you comprehend the pattern and type of questions, understand the CAT exam syllabus, and the marking system.
Know Your Percentile: Mock tests are part of online CAT 2023 preparation. The idea behind taking mock tests is to know the lowest percentile you can fall to. If your scores are consistently dipping, reconsider your study strategy and pick up the scores again. 
Assuming the above list has answered all your concerns about why mock tests for CAT 2023 preparation are crucial.
Let's understand the best time to attempt mock tests.
Stages to Attempting Mock Tests
Have you already started preparing for CAT exam 2023? The time to take mock tests is 'now'. Contemplating the CAT 2023 exam? Pre-preparation mock tests are recommended. 
There are 4 stages to start attempting mock tests:
Pre-preparation stage

Preparation stage

2 months to the CAT 2023 exam 

A month to the CAT 2023 exam
Pre-preparation Stage: 
This stage is for CAT 2023 aspirants to evaluate themselves. Work on topics that need more attention. It gives them the time to prepare a strategy plan to work on a particular topic.
Preparation Stage:
Mock Test Attempt – One Time in 15 days
2 Months To the CAT 2023 Exam:
This is a crucial period. Most of you will go through a lot of pressure to give your best shot. It's time to increase the pace of your mock tests. To gauge your progress and reduce exam anxiety, 
Mock Test Attempts – Two times a week 
A Month to the CAT 2023 Exam:
You must have gained a thorough understanding of the CAT exam syllabus, the CAT exam pattern and the marking scheme. It's time to appear for more mock tests. 
Mock Test Attempts – Three times a week
Having a better understanding of the multitudinous advantages of this practice, we recommend students attempt mock tests at every stage of the CAT 2023 exam preparation.
To become a part of India's largest CAT preparation community, click down below.