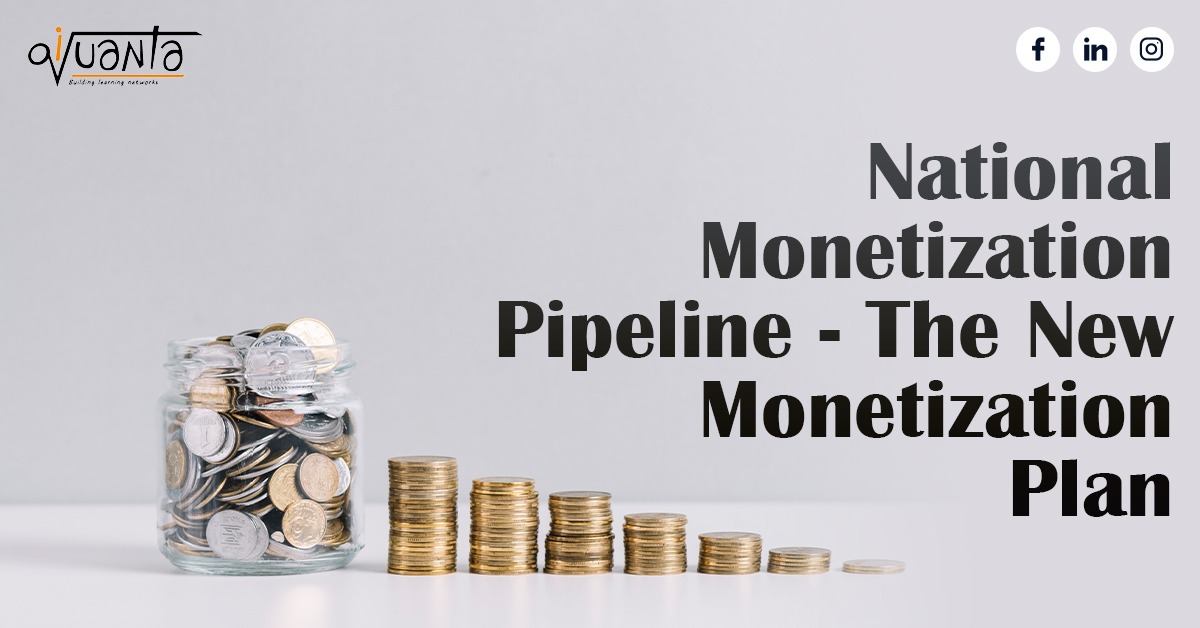 When we talk about monetization, it simply means raising money by offering something tangible or intangible. Taking an example, an empty property could be monetized by either renting it out or selling it. 
Every time, an idle asset could be used to extract money. The asset can be anything whether land or railways or airways.
The Indian Government wants to raise ₹6 lakh crores or roughly $81 billion  by monetizing government-owned land, roads, stadiums, etc. The plan is for a four year duration which will serve as the medium-term roadmap for the government's asset sell initiative. 
The easiest way to raise money is cashing out all the assets. However, this isn't a practical solution due to the difficulty of selling a piece of road or a highway. If such things become privatized, it will cause a lot of inconvenience for the general public.
Furthermore, most government-owned companies are piled up with huge debt and no private player is much interested in buying those.

So the alternative is to pick assets that still hold some value and monetize them without selling them outright.
Coming to the example of monetizing roads, the government can transfer the rights to collect toll money to a private entity. Similarly, rights to collect fees when visiting a stadium can be transferred to a private entity. However, everything has to be for a limited period. 
An agreement will be signed stating the toll fee, the period during which the rights will remain with the third party, and any other details. In return of these assets, the private entity may be asked to commit cash upfront. This will give the government some much-needed cash-flow and will relieve them of all obligations to maintain these assets.
Also, a significant chunk of the amount collected by monetizing the assets is expected to be 'recycled' back into new infrastructure projects. This will create more demand and more jobs thus reviving the economy.
Under this scheme, 15 railway stations, 25 airports, 160 coal mining projects will be put up for asset monetization.
The other assets that the government plans on selling besides roads are the power transmission assets and InvITs. 
The government plans on putting all the power transmission assets in a trust and then selling units of that trust to potential investors. The investor can invest in one of these units and get a dividend at the end of every year. The government in the meantime receives money upfront creating a win-win situation for all parties.
The government also hosts land parcels, guest houses, and other real estate assets that could potentially be used for monetization. 
Out of so many available options, the government needs to identify which ones are the most valuable to get more money. 
If things goes as per plan, the government could raise as much as ₹1.6 lakh crore from road assets, ₹1.5 lakh crore from railway assets, ₹1 lakh crore from power sector assets, and about ₹50,000 crores each from gas pipelines and telecommunication assets.
This will help a lot in improving finances of the government and probably reviving the economy too if that money is put to a good use.
To structure your CAT online preparation in an efficient way consider joining iQuanta which is a top online cat coaching institute and being a part of the iQuanta CAT 22 Course.
You can also check out and be a part of their Facebook group for peer learning, doubt solving and free material.


For 24*7 doubts-solving, FREE guidance and counselling and peer to peer learning, join the CAT preparation Fb group below: