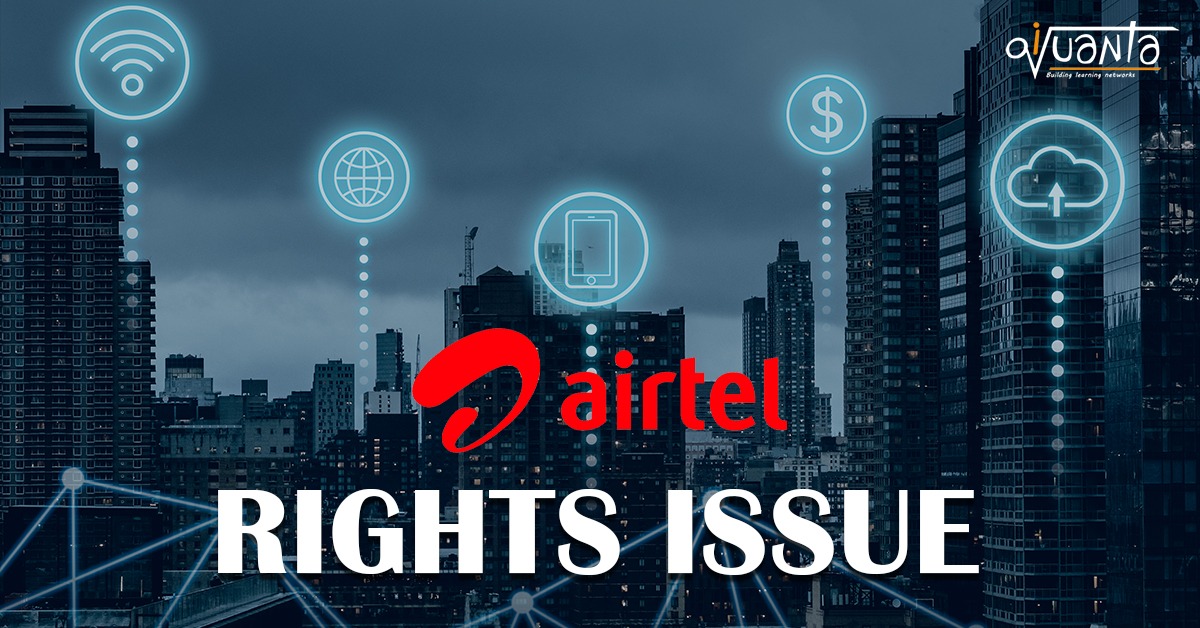 Bharti Airtel has announced a mega fundraising plan to raise Rs 21000 crores. They plan on doing a rights issue to raise this money which has led to a 1% rise in stock prices as well.  
The money will be raised at a price of ₹535 per share. This will be used to expand its network and prepare for the launch of 5G services.
A rights issue is a way for a company to raise more capital from existing shareholders. Investors are given the right (but have no obligation) to buy more shares in the company at a discount to the current market price.
Airtel has plans to increase prices too which is another good news for investors. Higher tariffs might not be good for customers but seeing the condition of Vodafone, it seems like a necessary move.
Airtel expects ARPU to trend towards ₹200 in this financial year. However, there are no plans to sell any promoter stake or use rights issue funds to increase stake in Indus Towers. 

The shareholders will be eligible to buy one share for every 14 held in the telecom firm. For this around 25% will be paid upfront and the rest will be called as per requirement over the next 36 months.  However, exact timelines have not been shared.
Bharti founder-chairman Sunil Mittal and others in the founder group will also participate in the share purchase. 
As per the brokerage firm Motilal Oswal, this capital raise seems surprising as the management in its last few calls stated that its leverage and liquidity position is comfortable and self-sustainable, with healthy free cash flow generation in all verticals, thus indicating no additional capital requirement. 
Now, this kind of unexpected capital raise might cause a negative reaction in the short term, but there is a good earnings growth opportunity over the next 12 months. 
Hence, the brokerage has given a 'Buy' rating with a target price of ₹720 per share. It sees Airtel performing well in the next few quarters.  
Another brokerage Emkay Global said that Airtel stock has outperformed the Sensex by 22-37 bps in the last 2-3 years. This has been the result of tariff hikes and due to the possibility of a duopolistic Telecom market post substantial weakening of Vodafone Idea's financial position. 
It has given a 'Buy' rating on the stock with target price of ₹730.
Bharti Airtel is a strong player with enough opportunities to generate consistent free cash flows. A decision like this might be the right move considering expansion activities for 5G services. Despite the plans to raise money, top brokerages have given a 'Buy' rating which shows the confidence in the stock.
To structure your CAT online preparation in an efficient way consider joining iQuanta which is a top online cat coaching institute and being a part of the iQuanta CAT 22 Course.
You can also check out and be a part of their Facebook group for peer learning, doubt solving and free material.


For 24*7 doubts-solving, FREE guidance and counselling and peer to peer learning, join the CAT preparation Fb group below: