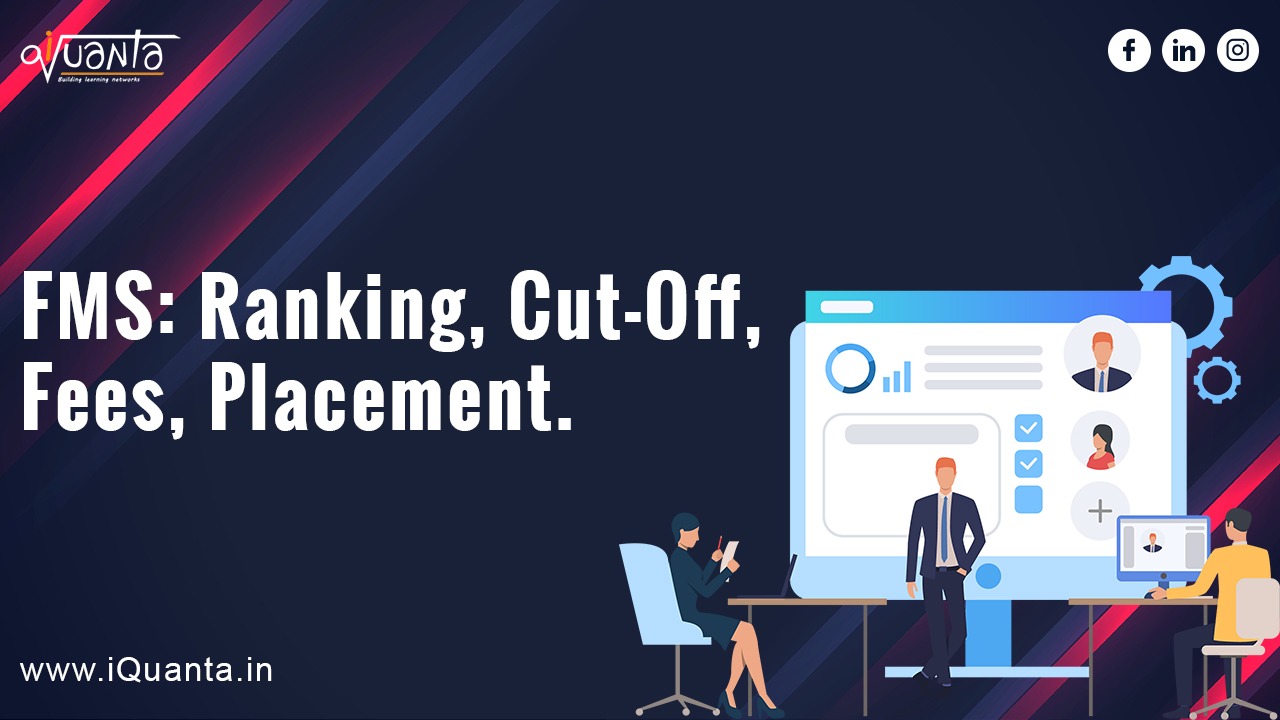 FMS: Ranking, Cut-Off, Fees, Placement.
---
FMS, Faculty of Management Studies, fondly known as the red building of dreams is one of the pioneering B-schools of India. It has shown immense growth and commitment to the development of management professionals. Established in 1954, FMS stands out as one of the oldest B-schools in the country.
The Faculty of Management Studies focuses on management education more than just business management. The commitment is thought leadership with a deep understanding of business. The approach to pedagogy combines fieldwork, case studies, and instrumented feedback with a strong emphasis on concepts and theory. The network of more than 10000 alumni gives students unmatched access to information, mentors, and careers.
Programmes Offered
Master of Business Administration – MBA (Full Time)
This is a two year, full time, Postgraduate management program MBA designed with the objective of developing young individuals into highly adept professional managers, capable of working in diverse sectors, continuously striving for excellence in performance while propagating thought leadership and contributing to the welfare of the society at large.
MBA – Executive Health Care Administration (Evening Programme)&- Executive (Evening Programme)
The design of the two- year evening MBA Executive and MBA Executive (Health Care Administration) programmes are divided into four semesters over a period of 2 years. This builds a strong foundation in the basic areas of management and allows students to specialize in functional areas of their interest
Doctoral Programme
The full-time doctoral programme offered at FMS Studies provides the opportunity to undertake pioneering and original research in different areas and aspects of management with an emphasis on practical implications of the research. The programme is designed to augment academic and practical knowledge. The faculty encourages candidates to undertake research in interdisciplinary areas of management, cutting across functional and sectoral boundaries
Management Development Programme
The Faculty of Management Studies has been at the forefront of imparting quality management education not only to its students but also to the corporate world. This is reflected in the extensive number of management development programs that the faculty at FMS has conducted for executives from various organizations over the years. The programs are designed to provide innovative and practical solutions to critical management challenges faced by managers today
Key Student bodies of IIM B

The Finance Society–The vision of the Finance Society is to educate every site about all aspects of modern-day finance and financial institutions. The Society combines educational programmes like seminars, guest lectures, and workshops with fun events like games and quizzes to build camaraderie among FMS students and the alumni
The Systems society – For Budding managers of tomorrow, visualizing their future roles, future organizations, and future demands from the external environment – gives them reason enough to equip themselves with technology as an enabler of competitive advantage. The Systems Society endeavor to provide a window to best practices in various industry verticals that are supported and strategized using IT.

The HR & OBsociety – The HR&OB Society aims to facilitate the discovery of the self and a better understanding of one's responses and reactions to the situation. Through workshops, seminars, guest lectures, and fun events like games and quizzes the society endeavors to provide a snapshot of what the real world is all about
Vihaan- Social Service Cell–This society is one of the latest student-driven initiatives by FMS. It aims to contribute to society in a meaningful manner by utilizing the managerial expertise and skills of the students for the benefit of those that work for society. Vihaan is committed to forging ties with NGOs, voluntary non-profit organizations, government institutions, and corporate, which act as catalysts for social change.
Entrepreneurship Cell – E-cell at FMS is an endeavor to provide every individual who desires to pursue entrepreneurial ventures in their career. Its aim is to create the requisite support structure that an individual needs in his quest for the unknown and unexplored zone of entrepreneurship.
The consulting club – The Consulting Club is a student-run organization with the agenda of liaising with global Consults to increase their presence at FMS while working towards preparing the students for a career in consulting. In addition to providing practical experience through workshops, guest lectures facilitation, the Club serves as the nucleus for pioneering strategy games and consulting Advisory.
Final Placement 2020 report
FMS has completed the final placement process for PGP 2018-20 batch with participation from 104 recruiters from India and abroad. A total of 219 students participated in the process who received 234 offers. 18 students opted out of the placement process to pursue their own venture. As many as 68 Pre-Placement Offers (PPOs) were extended to students of which 62 PPOs were accepted by the students.
Below is a summary of the placement report:
| | |
| --- | --- |
| Placement Snapshot | Number of Students |
| Student Participated | 219 |
| Offers Received | 234 |
| Pre-Placement offers (PPos) Extended | 68 |
| Pre-Placement offers Accepted | 62 |
| Student opted out of the placement process | 11 |
| Average salary offered | 25.6 L |
Below a summary of the offers made across domains:
| | |
| --- | --- |
| Domain | Number of offers |
| Consulting | 51 |
| E-comm/IT/Ops | 57 |
| Finance | 37 |
| General Mgmt. | 21 |
| Sales and Marketing | 53 |
Summer Placement 2019-2021 report
The summer placements for the 2019-2021 batch witnessed participation from 105 companies across multiple industries and sectors. There were as manas 30 new companies which had come for the first time. FMS achieved 100% placements as all the students got placed for their internships. Below is a quick summary of the summer placements for the batch:
| | |
| --- | --- |
| Placement snapshot | Number of offers |
| Total eligible students | 211 |
| Total companies | 105 |
| Average stipend/month | Rs. 115100 |
| Median stipend/month | Rs. 100000 |
| Highest domain offers | Sales and marketing (82 offers) |
Housing and Fee structure
Housing -Faculty of Management Studies does not have any hostel of its own, but there are 2-3 hostels allotted for FMS students by DU. The most notable of them is the VKRV Rao hostel which accommodates around 50 FMS students per year. Students can get PG/flats at s very cheap rate in adjacent Kamla Nagar, Shakti Nagar, Vijay Nagar areas. The B-school has a state-of-the-art canteen which bustles with students from not only FMS but also from adjacent colleges
Fees and Financial assistance-The tuition Fees at FMS Delhi are one of the lowest and most affordable amongst all Business schools across the country. The Annual tuition fee for MBA-Full Time and Ph.D. programmes at FMS is approximately Rs 10,480 per year. The annual fee payable is Rs. 50,000 in two equal installments of Rs. 25,000 each for MBA-Executive and MBA-Executive (Health Care Administration) programmes.
Notable FMS Alumni
FMS Delhi has a huge network of more than 10,000 alumni which gives its students unparalleled access to information, mentors, and careers. Some notable alumni are-