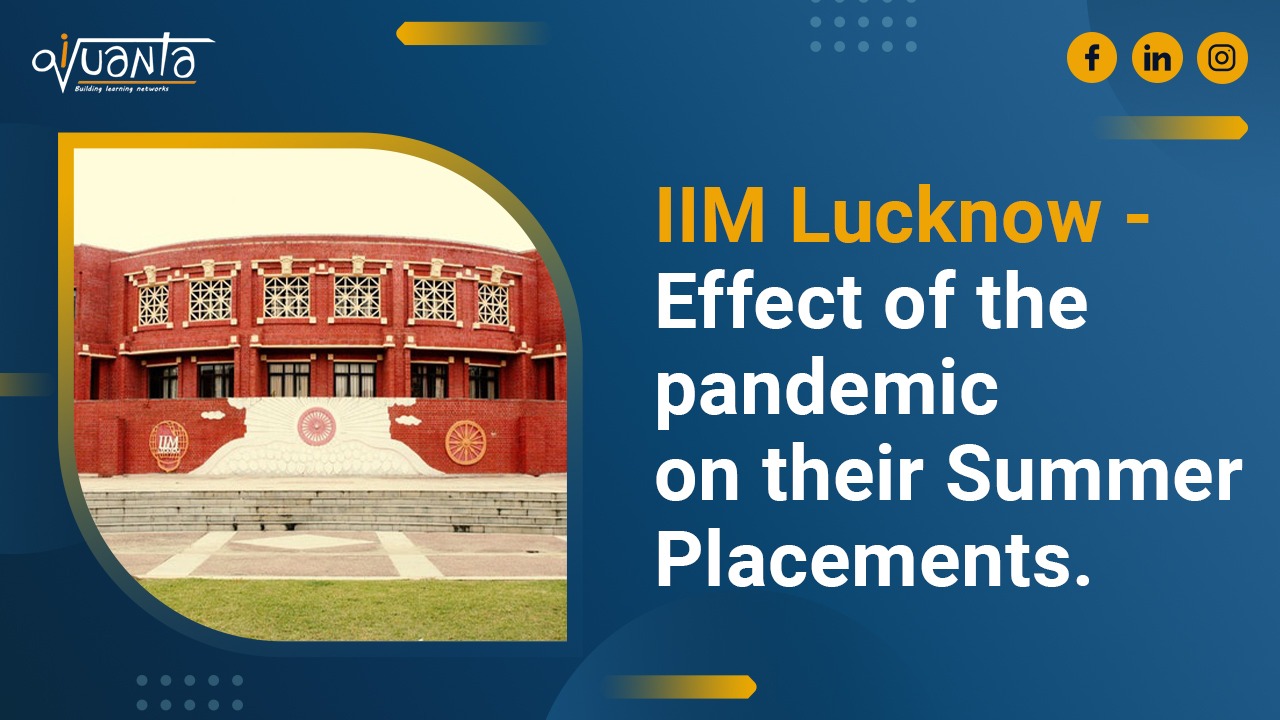 IIM Lucknow Summer Placement's Comparison.
---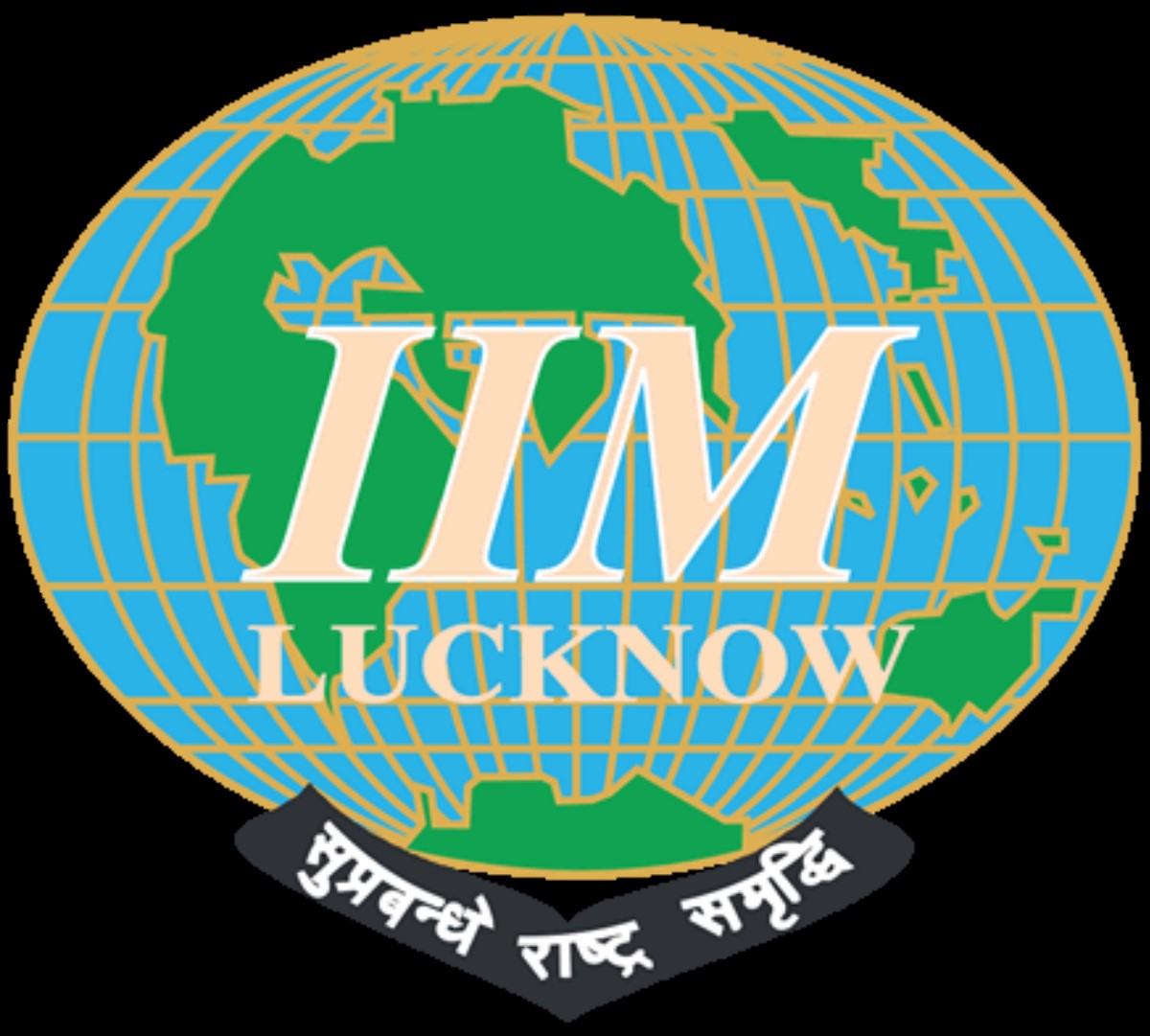 The 2020-22 batch of IIM Lucknow witnessed 100% placements despite the pandemic time. The pool size was 490 making it the largest batch of all the 36 batches of IIM Lucknow. The top recruiters from different sectors were Amazon, BCG, Accenture, Bain & Company, Mastercard, Flipkart, HUL, ITC, Byju's, CITI etc. Many new recruiters like Maersk, Marsh, MX Player, Stryker, Amagi participated, showing the need for managers across different roles.
The entire process was carried out virtually and an online platform was designed to ensure a smooth interface among all the stakeholders involved. The emphasis was on efficiency and ease of use for students and recruiters.
Batch Profile
Total batch strength – 490
The gender diversity split is 65% for males and 35% for females.
Educational background split is 32% students are from IITs & NITs, 5% students are CFAs, 3.6% students are CAs.
Work experience split is 13% for 3+ years experience, 36% for 2-3 years experience, 26% for 1-2 years experience and 25% for less than a year experience (includes freshers).
As seen from the pie chart, maximum people are from IT and Analytics followed by Operations showing high numbers of engineers.
16% of students have work experience in Operations which is a significant number and shows the growth of the e-commerce industry in India.
Function Wise Distribution and Key Statistics
The insights drawn are as follows: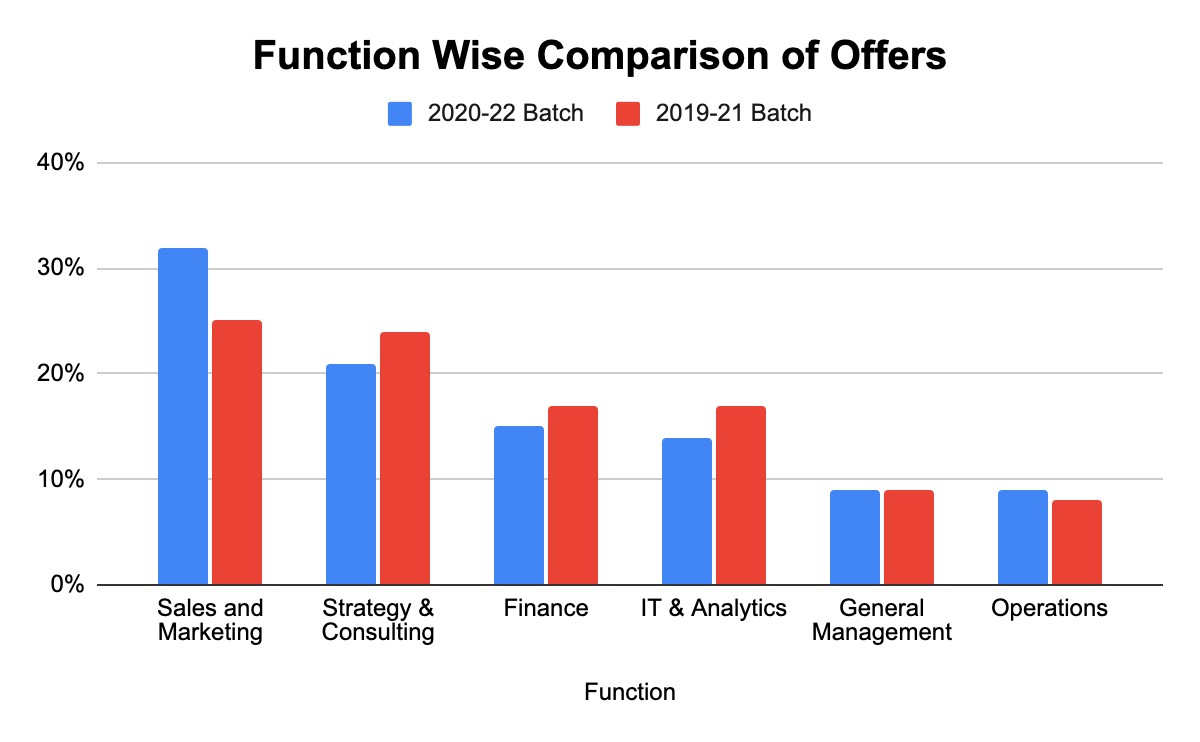 Sales and Marketing roles have been highly demanded domain with 32% offers. Last year, also maximum offers were from S&M (25%) showing IIM Lucknow has an edge towards S&M.
Significant growth (7%) has been observed for S&M while there have been minor degrowth of offers in consulting, finance and IT.
The maximum offers were given by Amazon (34) followed by Accenture (17), BCG (13) and Deloitte (12).
| | | | |
| --- | --- | --- | --- |
| Function | Highest Stipend (Monthly) | Median Stipend (Monthly) | Top Recruiters |
| Sales & Marketing | 1.6 L | 0.9 L | HUL, ITC, P&G, Nestle, Colgate |
| Consulting | 1.8 L | 1.5 L | BCG, Mckinsey, Bain & Company, Accenture |
| Finance | 2.5 L | 1.2 L | JP Morgan, Bank of America, Avendus, CITI |
| IT & Analytics | 2.0 L | 1.3 L | Amazon, Media.net, Google, Microsoft |
| General Management | 1.5 L | 1.0 L | Capgemini, Mahindra, Aditya Birla, JSW |
| Operations | 1.6 L | 1.3 L | Amazon, Flipkart, Uber, AB INBev, Asian Paints |
S&M which witnessed the maximum offers has the lowest median stipend. There are many top recruiters like HUL, P&G, ITC but there were offers from some low tier recruiters which was the reason for a low median stipend.
Although Finance witnessed the highest stipend but median stipend is low.
The most promising functions were Consulting, IT and Operations which saw the highest median stipend. Consulting being a core function ex expected to perform the best. But the emergence of IT and Operations is something worth noting.
Overall Stipend Details
The highest stipend given was 2.5 L monthly in the Finance function followed by 2 L monthly in Product Management (IT).
The average stipend is 1.1 L monthly compared to 1.09 L monthly given last year.
The median stipend is 1.2 L monthly which is the same as 1.2 L monthly given last year.
Conclusion
The 36th batch of IIM Lucknow witnessed 100% placements with a small increase in average stipend and the same median stipend. Due to pandemic, this kind of result was unexpected which shows the hiring needs of brands across different functions. Further Sales and Marketing witnessed maximum growth in the number of offers which might be due to the positive future outlook of the economy as sales & marketing was highly impacted due to Covid. The growth of startups has resulted in an increase in the number of recruiters visiting the campus and this number is going to grow further in the future.
References
To structure your CAT online preparation in an efficient way consider joining iQuanta which is a top online cat coaching institute and being a part of the iQuanta CAT 21 Course.
You can also check out and be a part of their Facebook group for peer learning, doubt solving and free material.