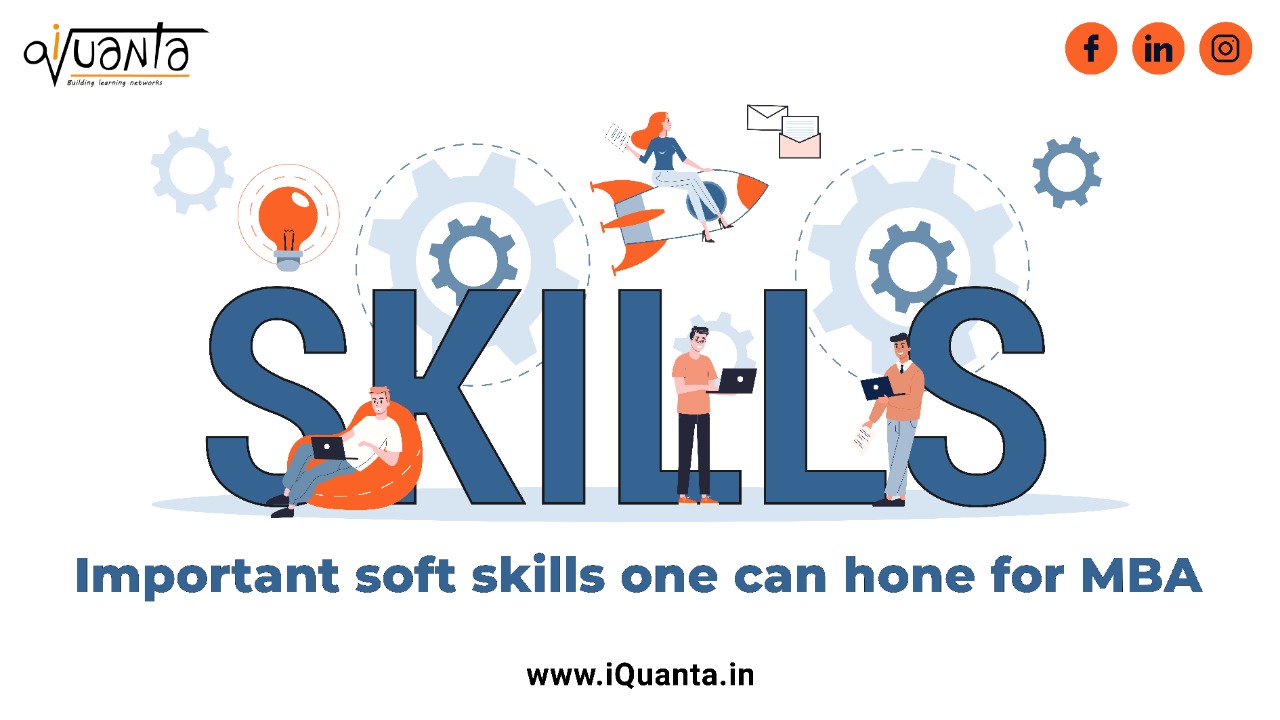 Important soft skills one can hone for MBA
---
Soft skills are in high demand in today's world. Several studies over the last decade have emphasized the vital need for employees in the twenty-first century to develop and integrate their soft skills.
Employers coming to management institutes for campus recruitment for placement of fresh MBAs (without experience) either deny them or give them employment with very low pay due to a lack of soft skills or they find them to be unemployable in today's competitive environment. Most of the institutes place a strong emphasis on hard skills, such as technical expertise and schooling, while neglecting soft skills, resulting in students falling behind in soft skills and etiquette training. Excellent communication skills, English verbal ability, and presentation skills are some of the most prevalent soft skills that are often overlooked. However, to be the most professional, one must be proficient in both hard and soft skills.
Definition of soft-skill: 'Soft skills refer to the cluster of personality characteristics, social graces and language facility, personal behaviours, friendliness, and confidence that identify people to varying degrees,' according to Wikipedia. Hard skills, which are the technical requirements of a job, are supplemented by soft skills.
When it comes to developing soft skills so that an MBA is future-ready to enter the industry and handle teams of varying sizes effectively, the following 10 soft skills top the list:
Leadership: Earning an MBA entails expanding one's resource set and preparing for leadership roles. Instilling faith in others and inspiring them to do their best work necessitates a thorough understanding of both individual employee needs and the overall culture of the company. One learns to hone their areas of expertise, collaborate on large projects with others, and receive feedback.
Communication: One must be able to communicate their thoughts clearly and convincingly in order to succeed in their career. Their education prepares them for the next step in their careers by showing them how to present knowledge and ideas in a number of ways. It is important for them to know how to tail whether they are speaking at a meeting, submitting a formal request, charting an empirical model, or writing a memo.
Critical Thinking: A strong leader should not always take things at face value when it comes to facts and arguments. As a result, MBA students must learn to ask pertinent, insightful questions in order to make better decisions. They will learn how different facets of a company are connected to one another and gain knowledge that can lead to major changes in the organization's processes by attempting to grasp the big picture.
Creativity: Coming up with innovative ideas for new projects or a fresh perspective on current activities within an organization is a difficult yet critical task. MBA graduates should have the skills and techniques to come up with new ideas, study them, and test them. They should also learn to spot gaps in the market and take the first steps toward innovation.
Teamwork: Listening to others' suggestions or delegating responsibility to a professional is often the best approach for a leader. Collaboration with peers to share ideas and complete projects is an important part of an MBA education. This collaborative experience is extremely useful when coordinating individuals on a team who may have vastly different areas of expertise by establishing common goals and expectations.
Cross-Cultural Competency: Effective collaboration often necessitates an understanding of how people's diverse cultural contexts can influence their perspectives and expectations. The secret to unlocking opportunities in a global economy is to respect and work with these differences. International language skills and a willingness to collaborate across national borders can be significant business assets.
Integrity: When top executives are searching for someone to advance into a leadership role, they want someone who can command respect. Honesty, responsibility, and dependability in one's work show that they are ready for the next step in their career. These are characteristics that can be developed when pursuing an MBA and learning how ethical actions can benefit one's career.
Flexibility: Almost nothing goes according to plan in the fast-paced world of business. One of the most valuable soft skills one can gain from an MBA program is the ability to adapt to new situations. If you can make the required changes while still producing high-quality performance, you're ready to take on the challenges that come with a fast-paced job.
Self-Awareness: An person can only progress if he or she is able to take a step back and conduct honest self-evaluation on a regular basis. When pursuing an MBA, one will have several opportunities to reflect on how they have improved their skills and where they still need to improve. As they advance, they will benefit from maintaining a realistic outlook on their own achievements.
Resilience: There will be a multitude of challenges in both education and industry. Not every initiative will be a huge success, and not every idea presented to top decision-makers will be accepted. As one prepares to advance in their career, they should also focus on recovering from setbacks and turning them into useful learning opportunities.
Finally, since the majority of soft skills are linked to trust and excitement, attempting to eliminate or reduce one's anxiety, fear, and negativity can greatly help them in their respective professions. Apart from that, maintaining a positive outlook would assist a person in developing skills and excelling in their roles.
To structure your CAT Preparation in an efficient way consider visiting iQuanta website and being a part of iQuanta CAT 22 Course at www.iQuanta.in.
You can also check out and be a part of their Facebook group for peer learning, doubt solving and free material. https://www.facebook.com/groups/Rockthecat