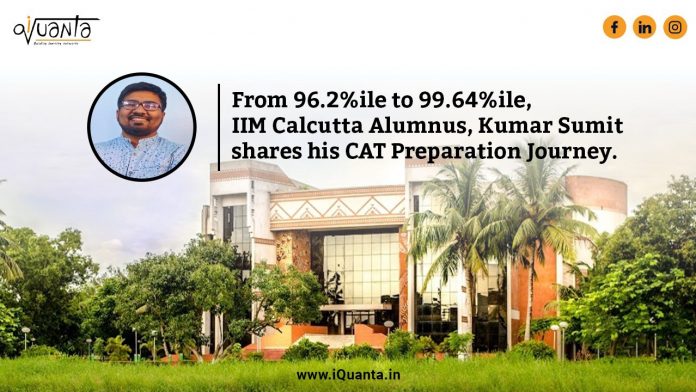 About me:

I completed my MBA from IIM Calcutta in the year 2020. Prior to my MBA, I have done my BE from RVCE Bangalore in Electronics and Telecommunications in the year 2015. After completing my engineering, I worked with Wells Fargo as a Senior QA Analyst for around 3 years. During my MBA, I did my summer internship with Amazon as a category manager intern. Right now, I am working with Optum Global Consulting (United Health Group) as an Associate Consultant.
Disclaimer – This answer is based on my personal experience and includes the tips and strategies which helped me excel in CAT 2017. I don't claim to be an expert and please keep in mind that tips and strategies work differently for different people.
Background
I started my CAT preparation way back in Feb 2016 when I was working with Wells Fargo. I talked to a few seniors and friends about how to prepare for the exam. I decided to prepare on my own as I thought it would be difficult to manage mocks and cochin classes along with an office. I also felt I was good in the Quantitative Aptitude and DILR section and I just had to prepare for the VARC section well.
CAT 2016
I took classroom coaching material from a friend and started preparing from it. I was lucky to find a few like-minded people in my office who also wanted to prepare for CAT. I also joined the mock test series.
I used to prepare whenever I found some time and mostly on the weekends. The goal was to complete the materials as soon as possible and then start with the revision. I completed the materials by July,16. After that, I also used to write one mock/week.
What went wrong- I used to score consistently around the 90 to 95% range in CAT mock tests and I thought with time, my scores will improve and I would do better. But alas, it didn't happen. The main problem was that I was rigid with my strategy and I didn't analyse my mocks properly. Hence, I kept repeating the same mistakes again and again. I used to see the questions and its solution and tried to understand the logic behind the correct answer. What I didn't do was try different approaches or practice enough on my weak sections. For ex- If RC in a particular mock was difficult and VA questions were easy, I would still go with the RC questions first (even though I could have solved the VA questions first). In short, I was not trying to maximise my score and I got emotionally attached to a few topics.

CAT 2016 Results
I knew that I screwed up the VARC section on the day of the CAT 2016 exams. My attempts were less and my accuracy in VARC was always around 60% even in the mocks. As a result, I ended with a not-so-good enough percentile of 52 in VARC, 96.2 in DILR, and 99.06 in QA. The overall percentile was 96.20.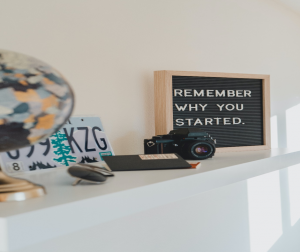 CAT 2017
I was devastated after CAT 2016 but I knew I had to try again. This time I thought to focus specifically on the VARC section.
Importance of Coaching
I gave a scholarship test for an institute and joined their full-time classes. I was never a morning person so I was reluctant to join the morning classes. But I wanted my weekends to be free for mocks so I ended up joining the morning 6:15 AM to 8:00 AM classes. Looking back, I can proudly say that it was the best decision during my preparation journey. I had initially planned to attend just the VARC sessions but when I attended the QA and DILR sessions, I came to know about a lot of tips, tricks, and concepts that I wasn't aware of earlier. I ended up attending all the classes in all three sections. I could attend the classes in the morning and then go to the office as it started at 10:15 AM. I came back around 8:30 PM so it still left me with around 3-4 hours of self-study time on the weekdays. Also, I used to read The Hindu and other newspapers' editorial sections in my office only as I thought it would help with my RCs.
Daily Schedule
Wake up around 5 AM. Get ready and go to classes in office clothes. Studied for an hour at the institute (that's where I had joined) from 8:30 AM to 9:30 AM and then left for the office. Returned from the office around 8:30 PM and could study for 2 more hours at night.
Weekends were reserved for Mocks, its analysis, and revision.

Section-wise Strategy
VARC
Allot 45 mins for RCs (24 questions, 5 passages in CAT 2017) and 15 mins for VA

Try to attempt VA in the last 15 mins. If you have 4-5 mins left at the end, you can't attempt an RC in that time. Maybe a particular question from that RC but not a new one.

Read the passage with the aim to understand the central idea, tone, and examples (make a mental note of where the proper nouns are appearing)

With practice, you would understand which are your strong areas and try to attempt those questions first.
DILR
During the first 7-8 mins, just go through the different sets and identify 3 sets which are easy, 2/3 which are medium, and 3/2 which are difficult.

First, try to solve familiar sets before going into the new ones.

Don't spend more than two-three minutes on a set if you can't figure out how to solve it. It is better to leave the set faster if you can't figure out how to go forward with it.

This is one section where the difficulty level has varied a lot in recent years. So, trust in your preparation to identify the ideal number of attempts based on the score you are targeting.
QA
This was the section where I had planned to maximise my score.

The key for me in this section was to attempt the question in two phases.

In phase 1, I attempted only those questions which took less than 90 secs to solve (as per my understanding of how much time a question should take)

If you can't solve a question within 2 mins, mark that question, go to the next question and come back later.

My goal was to (a) Go from q1 to q17 within the first 25 mins (b) q18 to q34 in the next 25 mins (c) last 10 mins, I used to solve those which I had marked for later.
CAT 2017 result
When the results came, I scored around 87.27 percentile in VARC, 99.06 in DILR, and 99.86 in QA. The overall percentile was 99.64.  
Advice to future aspirants:
Even though CAT is a very logic-based and conceptual exam, the competition is brutal and has a good amount of uncertainty associated with it. Hence, I would advise everyone not to leave jobs (or at least have some sort of Plan B) while preparing. A gap on a resume is never desirable.
I know it's difficult to attend classes along with the office but still, my suggestion would be to join some sort of classes(both online and offline works) as it helps you meet like-minded and the preparation journey gets a lot easier because of peer learning. Online cochin Institutes like I Quanta provide a good platform where you can discuss concepts/questions with the group at your convenience.
Conclusion
At last, remember that CAT is just a conceptual exam that tests you on high school mathematics. Also, the art of question selection is very important. To be successful, (a) you need to identify and solve the right (whichever you find easy and feel confident to solve in 90 secs- that's how I defined it) set of questions faster than most other people and (b) identify and leave the difficult questions (Takes more than 2 min to solve or not sure how to solve them) faster than most other people. In case you have extra time, you can always come back to the leftover questions and try again. I reiterate that tips and strategies work differently for different people. What worked for person A might not work for person B and vice versa. You need to use whatever works for you and discard the rest.
If you have any questions, feel free to get in touch with me at https://www.linkedin.com/in/kumar-sumit-iimc/

To join India's largest Facebook community with 24*7 Doubt solving and peer-to-peer learning, visit the link below.