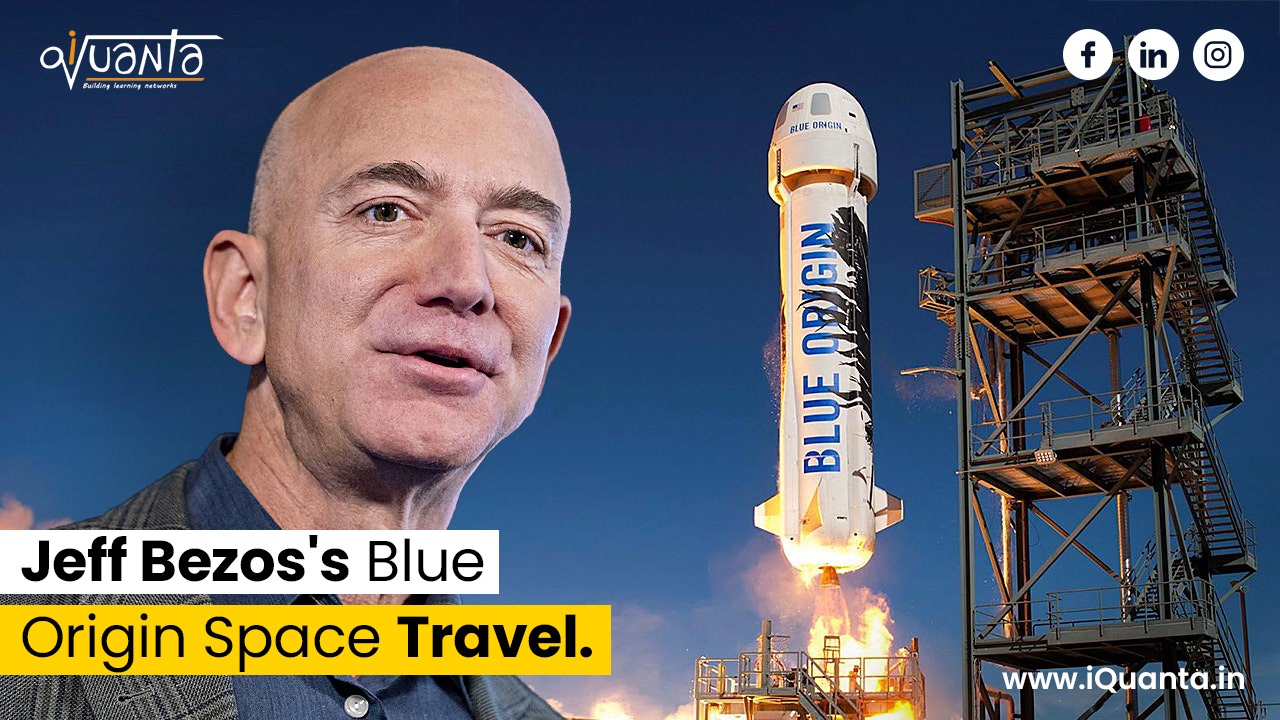 Jeff Bezos completes his blue origin flight to space
Jeff Bezos Blue Origin company blasted its third private crew into space on Saturday. Jeff Bezos is the newest addition to a small list of people who have travelled to space. One of the world's richest persons lifted off for space on July 20 with three crewmates on Blue Origin's New Shepard launch vehicle.
Blue Origin is an aerospace manufacturer and suborbital spaceflight services company which aims to make space access more cost-effective and reliable.
The total flight time was 10 mins and it took off on the 52nd anniversary of Apollo 11 moon landing. The capsule was completely automated and required no intervention of any person for the entire journey. 
Blue Origin reached an altitude of about 66 miles (106 kms). It accelerated to Mach 3 or three times the speed of sound to get it high enough.


Remarkable Achievement
An experience of a lifetime took around 20 minutes from liftoff to landings. Blue Origin started in 2000, took off in 2010 when it won a contract from NASA's Commercial Crew program aimed to encourage private players to enter the space industry. 
New Shepard, named after NASA astronaut Alan Shephard, was designed to carry people on brief trips to suborbital space.
The recent mission was the third flight of the fourth New Shepard vehicle called RSS Next Step. This was the result of 12+ uncrewed test missions over the last few years by New Shepard.
Relevance of July 20
The July 20 target was announced on May 5 which is the 60th anniversary of Shepard's pioneering flight and July 20 is the 52nd anniversary of the Apollo 11 moon landing.
On July 20, 1969, Neil Armstrong and Edwin "Buzz" Aldrin became the first humans to land on the moon. After many testings of different Apollo spacecraft, Apollo 11 achieved that dream which is the result of the efforts of so many people.
Apollo 11 has been a big inspiration for Bezos. His dreams of spaceflight were born when he watched the historic lunar landing at the age of five. 
Other Players
Jeff Bezos voyage came nine days after Virgin Group Richard Branson's July 11 spaceflight mission. 
Virgin Galactic's long-term goal is to dominate the space tourism market through its lineup of spaceplanes. This will allow passengers to experience weightlessness in zero-gravity in suborbital spaceflight. 
The July 11 flight serves as a critical test flight before commercial operations can begin.
Elon Musk's SpaceX aspires to resupply astronauts and then colonize Mars. SpaceX is the first private company to send a spacecraft to the International Space Station (ISS). As per Musk, the first manned mission to Mars can come in 2026. Musk can then become the first human to land on Mars.
To conclude, the race to space has become the limelight with billionaires trying to make space travel cost-effective which can become a reality very soon in future.
To structure your CAT online preparation in an efficient way consider joining iQuanta which is a top online cat coaching institute and being a part of the iQuanta CAT 22 Course.
You can also check out and be a part of their Facebook group for peer learning, doubt solving and free material.


For 24*7 doubts-solving, FREE guidance and counselling and peer to peer learning, join the CAT preparation Fb group below: