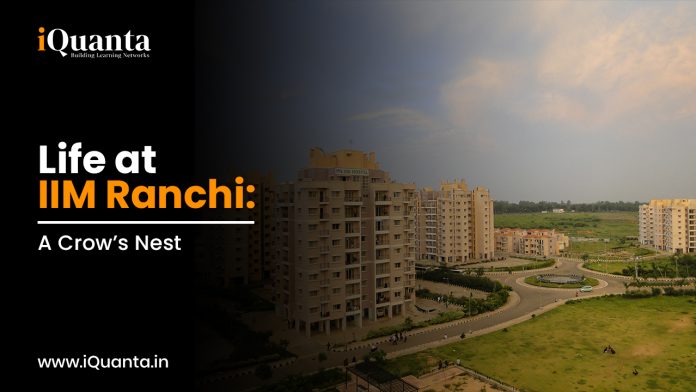 Life at IIM Ranchi: A Crow's Nest
---
As soon as you become a part of the IIM Ranchi family, you can expect your life to change. And change for the better. Once you complete the three management challenges, you are qualified to be called 'Crows.' Life at IIM Ranchi will be nothing short of a roller coaster ride. Hostel facilities are provided in the Khelgaon Housing Society, where each student realizes a long-held dream of having a single room. The door to the balconies let you enjoy the view on a rainy day and the sight of the children playing on the ground. It also serves as a great spot for clicking amazing pictures. (Photographers, make a note!)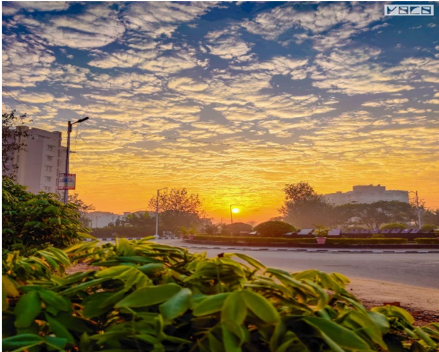 The day starts with getting ready and catching the 8:15 am buses to the college- a challenging task for the night owls! Students rush towards the mess for having the breakfast, but if they don't have time for that, they will grab a couple of toast or fruits and head towards the main gate, simultaneously typing 'Hobus' (Hold the Bus) in the WhatsApp group.
The classes run from temporary campuses- Suchna Bhawan and Satellite Campus. Every class is 1.5 hours long. In between the classes, the students get a 15-minute break when they can head to the nearby shops or Hideout for refreshments.
Once the day is over, and the crows are back to their nest, the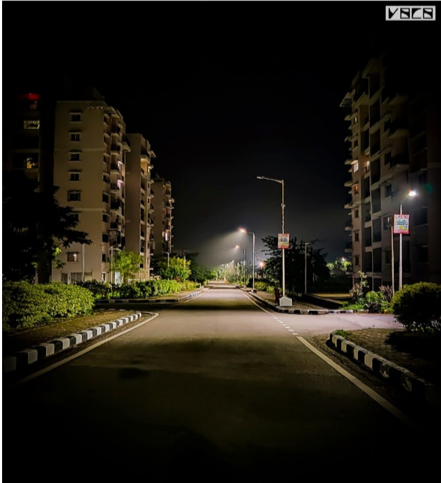 students go for walks after they finish their dinner and discuss their day and college gossip.
At IIM Ranchi, there is no dearth of activities for a student to be a part of. There will be presentations to be given, assignments to be submitted, case studies to be analyzed, Corporate Competitions to be won, and a lot more.  One of the most important aspects of IIM Ranchi is their Clubs and Committees and the rigorous selection process to get into them. The schedule is indeed hectic, but with each passing day, you learn to live with it. And these clubs and committees play a big role in making your life easy!
Sports Facilities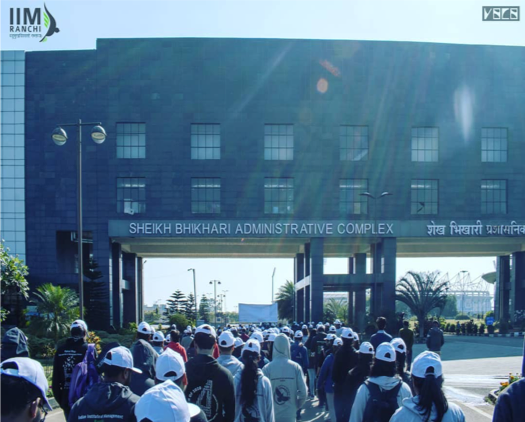 All work and no play will make you sad and grey! As IIM Ranchi students, we are given permission to use state-of-the-art facilities at the Sheikh Bhikhari Stadium, which is just 2 minutes away from the hostels. Whether it's to train for sports tournaments against other colleges or to host your own, we have these facilities at our disposal. There are plenty of facilities for leisure activities as well. When it comes to indoor sports inside the hostel's premises, we have table tennis, carrom, and chess, all you need is a group of friends.  Students have access to a well-equipped gym, where students can be seen working out to rejuvenate themselves and give their best in everything they do.

Bus Rides:
Since the hostels and college buildings are at different locations, buses ply to and fro whenever required. And the close to 30-minute bus ride is sometimes a boon for those forgotten pre-readings and case preparations before classes. For some, it is the much-needed break from all the hustle and bustle going around; just plug into your earphones and get the much needed "Me" time. And for some of God's favourite children, who can sleep anytime and anywhere, use this time to get a power nap.
Group Studies and Late-Night Canteen
What to do when you have two papers tomorrow, and you don't have much clue about what's there in the subject? You turn to a friend who could teach you the important concepts and help you pass the subject. And while you are pulling an all-nighter, you are bound to get hungry. Late Night Canteen, open till 3 am, comes to the rescue of students where you can have Maggi, Rolls, Sandwich, Chips, and all kinds of beverages.
Festivals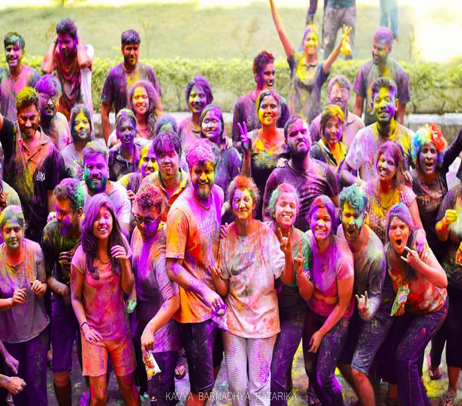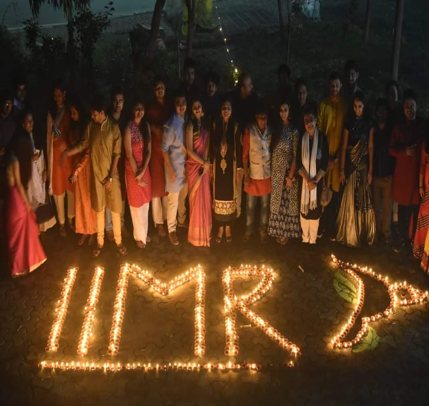 Cultural Committee of IIM Ranchi makes sure that you don't miss out on the fun while staying away from your homes. Be it Holi, Diwali, or Pongal, the students on campus enjoy each festival in its own flavours.
Excursions and Getaways: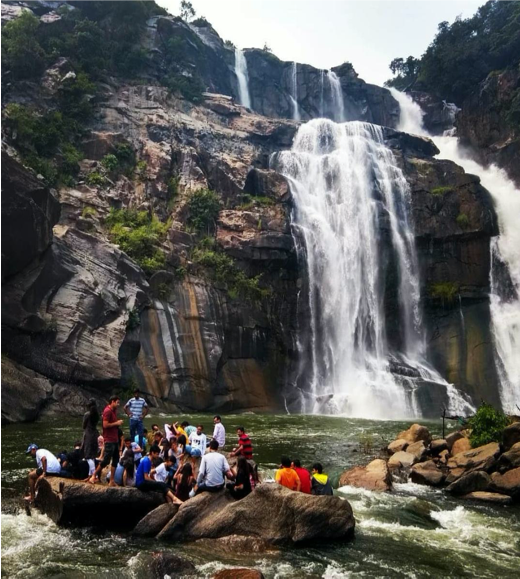 Hundru Falls, Ranchi
Ranchi's location is perfect for those weekend getaways that one craves after weeks of hard work. A hoard of waterfalls such as Dassam, Jonah, and Hundru are situated across the area, with convenient transport facilities, which are a delight for anyone who likes to travel and explore.
If you want to enjoy the breathtaking view of the rising sun, Netarhat is the place to be! A 4-hour drive from the hostel will get you there.
SOUL, a SIG at IIM Ranchi, arranges trips to these nearby falls.
Restaurants
If you love food, you will be spoilt for choices. There are many restaurants where you can hang out with friends and try some amazing dishes. Here goes the list:
Butter Chicken from Kareem's, Pizza, Potato wedges and Sizzlers from Prana, Chicken rolls and Kiwi shake from RollaCosta,Cheese fondue, pasta, and nachos from Mocha Café and if you're fond of music and ambience, Xtreme Sports Bar and Grill is your best bet.
Parties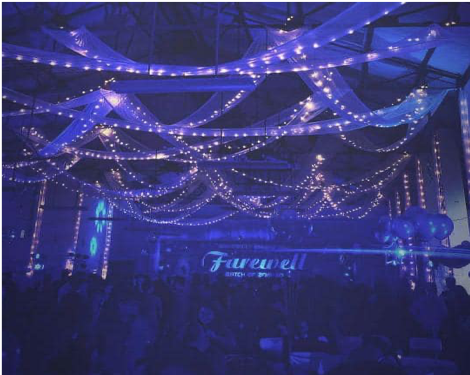 Can you imagine an MBA life without parties? Surely, you can't!
In the first trimester, you are welcomed with the Freshers' party by the seniors. And you bid seniors with a Farewell party. In between, at the end of every trimester, section parties are there where you forget everything and dance your heart out.