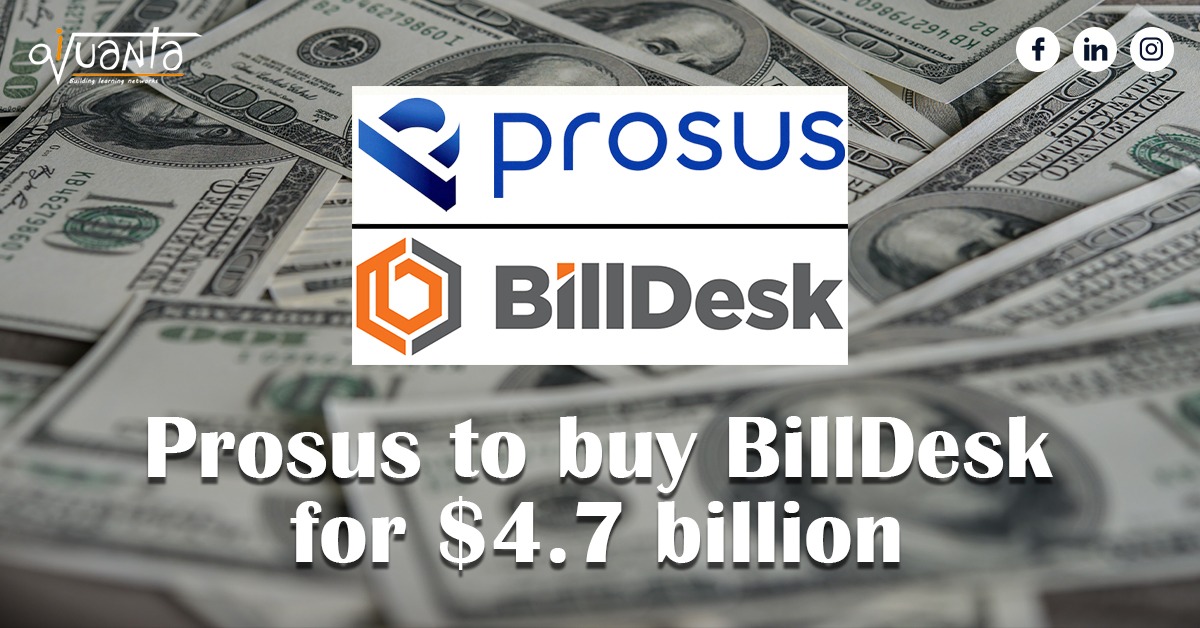 Prosus is a Dutch consumer Internet conglomerate which owns the financial services unit PayU. It is actually a spin-off from Naspers, a South African multinational holding company for tech companies. 
It is one of the largest tech investors globally. It has agreed to buy 100% stake in payment aggregator BillDesk for &4.7 billion.
Billdesk was founded in 2000 and is among the largest payment gateway aggregators in the country handling more than 50% online billing transactions. 
This deal will give an exit to BillDesk's institutional investors like Generic Atlantic, Temasek Holdings, Visa etc. along with its co-founders, who together hold 29.6% share in the company.
The deal is still to be approved by the Competition Commission of India but that is not much of a challenge.
BillDesk is a payment aggregator which essentially brings together various payment systems like credit/debit cards, UPI, netbanking and wallets on a single platform for online merchants. 
India's payment gateway traffic is majorly held by BillDesk and Paytm. However, investors of BillDesk were looking for an exit due to rising competition from different players like PayU, Razorpay, Infibeam etc.

The existing PayU India management team will take charge of BillDesk. However, for customers, both will remain a separate entity and it will be business as usual. PayU will benefit from the deal by drawing 20+ years of market leadership provided by the leadership to ensure superior experience for clients.
BillDesk had been a pioneer in driving digital payments in India for more than a decade. As per RBI, the number of digital retail payment transactions grew more than 80% to 44 billion in 2021-21 from 24 billion in 2018-19. More than 200 million new users are expected to adopt digital payments in the next three years.
Due to the acquisition of BillDesk, PayU will handle a total payment volume of around $147 billion. This will make PayU the biggest online payment provider globally.
For the year 2020-21, PayU processed $55 billion digital payments which was already 51% higher compared to that of previous year. Also, BillDesk earned a net profit of $37 million in 2020-21 which shows how much PayU will gain through this deal.
Prosus is one of the biggest investors in Indian consumer Internet companies with close to $6 billion investment till now. It has invested in companies like Meesho, Swiggy, Byju's, PharmEasy, Urban Company, PayU. This deal will take its total investment close to $10 billion.
To structure your CAT online preparation in an efficient way consider joining iQuanta which is a top online cat coaching institute and being a part of the iQuanta CAT 22 Course.
You can also check out and be a part of their Facebook group for peer learning, doubt solving and free material.


For 24*7 doubts-solving, FREE guidance and counselling and peer to peer learning, join the CAT preparation Fb group below: