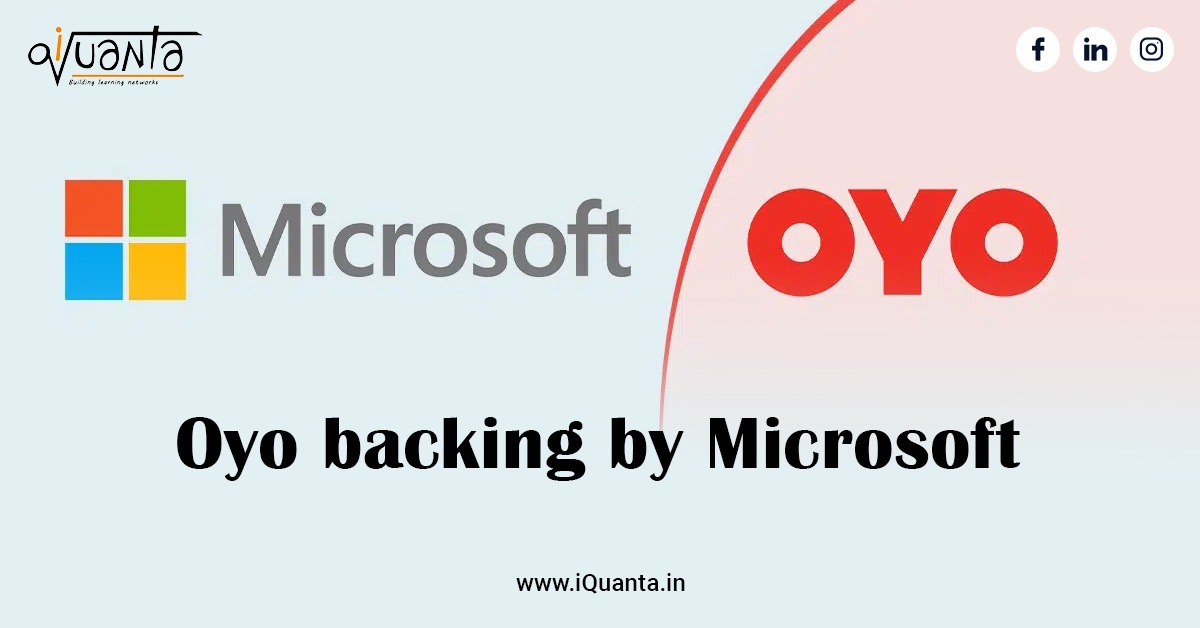 Oyo Backing by Microsoft
---
The hotel industry was one of the highly impacted industries during the pandemic and Oyo being a significant player, lost a significant amount of business.
In order to continue its operations and scale-up, Oyo is already looking for new funds, and Microsoft showing interest can not come at a better time.
Microsoft is in the advanced stages of talks to invest in Oyo, valuing the Indian startup at about $9 billion. However, the proposed size of the investment is unclear.
Oyo was previously valued at about $10 billion in 2019, though SoftBank, a major investor in Oyo, had slashed the Indian startup's valuation to $3 billion in recent quarters due to business being impacted.
Microsoft has a vast range of services and through this deal, Oyo can shift to using Microsoft's cloud services.
Oyo was previously the second most valuable startup of India behind Paytm but in recent times, the edtech sector has boomed while the hotel industry has been hit.


Oyo has aggressively expanded to many markets including Southeast Asia, Europe, and the U.S. in recent years.
There has been news of missteps like toxic culture, a lapse in governance, and relationships with many hotel owners that have impacted its growth. This all happened before the pandemic.
This relationship with the hotel owners is very crucial for Oyo and they have started to invest in that. Just when the relationship with hotel owners was improving, the pandemic arrived.
The growth was slowed down due to lockdowns and Oyo had to lay off thousands of employees to stay alive. Just when things began to normalize in the third quarter, India was hit by the second wave.
The startup is just seven-year-old and has done extremely well over the past few years barring some incidents. However, it just took a few days to hit sales by more than 60%.
Oyo has been backed by Airbnb and had between $780 million to $800 million in its bank. It had around $1 billion in the bank in December 2020. This shows they have been losing money at a high rate and are in a need of funds.
The monthly burn across all businesses is between $4 million to $5 million.
Oyo had raised around $660 million in debt to pay off the previous debt. They disclosed that the term of the debt includes the option to exchange equity at a later date.
Hence, if the deal between the two firms succeeds, it will be Microsoft's latest investment in an Indian startup. Microsoft has backed a few startups in the South Asian market, including news aggregator and short-video platform DailyHunt, e-commerce giant Flipkart, and logistics SaaS firm FarEye.
To structure your CAT online preparation in an efficient way consider joining iQuanta which is a top online cat coaching institute and being a part of the iQuanta CAT 22 Course.
You can also check out and be a part of their Facebook group for peer learning, doubt solving and free material.


For 24*7 doubts-solving, FREE guidance and counselling and peer to peer learning, join the CAT preparation Fb group below: