Contemplating on how to prepare for CAT exam? In this blog, we share the difference between self-study vs CAT coaching, complete guide for CAT 2023 preparation. It will help you choose the best method to kick-start your CAT preparation.
Though, students have been divided over which method of CAT preparation is better to start with. Yet the ones who have cracked the CAT believe coaching gives you a competitive edge over self-study. 
Here, we will share how early coaching for CAT 2023 with iQuanta can give you a competitive advantage over self-study. Both practice have their pros and cons, and it depends on individual choice which method to start with for CAT preparation.   
What Should You Choose? Self-Study Vs CAT Coaching – Complete Guide For CAT 2023 Preparation 
CAT exam is an aptitude test. More than knowledge, it is a test of your speed and accuracy. Undoubtedly, preparing for the CAT exam, both methods require dedication and discipline. Let's understand the difference between self-study and CAT coaching.
Why Should You Choose CAT Coaching with iQuanta?
Cracking CAT is a dream of many aspirants. Not every student who appears for the CAT exam gets the desired result. But the ones who join coaching for CAT preparation perform better compared to the ones who prepare for the CAT exam through self-study. I won't deny, but like any other field, there are exceptions here also. Some students have cracked CAT by self-studying. These kinds are a handful who are brainy, hard-working, disciplined and dedicated. If you do not belong to these 1% scholarly groups, welcome to the iQuanta CAT coaching. Because we believe genius is made, not born.
Benefits of CAT Preparation with iQuanta:
We are the leading online platform for CAT preparation in India. Our students have topped and cracked the CAT exam every year. Following are the advantages that our students enjoy,
Live interactive classes

250+ pre-recorded videos with detailed explanations and examples

Peer to peer learning

Mentor guidance available 24×7

Interactive practice sessions for solving relevant question papers prepared in a structured manner.

Regular assignments and personal feedback

Best mock test series with 15 full mock tests and 30 sectional mock tests 
CAT preparation through a coaching institute has its benefits. At iQuanta, CAT aspirants have outperformed themselves. Staying consistent with regular, scheduled classes is necessary to maintain discipline. The CAT exam is one of the toughest exams to crack, as there is no pre-defined syllabus, making it difficult for students to interpret the questions that can be asked in the exam. Our structured study material is based on rigorous research from the previous years' question papers and the years of experience of our teaching faculty. For serious CAT aspirants, an organized learning experience is a boon to crack the CAT exam in the first attempt itself. 
What are the benefits of CAT coaching over Self-Study?
Self-study is a flexible method of CAT preparation, as you are not time bound to sit for pre-scheduled classes for a regular time slot every day. It eases the competitive pressure and places you in a comfort zone. When there is no study routine to follow or a study group to inspire, it is easier to feel demotivated.
Self-study has more drawbacks than benefits:
When there is lack of focus, no motivation, and no study strategy, you will not feel energized to study. You become habitual of putting off things that require your immediate attention. You start procrastinating.

Flexible study hours can make you lazy and skip your CAT preparation study routine, affecting your exam preparation.

When you self-study, you may not consider making a study strategy, without which you don't come to know your weak areas that need more practice.

Without an expert mentor, you may lack guidance on tough topics and regular feedback on your performance.

You will have to take whatever mock tests are available on the internet. While in coaching, you receive the best mock test papers.

You have no peers to turn to in case of any problem-solving, as you are not a part of any study group.
As a CAT 2023 aspirant, this is the best time to start CAT exam preparation. We have eased your job by comparing the two methods, self-study and CAT coaching. Whatever your choice of learning, we inspire you to achieve goals. 
For a structured CAT preparation and one-on-one counselling, visit the link below.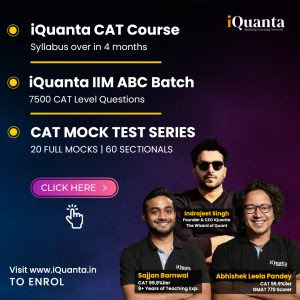 To join India's largest CAT preparation community and for free 24*7 doubt clarification, join the group linked below.