Mock tests are crucial to crack the CAT exam. So, we decided to share with you some tips and tricks to improve mock tests scores.
Many CAT aspirants get confused or scared when it comes to mock tests. Only 20 to 30 percent of students appear for mock tests. The number is fewer compared to the actual number of students appearing for the CAT exam. And many applicants give up mock tests after 3/4 failed attempts.
Whatever your study strategy may be, if not reviewed from time-to-time, it will not help you for the actual CAT exam preparation. So, the thumb rule is to give as many mock tests as possible from the time you enroll for the CAT exam till a week before the CAT exam.
Important Facts About Mock Tests 
Listed below are the facts about mock tests that most aspirants do not know. Because they do not attempt mock tests, they reduce their chance of understanding how the actual CAT exam paper looks like.
The students competing in the actual CAT exam are 5 to 6 times higher than the students appearing for mock tests. This means, that there are fewer competitors and a good chance to improve their mock rank.

It is a measurement of your knowledge. Mock tests help you understand your weak areas and derive a study plan, review it and make changes according to your performance.

A good preparation strategy is based on accuracy and time management. Attempting mock tests helps you improve accuracy and calculate the time required to complete each section in time.

Mock tests are experiential learning for CAT exam. The best part about initial mock tests is that you can take calculated risks, plausible guesses, eliminate options, and understand and assess your level of preparation. 
Get a head start in your CAT 2023 preparation. Enroll for iQuanta's CAT 2023 Course. Click on the image down below.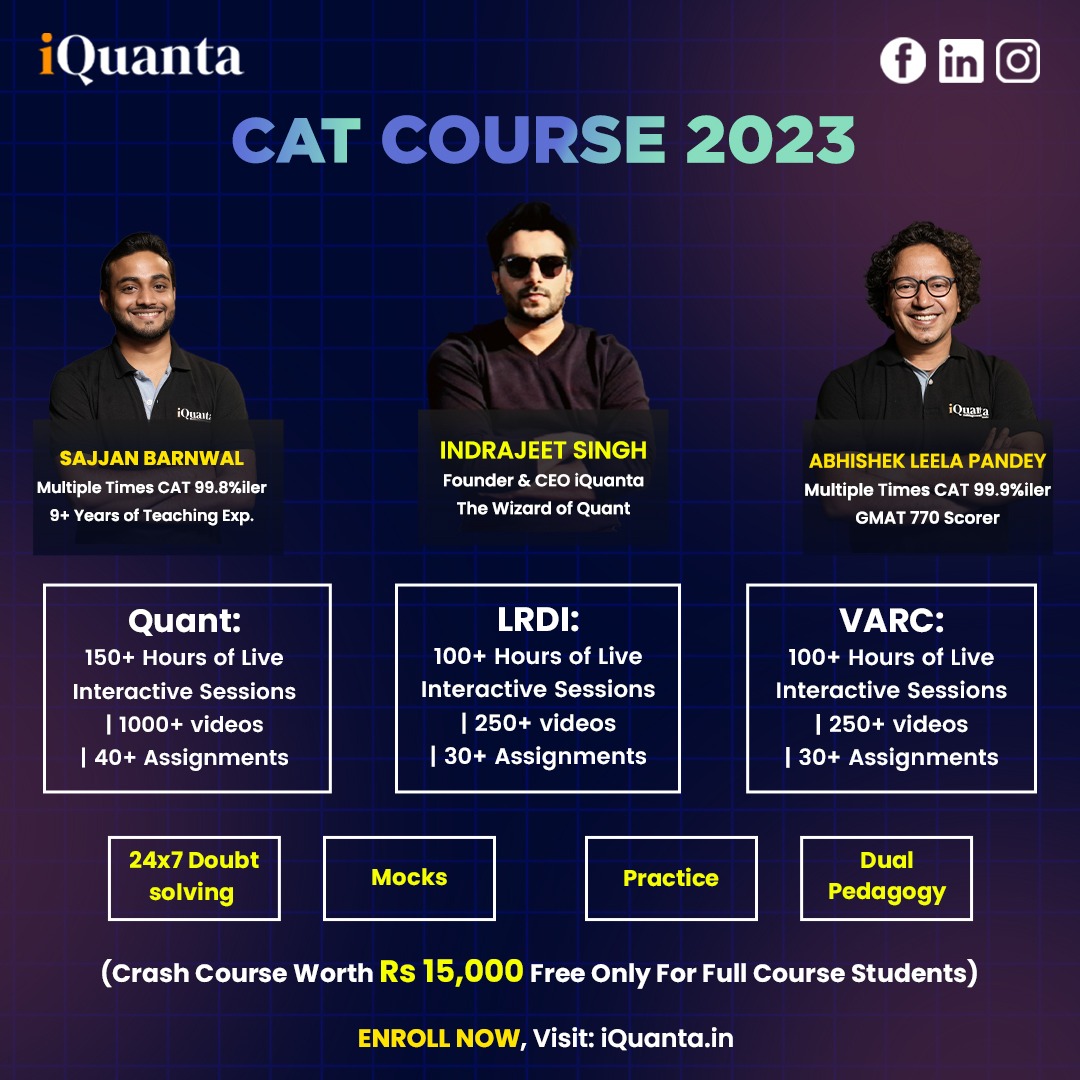 Mock Tests Parameters to Measure Your Level of Difficulty
Mock tests are a great way to measure and work on your difficulty level. When analyzing your mock tests, consider these parameters to understand your level of interpreting mock test questions as easy, medium or hard.
Every mock test is designed differently from the other. So, when analyzing your mock tests, make sure you solve the wrong questions and also the ones that you left during the test for whatever reasons. There is no use to analyze your mock tests if you do not solve the problems in the first place. Make a note of topics that were easy to attempt and less time-consuming. List the difficult topics from each section. These are your weak areas and need extra attention and effort. Now decide a new test strategy before your next mock test. This will help further improve your mock scores.
Once you reckon the level of ease or difficulty according to each topic, you can ace up the preparations before the CAT exam.
Now that you realize the importance of mock tests for CAT preparations, let's give you some tips and tricks to prepare for mock tests.
6 Useful Tips and Tricks to Improve Mock Test Scores 
You may have already started preparing for CAT 2023 or may be thinking of enrolling now. Whatever your stage of CAT preparation, do attempt mock tests beginning from the pre-preparation stage. Once in 15 days is an ideal mock attempt when you are two to three months in the CAT preparation phase. Gradually increase your mock tests attempt to twice/ thrice per week.
How To Work On Your Weaker Areas For CAT?
After your CAT 2022 mock analysis, it is essential that you start working on your weaker areas post analysis. Now, how to ensure betterment in your next mock? You can go for IIM ABC practice batch by iQuanta where you'll be getting 7500+ CAT level practice questions from all the three sections.
The students enrolling in the course will be added to this secret group. A few pointers that I want you to keep in mind before you buy this :
You have to dedicate two to three hours everyday for you to get to a 99 Percentile. If you cannot take the time out, this exercise is not going to make any sense.
This course is supposed to be rigorous practice, practice and practice. It is supposed to fill the gap for people who cannot get to a 99.5 %ile.
IIM ABC Batch Details
Click Here to check out the IIM ABC Course details.
For the CAT aspirants, it is recommended to attempt mock tests on regular intervals and make efforts to improve your mock score. But keep in mind that your mock percentile is not a measure to the actual CAT percentile. The biggest reason is the vast difference between the number of people giving mocks and the ones appearing for CAT. Remember, the key to cracking CAT is practice, practice and more practice. So, focus on improving mock test scores than mock percentile.   
To join India's largest CAT preparation community and for free 24*7 doubt clarification, join the group linked below.