Geetsaisumant Jupudi : CAT 2022 Topper From iQuanta (99.89%ile)
A journey from 85 percentile to 99.89 percentile.
My first CAT attempt in 2020 during my final year and landed up getting 85 percentile without any preperation.
I decided to appear for CAT again, but this time with preperation. I started to search for an online coaching institute and got to know about Iquanta through quora. I decided to join iQuanta(Second Batch) for two reasons, one was the positive reviews and second that it was pocket friendly.
I joined iQuanta and prepared for 5-6 months, but during last 2 months of CAT preperation I took frequent breaks, and finally got to 96.68 percentile. On the day response sheet was released, I realized that I had underperformed. I was still hopeful that I would get an admission in a decent college. But fortunately I didn't.
Then somewhere around June 2022, I decided to give CAT a last attempt and give everything to it. I joined Iquanta course(Last Batch) again, this time because I was confident of the content and rigorous practice at Iquanta. I did not repeat the same mistake again and here it is, the day I was waiting for. I cannot explain the my feeling when I saw my result. 2 years long wait came to an end, still I believe far to go(GDPI), but one stage is cleared and after seeing the result, I am more pumped up for GDPI Preperation.
Most important thing that I learnt in during my journey is that CONSISTENCY is the key to crack CAT.
You will have bad days during preperation, I had, everyone has. But never get disheartened, believe in the process and work hard till the end.
The best part I feel about Iquanta is the huge amount of RELEVANT content, whether it is LRDI sets, RCs or Quant questions, everything is at par with CAT level. Then the rigorous practice and peer learning complement your preparation and keep you motivated.
NOTE- Those who are planning to take Iquanta course, don't miss the final marathon sessions, those are score boosters.
Saying thanks won't be enough to express my gratitude to
Jeet Singh
sir,
Sajjan Barnwal
sir,
Abhishek Leela Pandey
Sir and all the iQuanta team, who guided us throughout our journey and kept us motivated. Couldn't have got a better institute that this.


If you are looking for a structured plan to prepare for CAT 2023, click on the image below.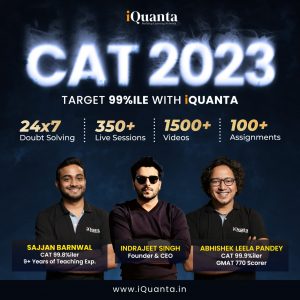 You can also join our Public CAT group to engage with other aspirants, 24*7 doubts solving, and counselling support! Click on the banner below: