CAT 2022 Topper : Adarsh Khandelwal (99.93%ile)
"Ups and downs in life are very important to keep us going, because a straight line even in an ECG means we are not alive." – Ratan Tata. A quote very close to my heart.
From scoring 99.90%ile in JEE Main to being diagnosed with a chronic health problem and not being able to take JEE Advanced and being ill for about 4 years, due to which I had to take up a distance-learning course from IGNOU and graduated as BA(Pol Science) in 2019 along with battling my disease up till September 2021 and finally winning. But I always knew that "Apna time aayega". Fast forward to June 2022, though not able to get into IITs , I started paving way for my ultimate goal of getting into IIMs and took a challenge from my brother to crack CAT 2022 with a percentile greater than that of JEE Main's (so yay!).
I started looking for the best coaching out there and stumbled upon a Quora article that directed me towards iQuanta. I enrolled in CAT 2022 Batch 2,at this point I must mention that at first I was a bit skeptical about iQuanta and thought that how can any CAT coaching has a fee which is 25-30k less than some of the big names, but nevertheless I decided to buy it and I must say I would have regretted not joining iQuanta. The dual pedagogy, 24×7 doubt solving and peer-to-peer learning helped me grow a lot in a very short time. I scored 99.93%ile and for that I would like to thank Jeet Singh, Abhishek Leela Pandey and Sajjan Barnwal for always being there and taking us through a truly awesome journey .
P.S. – Jeet Singh Sir, ab GDPI ki naao bhi paar lagwa dijiye ??

Link to his post : Click Here
If you are looking for a structured plan to prepare for CAT 2023, click on the image below.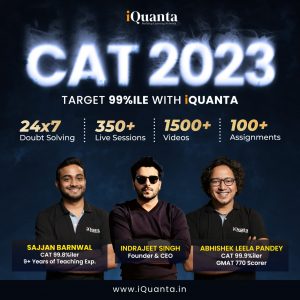 You can also join our Public CAT group to engage with other aspirants, 24*7 doubts solving, and counselling support! Click on the banner below: