CAT 2022 Toppers | CAT 2022 Results
IIM Bangalore released the CAT 2022 results on 21st December 2022 at 5 PM. The CAT 2022 exam was conducted on 27th November 2022 and the results are out before expected. Students can download their CAT 2022 scorecard from the official website which will consist of section wise scaled scores and percentiles as well as overall CAT 2022 score and CAT 2022 percentiles. Since now the results are out, we now have the CAT 2022 toppers list here.
The CAT 2022 exam was conducted by IIM Bangalore and more than 2.2 lakh aspirants appeared for the exam, a total of which 11 people scored 100 percentile. Given below is a list of CAT 2022 toppers statistics.
IIMs will release their first shortlist of candidates soon considering the CAT 2022 cut-offs, candidates' profile, work experience and other factors.
The CAT 2022 cutoffs for Top IIMs and IITs is expected to cross 99 percentile, reaching 99.5+ in some cases.
Post shortlisting, the candidates will get a call from the respetive Bschools to participate in the GD/WAT PI rounds.
The CAT 2022 final merit list will be released post the GD/WAT PI rounds that will guarantee admission to the candidates in the respective B-Schools.
iQuanta's CAT 2022 Toppers List
Candidates can visit the official website iimcat.ac.in to check out the CAT 2022 Results if they haven't yet.
CAT 2022 Toppers Details
1. Adarsh Khandelwal : Starting with the highest scoring CAT 2022 topper (99.93%ile) Adarsh Khandelwal was a JEE aspirant. Because of a chronic health condition, he could not fulfill his dream of being at an IIT. So now, he has started venturing for the IIMs and is on his way to make sure he bags a top IIM. His CAT 2022 sectional percentiles are:
VARC : 77.59
LRDI: 99.99
QA: 99.95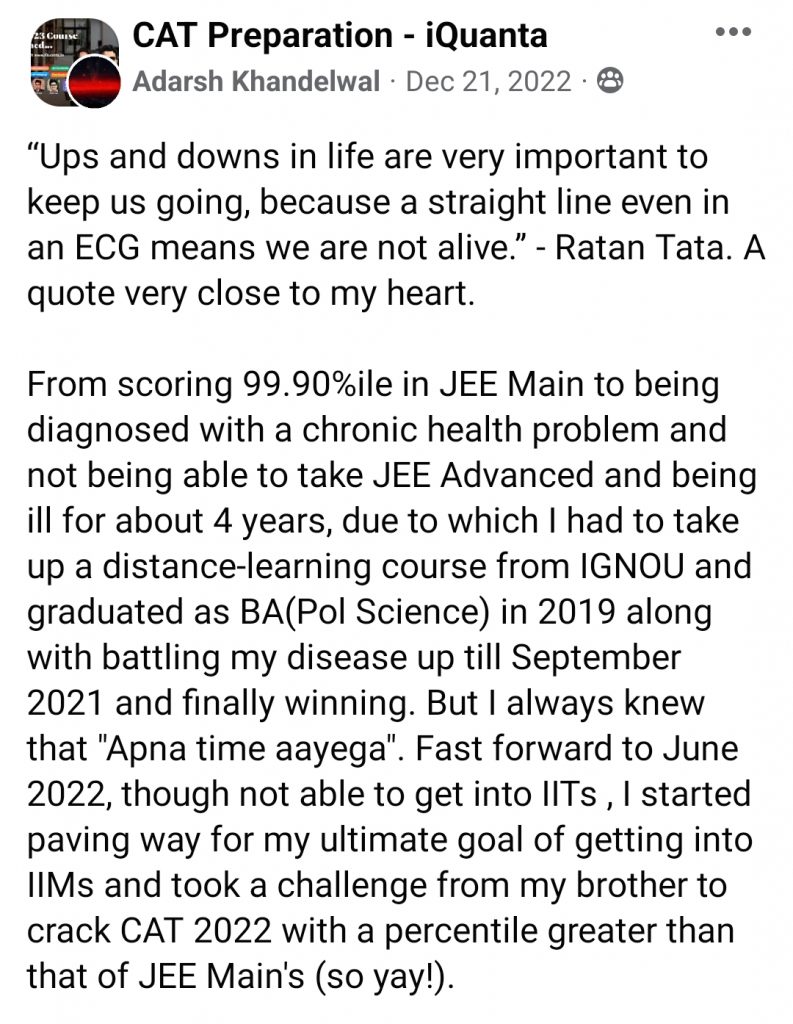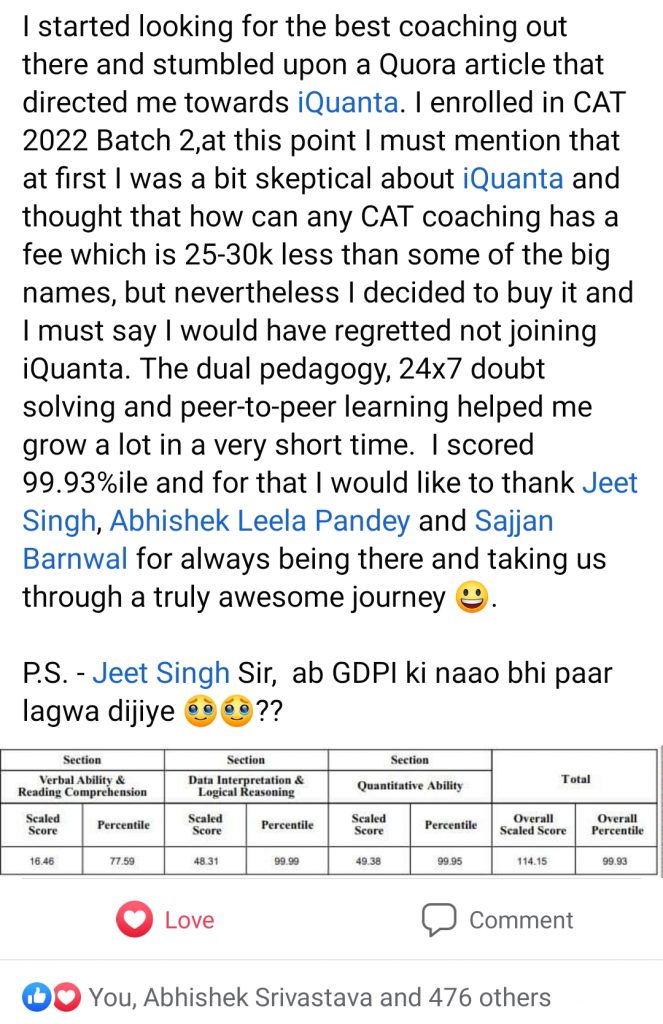 2. Geetsaisumant Jupudi : Moving on to the nest in the list of CAT 2022 toppers is Geetsaisumant who scored 99.9%ile in CAT 2022. He mentioned that CAT 2022 was his second attempt and he improved from 85%ile to 99.9 after becoming a part of the iQuanta CAT Course. His sectionals are :
VARC : 83.13
LRDI: 99.98
QA: 99.86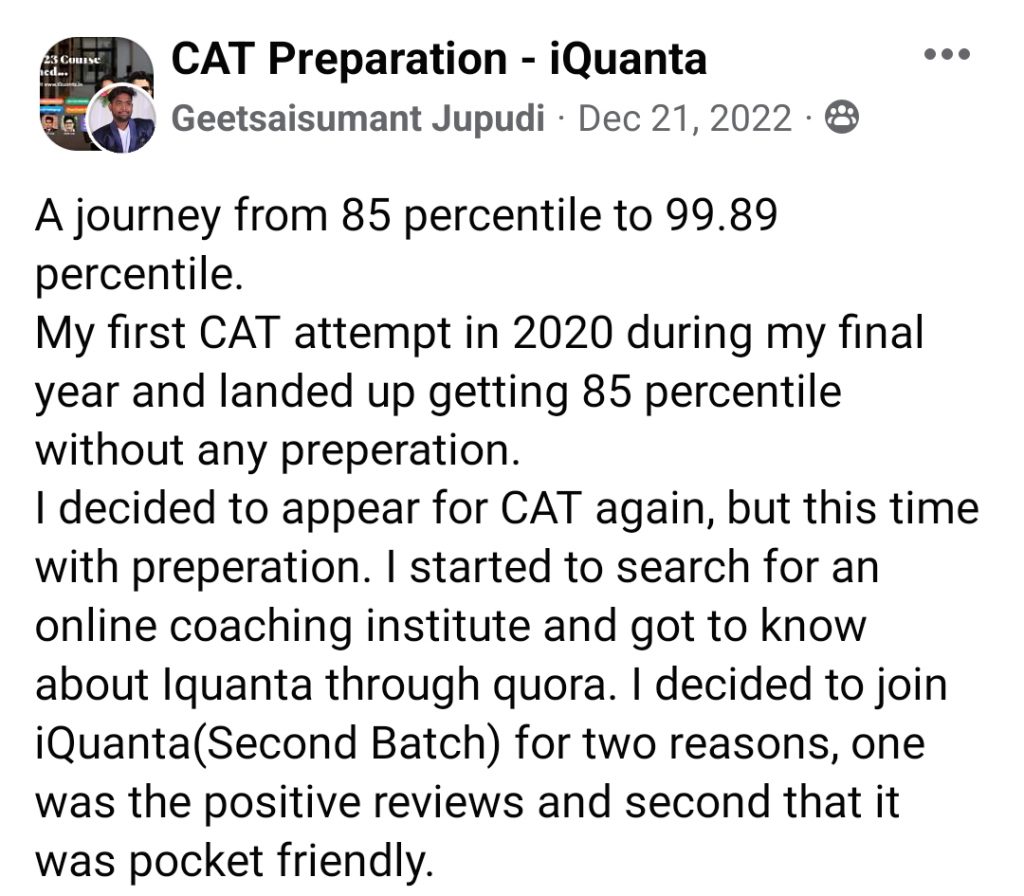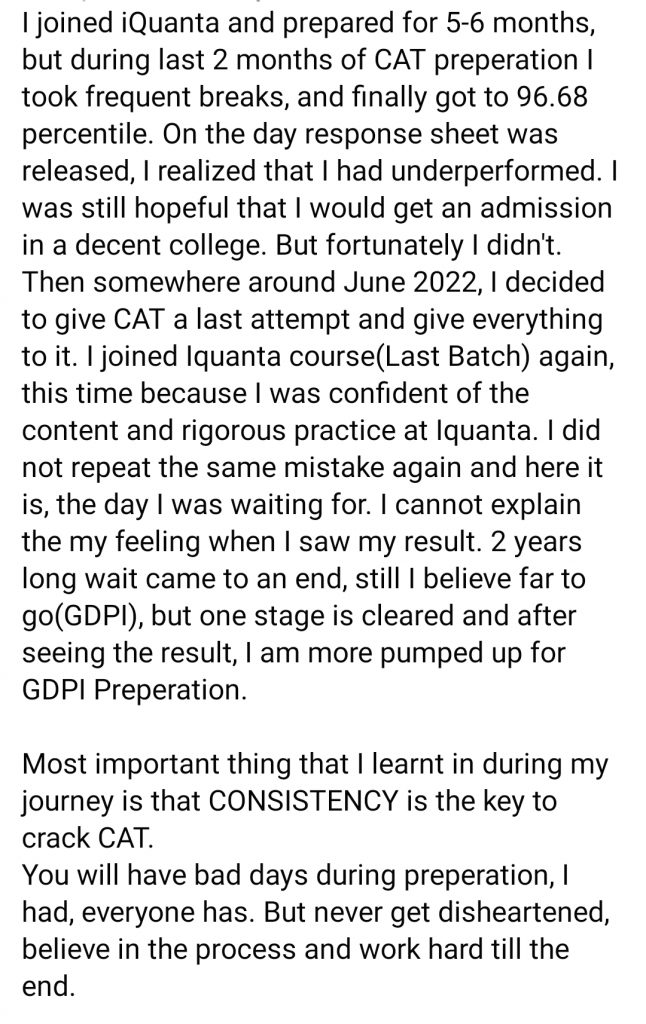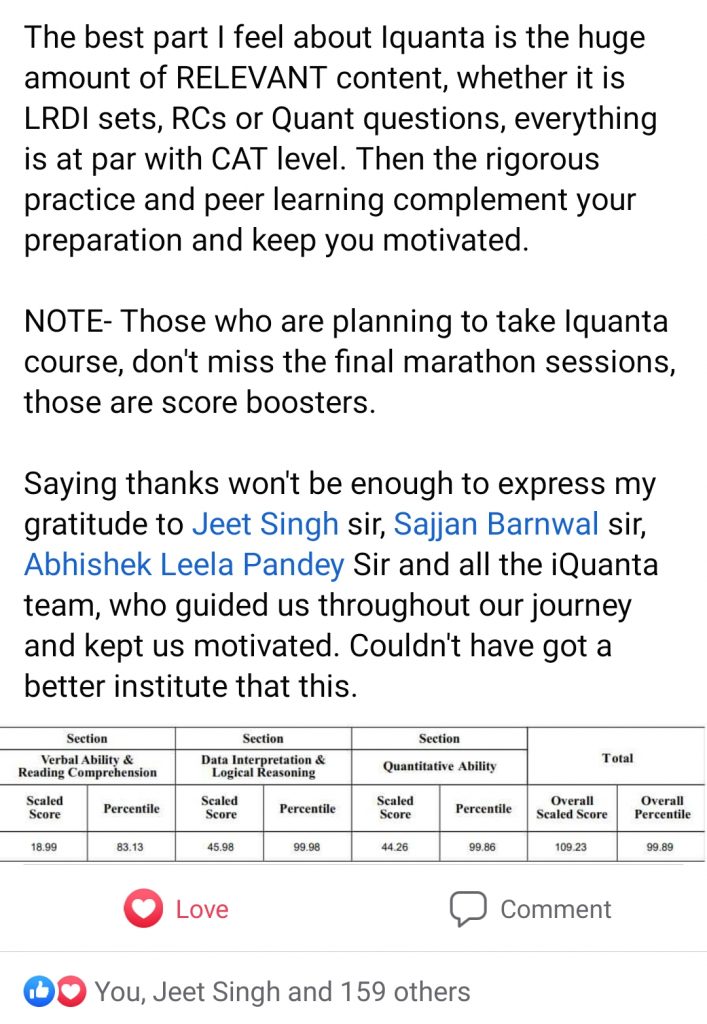 3. Ashish George Roy : Ashish scored 99.82%ile in CAT 2022. He mentioned that two questions that came directly from the iQuanta 250 series helped him attain this score without much hassle. This is what we talk about when we say iQuanta provides the most CAT relevant content.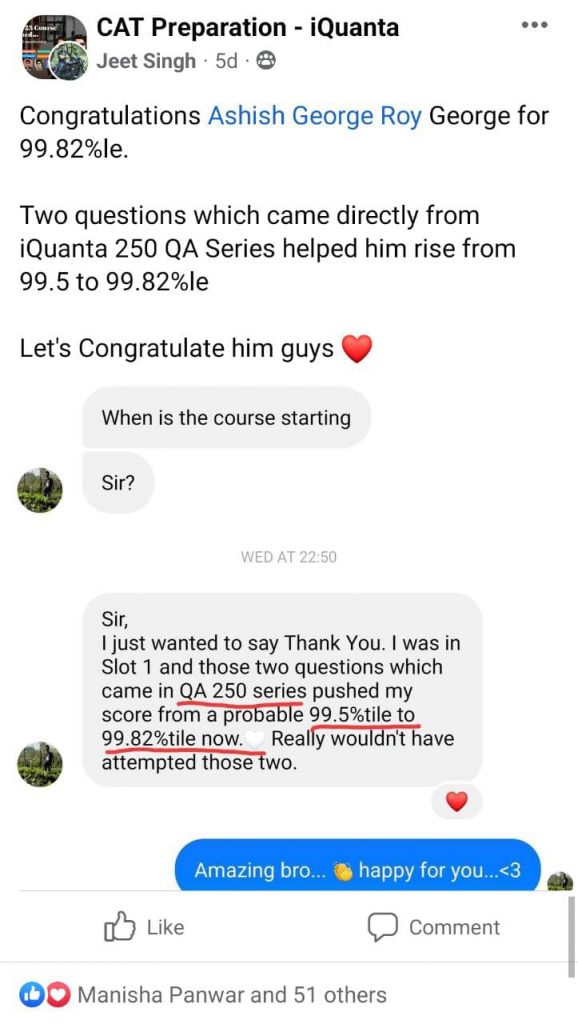 4. Pranav Bahedia : Pranav is another one of our CAT 2022 toppers who scored an overall of 99.82%ile. He prepared for the CAT exam with exam while working full time in a PSU. Pranav found the iQuanta CAT Course very flexible and helpful with all the right guidance, strategies and resources. His sectional percentiles are:
VARC : 90.83
LRDI: 99.61
QA: 99.90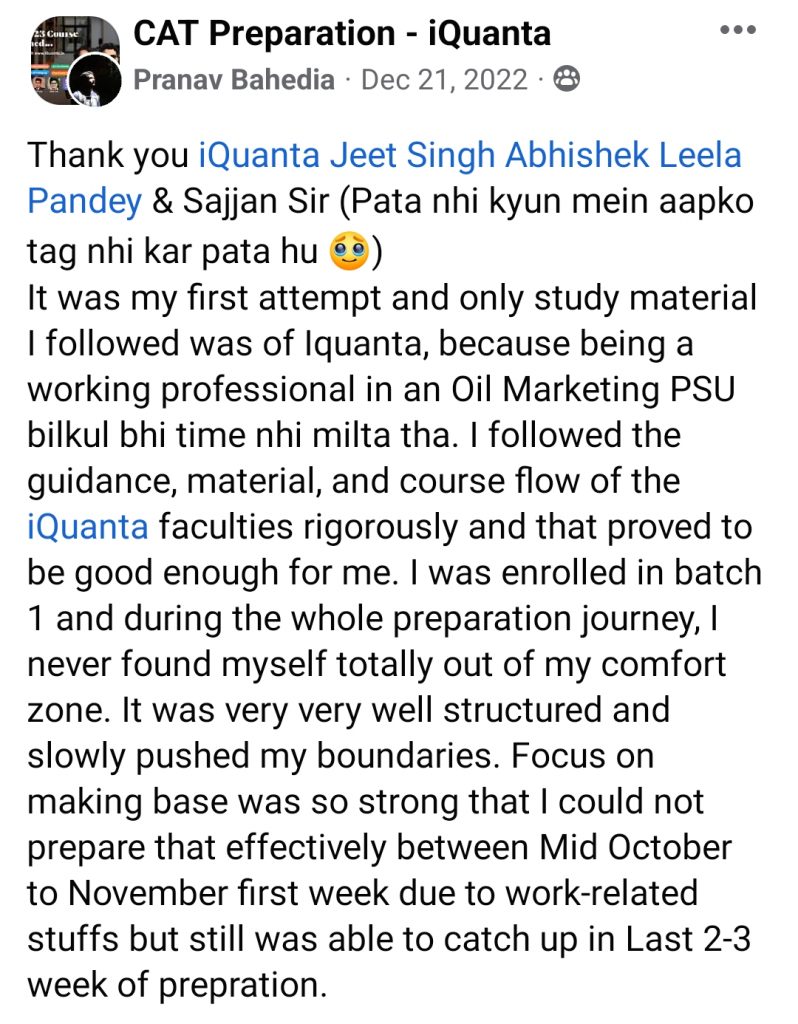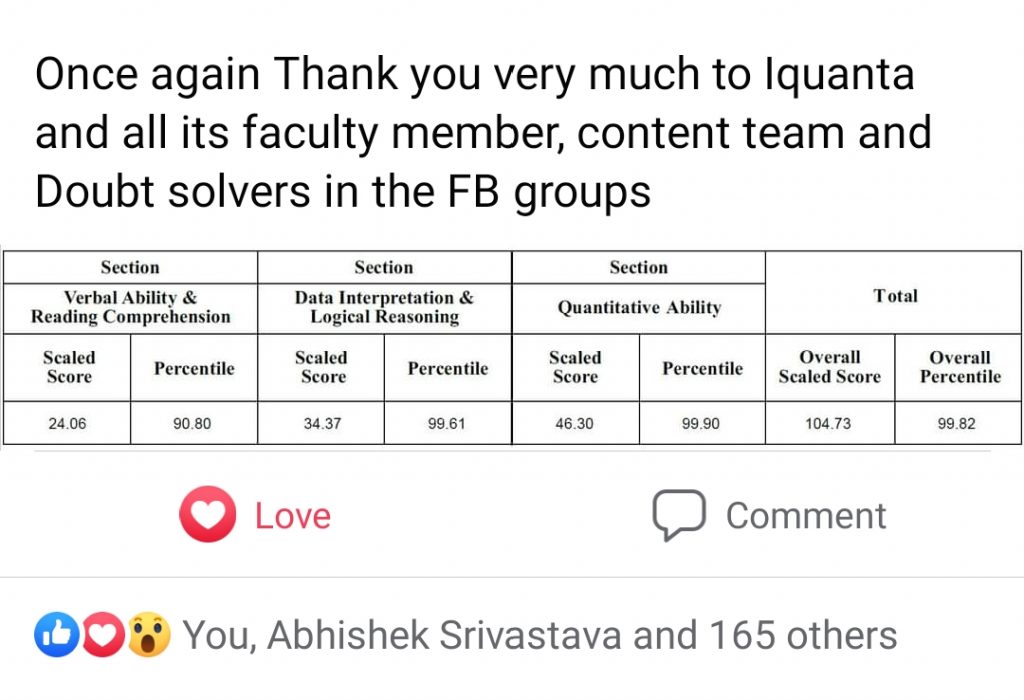 5. Atish Naskar : Atish Naskar cracked CAT 2022 in his first attempt with 99.81%ile. He was a college going student throughout his CAT preparation and travelled 6 hours on a daily basis. He found the peer-to-peer learning environment in the iQuanta community most helpful where he made friends and competed with them. Atish's sectional percentiles are :
VARC : 98.12
LRDI: 99.41
QA: 99.45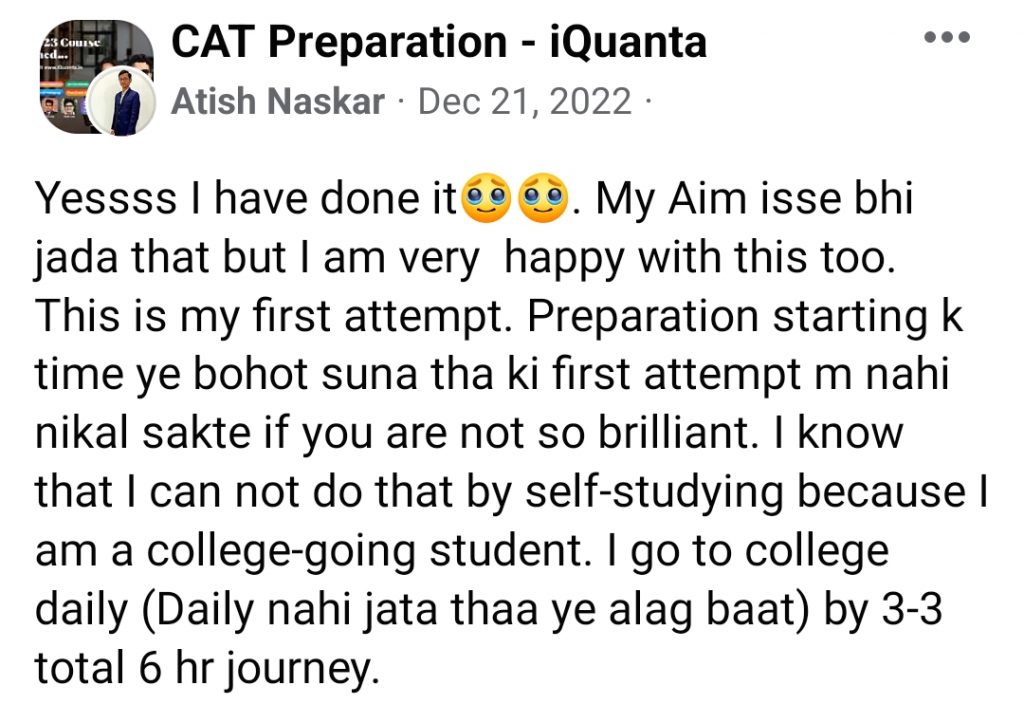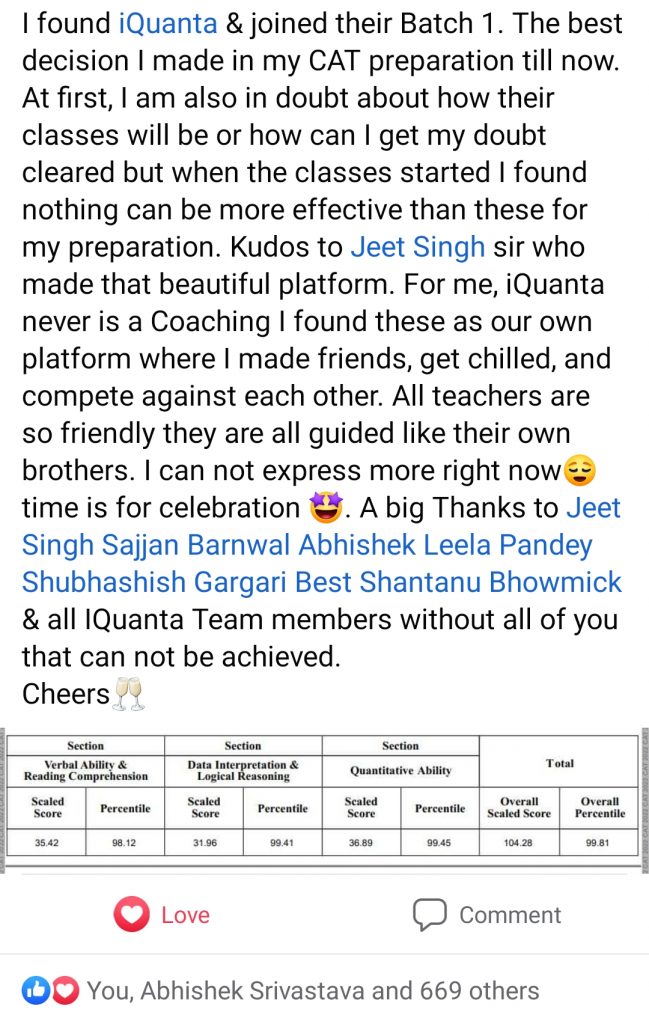 6. Pavan Ch : CAT 2022 Topper from iQuanta Pavan Ch scored 99.73%ile in CAT 2022. He left his "toxic" job and started looking for a coaching to prepare for CAT earlier in 2022. He stumbled upon iQuanta all unaware about the CAT syllabus or exam pattern.
VARC : 95.35
LRDI: 96.67
QA: 99.95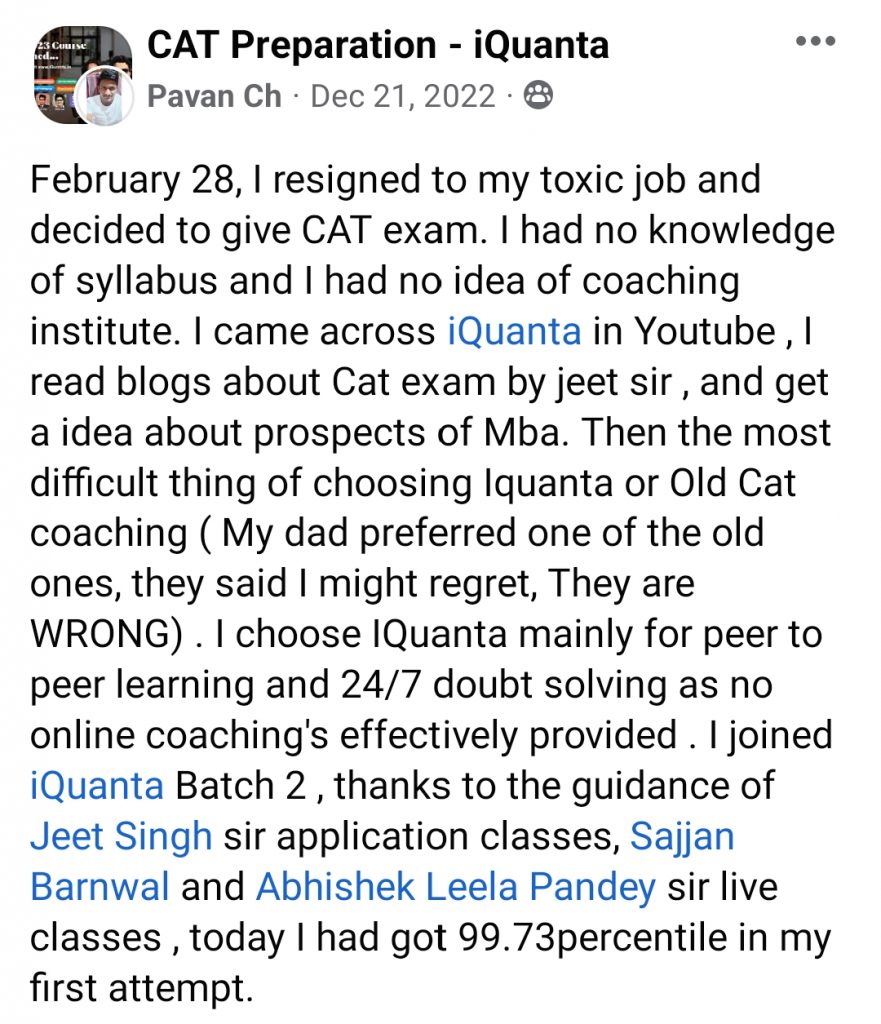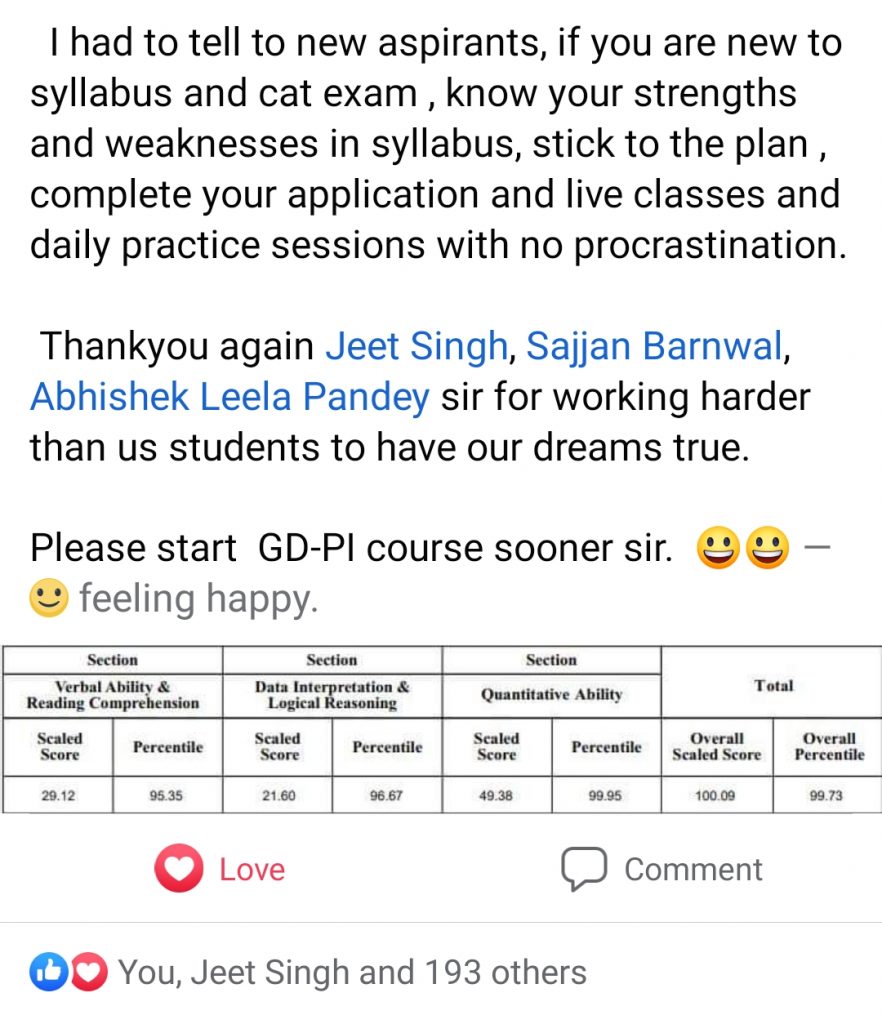 7. Rishab Rahiman : Rishab Rahiman is a 99.63%iler in CAT 2022.
8. Kapil Yadav : iQuanta's CAT 2022 Topper Kapil Yadav scored 99.59%ile in CAT 2022. He mostly kept to himself and prepraed with all the resources provided by iQuanta.
VARC : 99.73
LRDI: 97.37
QA: 99.59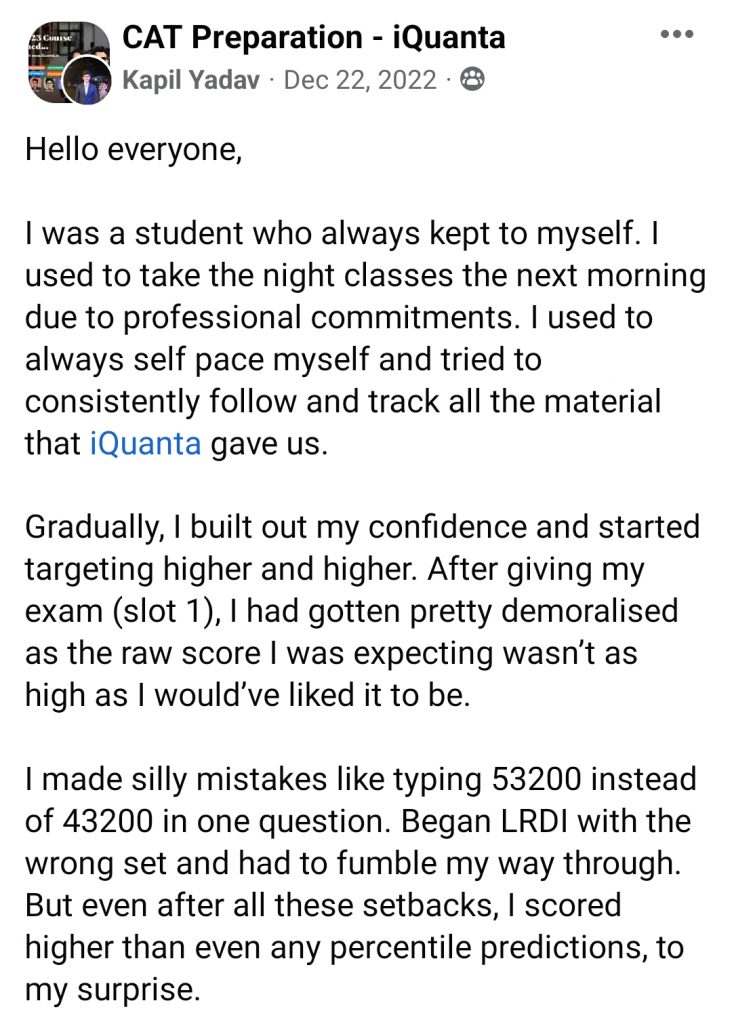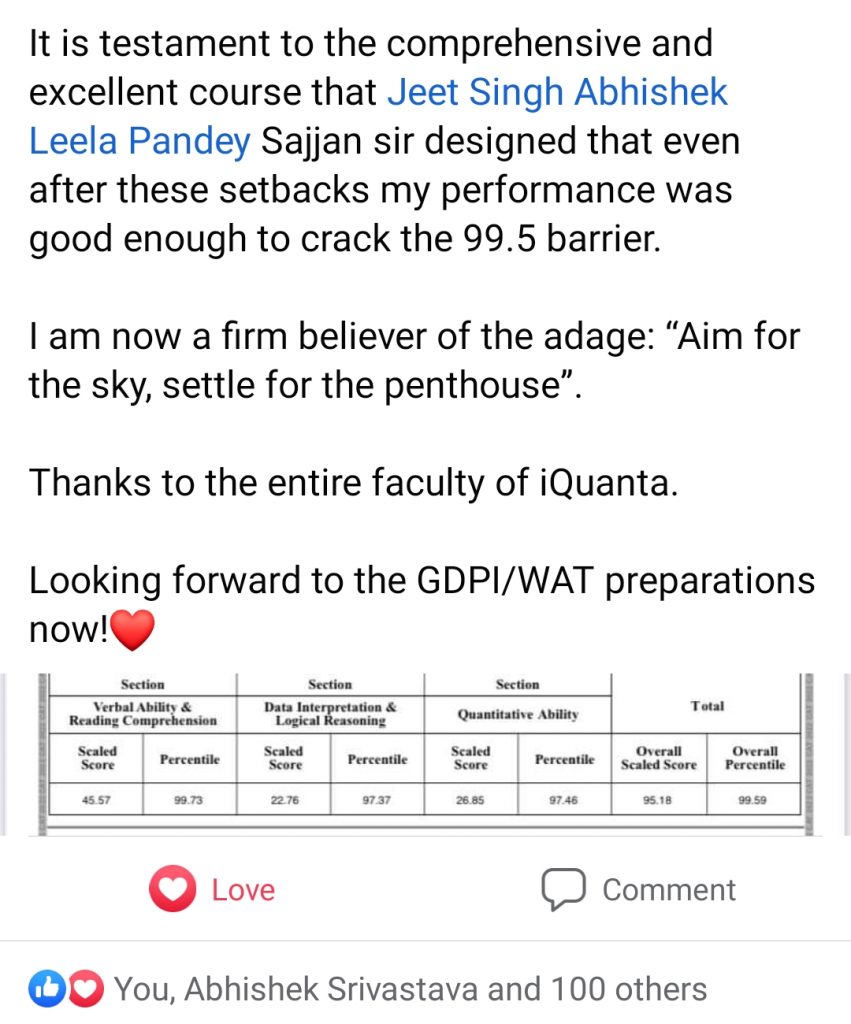 9. Harkiran Chawla : Harkiran who is a CAT 2022 99.41%iler iQuanta said that iQuanta is her best decision ever. She always dreamt of pursuing MBA from a top Bschool and now it is on the verge of becoming true.
VARC : 99.94
LRDI: 89.56
QA: 95.72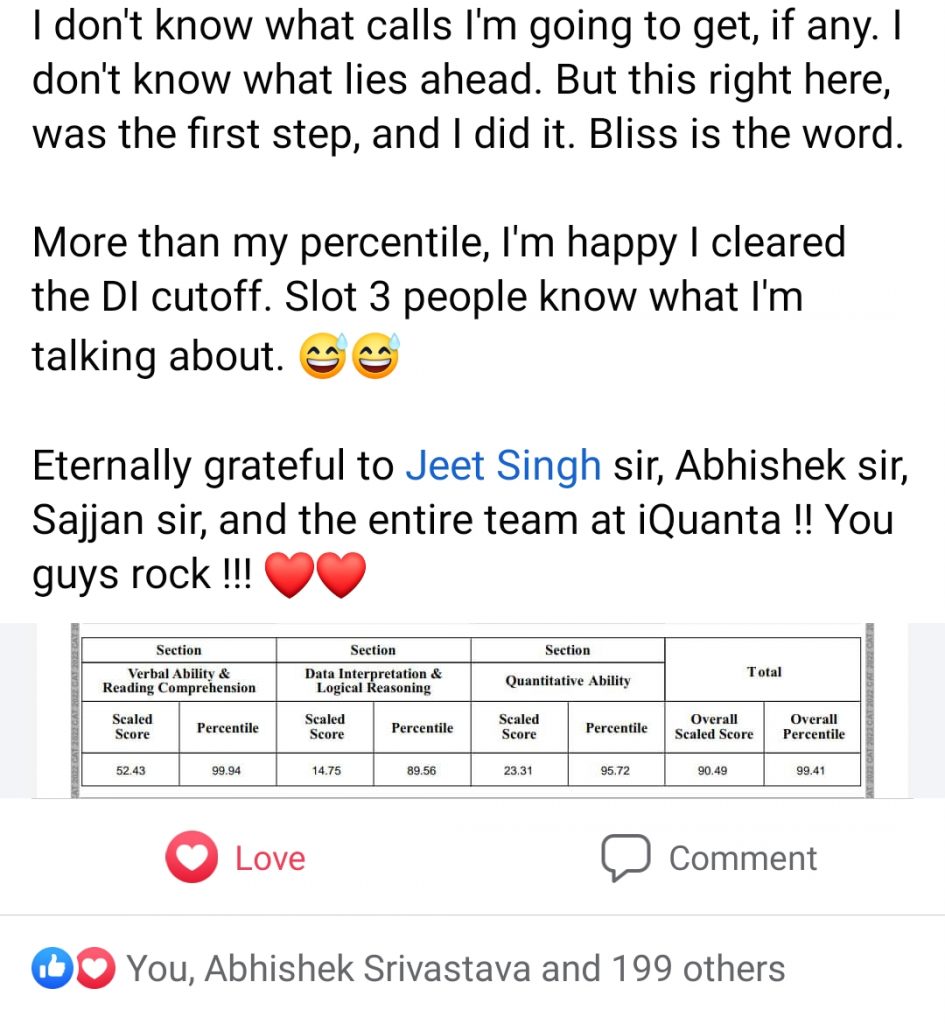 10. Vaibhav Singh : After months of confusion between choosing UPSC and CAT, Vaibhav finally decided to zero down on CAT 2022 and secured 99.25%ile.
VARC : 97.84
LRDI: 92.29
QA: 99.38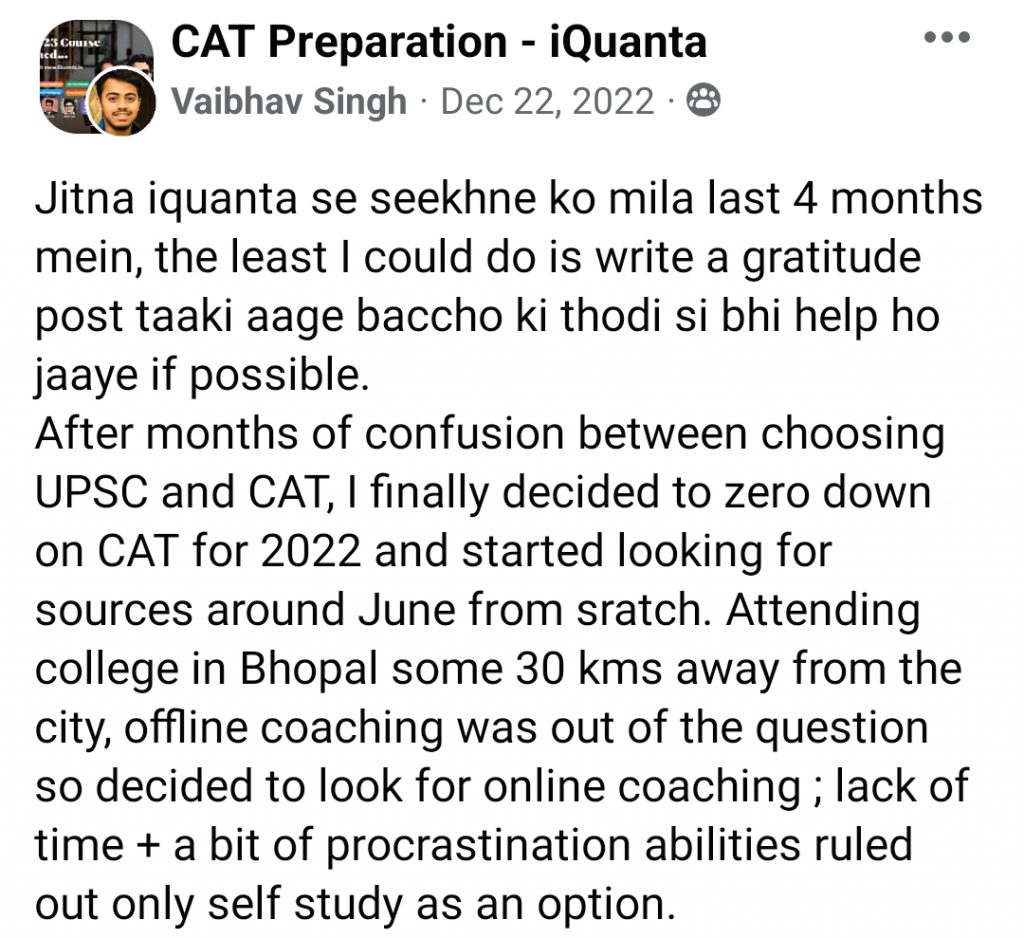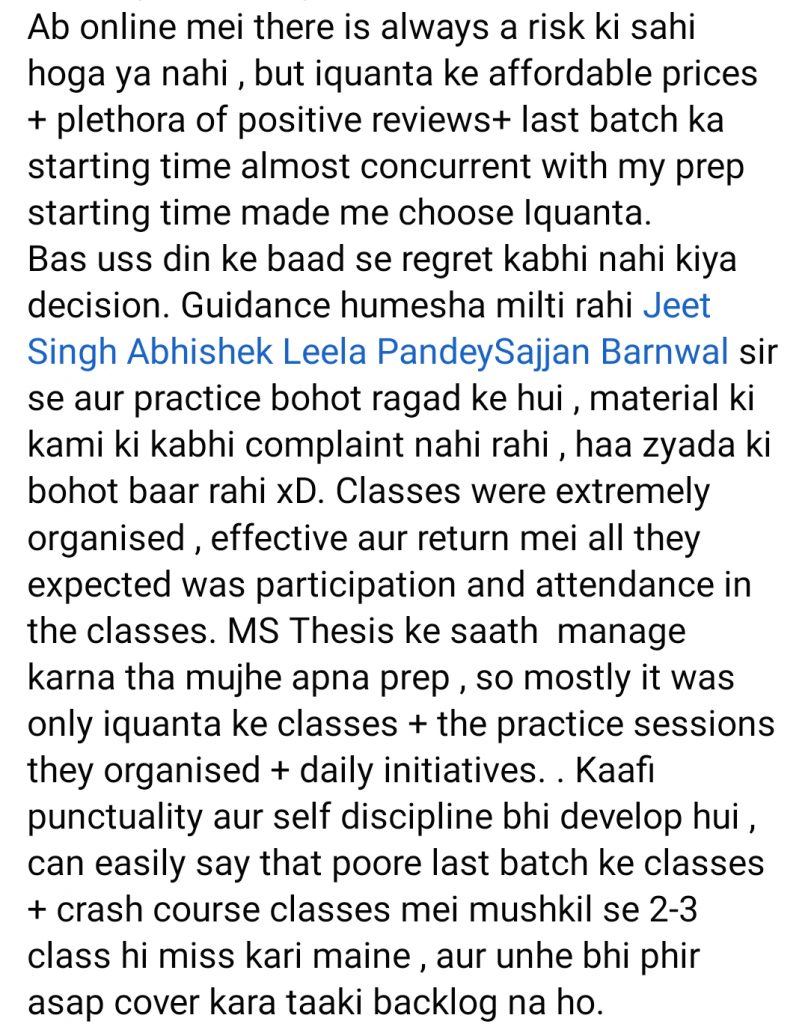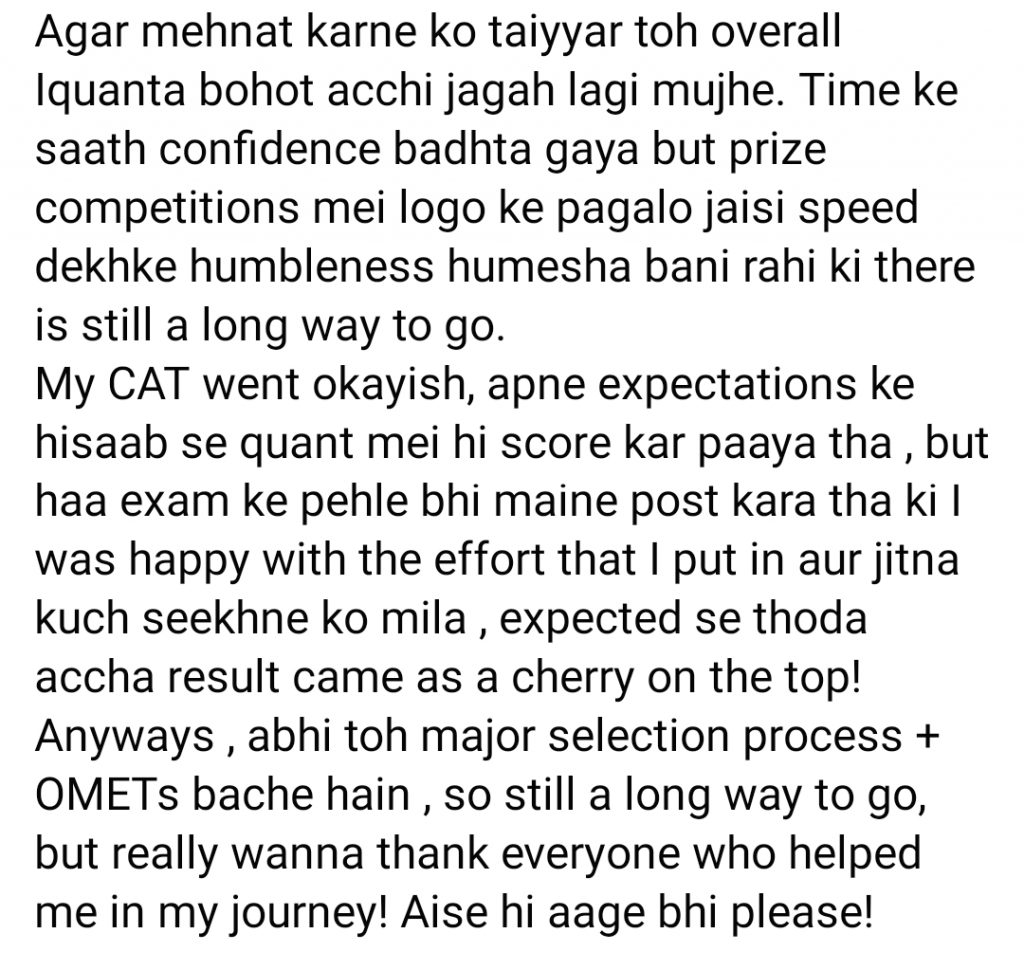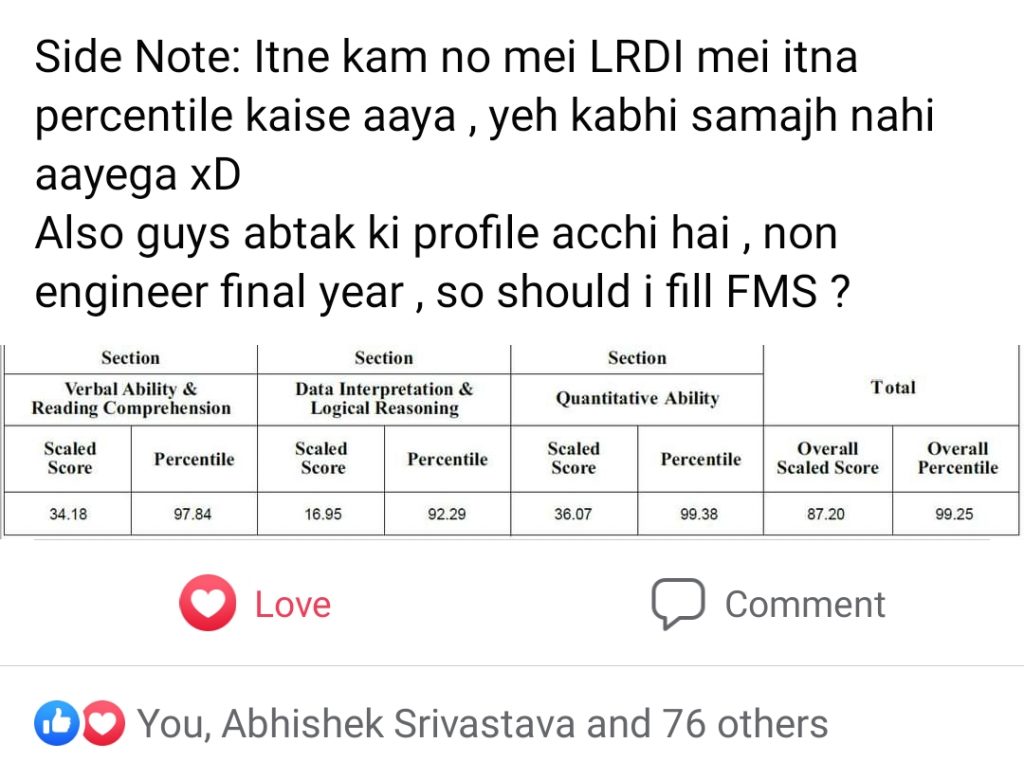 11. Tanya Jain : This was Tanya's first attempt at CAT and now she is one of the CAT 2022 toppers with 99.05%ile.
VARC : 93.43
LRDI: 99.33
QA: 97.46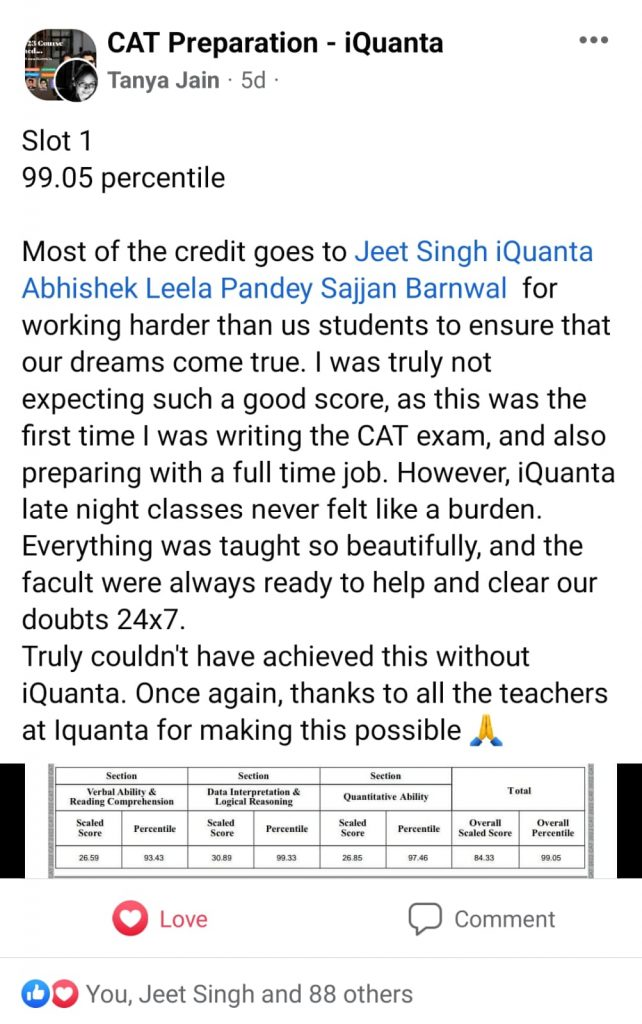 12. Jasmeet Kaur : Jasmeet is one of the iQuanta toppers with 99.02%ile in CAT.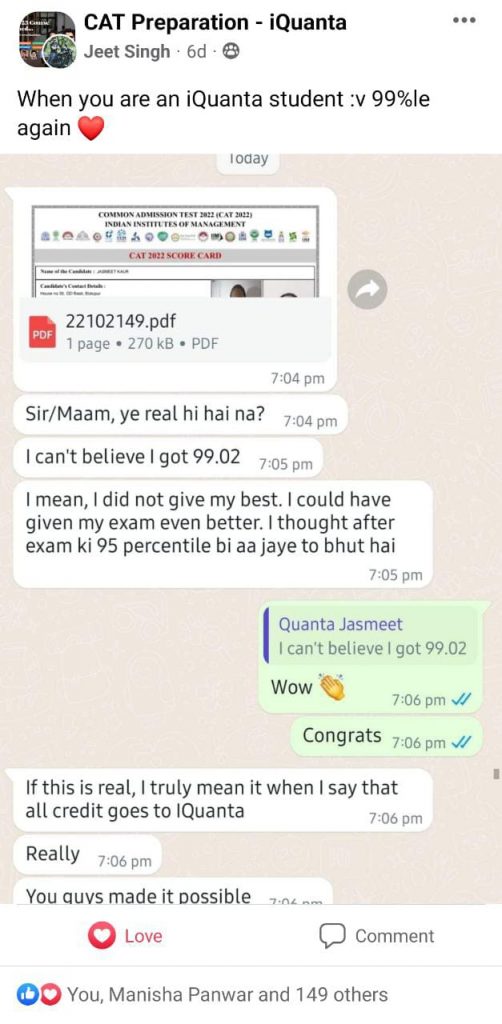 Special Mentions
1. Sakshi : CAT 2022 was Sakshi's second attempt at the CAT exam and from scoring negative marks in CAT 2021 VARC section, she has now come a long way with an overall 98.69%ile in CAT 2022 and 91.2%ile in VARC. She has shared her VARC strategy with iQuanta in her post linked below.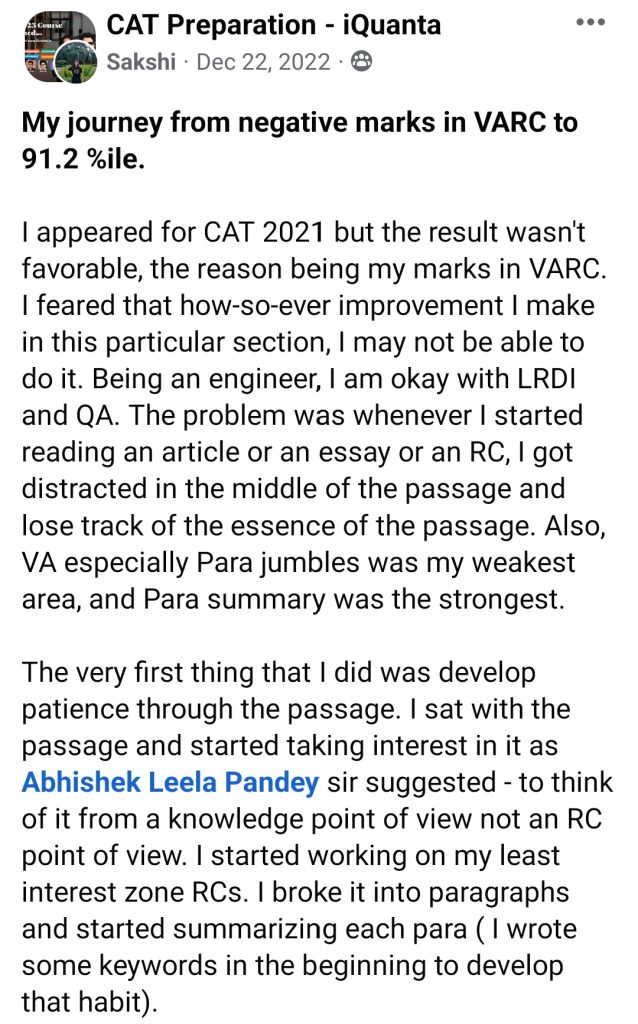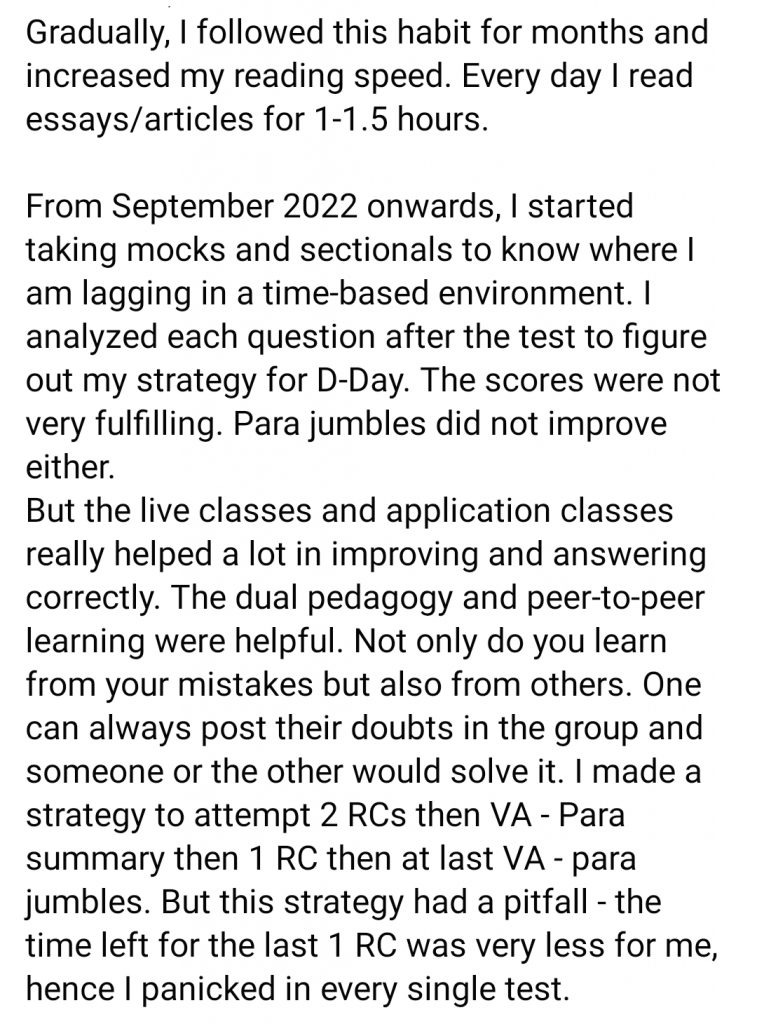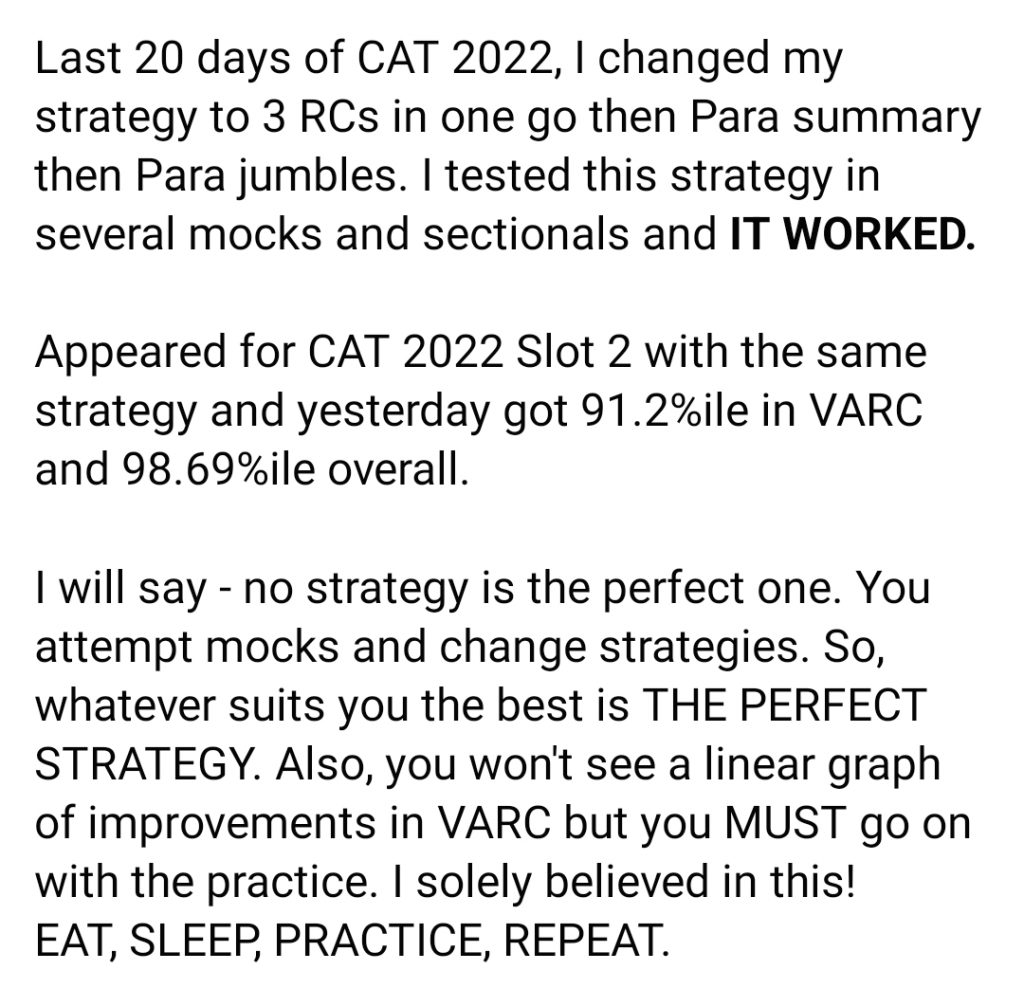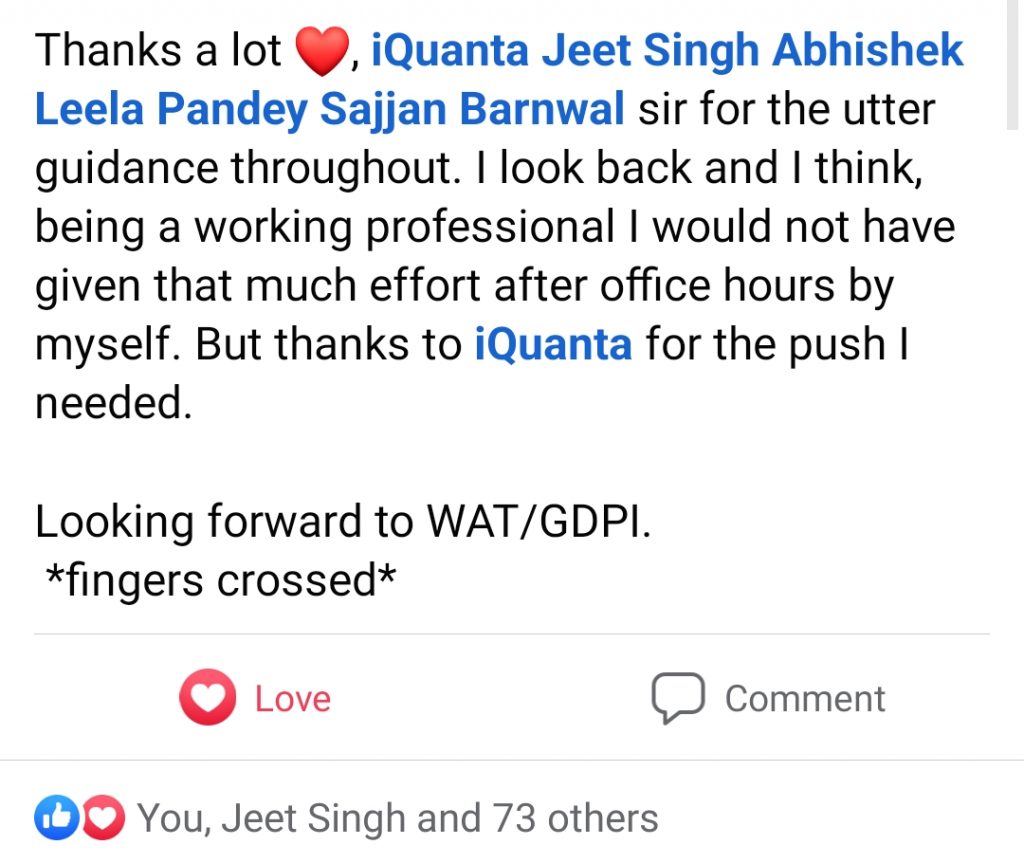 2. Deepshikha Uppal : Deepshikha Uppal, another one from the list of special mentions in the CAT 2022 Toppers list madeher way to 98.50%ile by busting all the myths around CAT.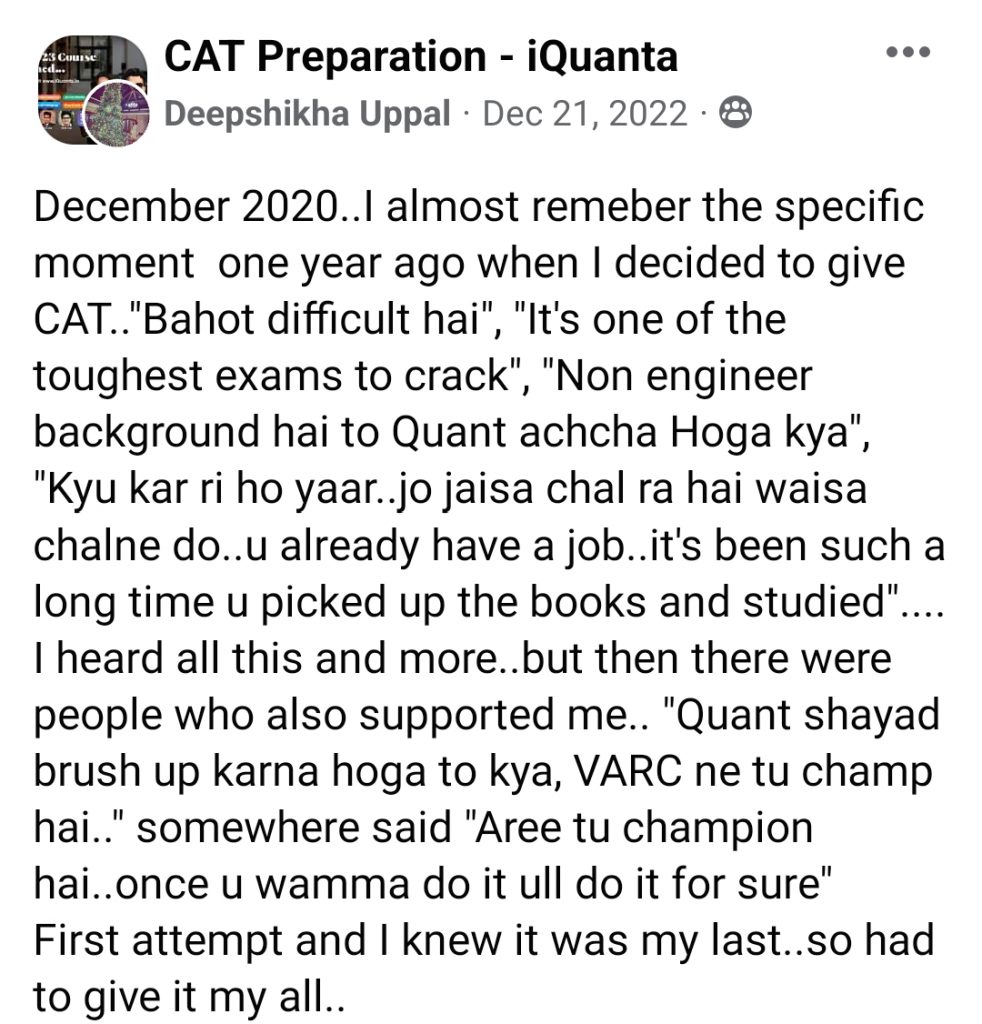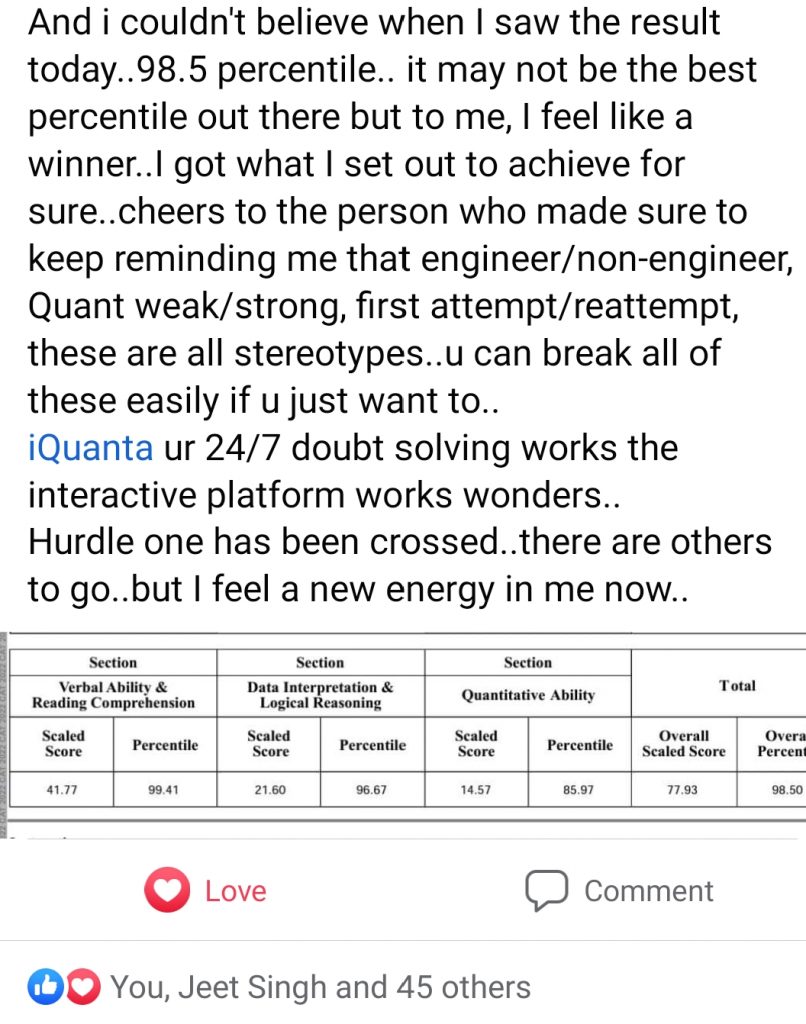 iQuanta's Past CAT Toppers
iQuanta's quality preparation materials are reflected in their result with more than 60 students getting 99+%ile in CAT 2021. 400+ iQuanta students got 95%ile+ and 225 got 97+%ile.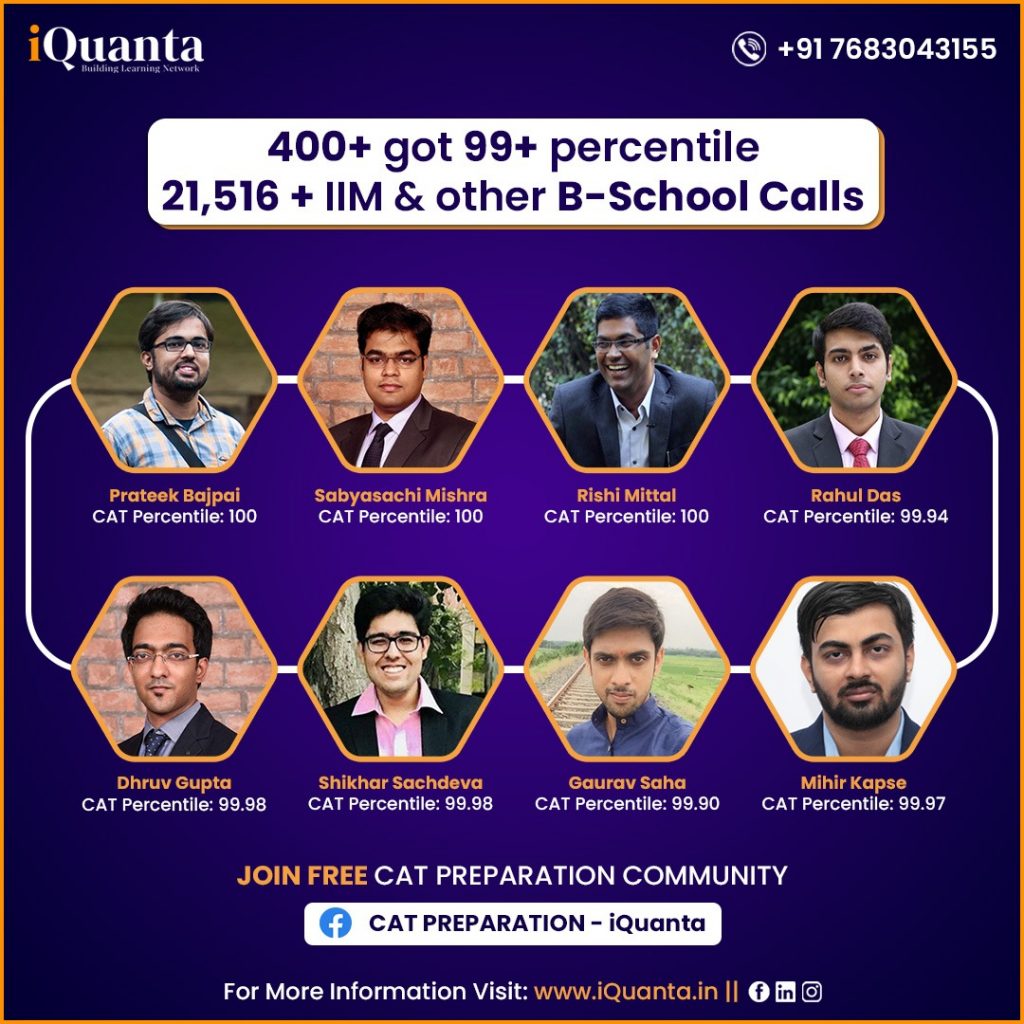 iQuanta would like to congratulate all of the CAT 2022 Toppers. We are deeply happy for all of you and appreciate every amount of hardwork you've done to reach here. At iQuanta, our aim is to provide you with value to enable you to get into your dream MBA college.
And for all those who couldn't make it to the list this year, this is not the end. You all will come back stronger next year.
iQuanta's CAT 2023 Course has been launched. Click on the image below to check out the course details and book a free counselling slot.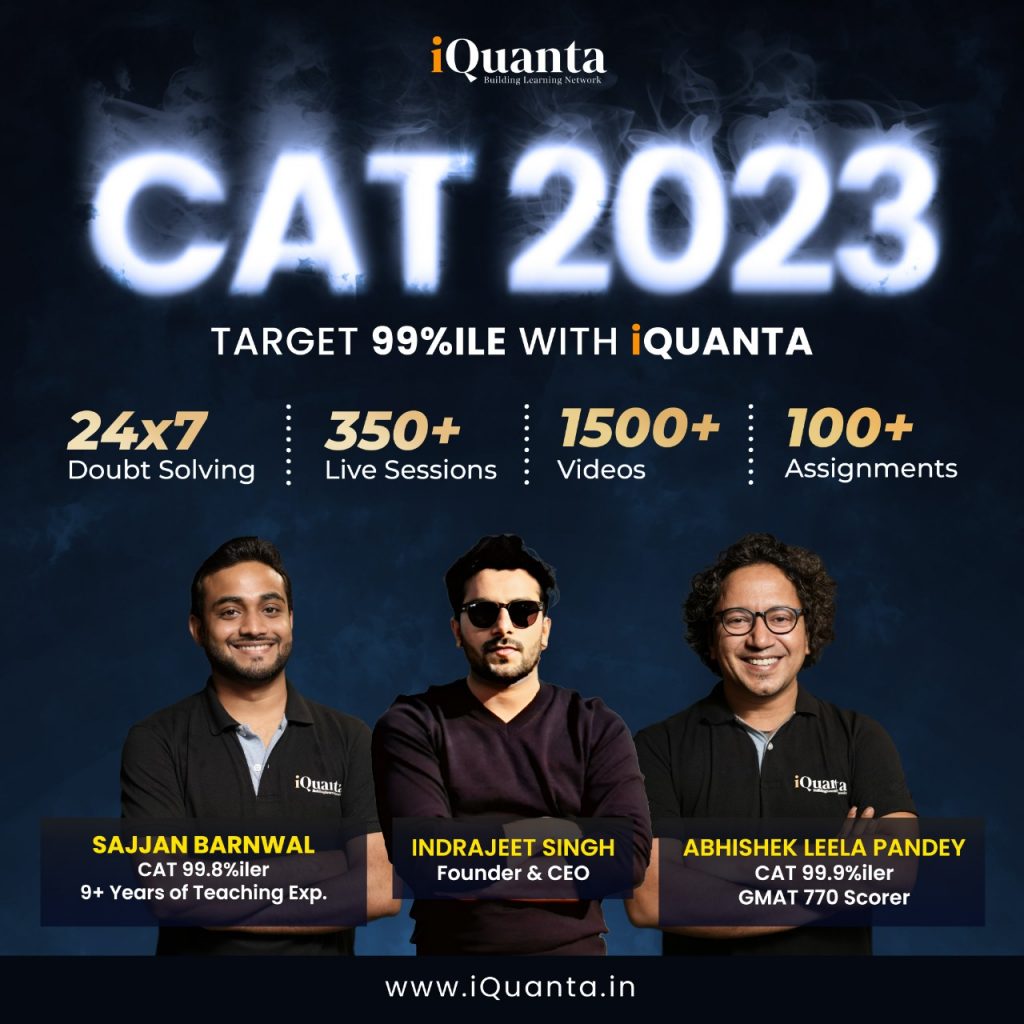 You can also join our Public CAT group to engage with other aspirants, 24*7 doubts solving, and counselling support! Click on the banner below: