Presently there is a widespread notion that one should have a couple of years of work experience before joining MBA. Here is an advice.
I have no second thoughts. I would say one must have a work experience before going for MBA. But I would not say prior experience is going to be helpful in getting a better job. The chances of placement for a fresher in large company are same as the person with prior experience. In large companies when they have training pools everybody starts at the same level and the prior experience doesn't get weighed so much. But there are a few exceptional candidates who join as fresher and still take a lot out of B school.
It doesn't matter which company you work for, be it IT or factory or refinery all are considered as corporate experience. It's an opportunity to learn about the management, how to be around people. It gives a lot of insight into organisation behaviour. I think those experiences values a lot. But obviously there are exceptions and one can't generalise these things. These lines are supported by Neeraj Kakkar, the CEO  of Hector Beverages.
Here are few words by Biswanath Chakraborty, who was one of the active members of CAT Preparation-iQuanta Group. He cleared CAT in first attempt and converted IIM Bangalore.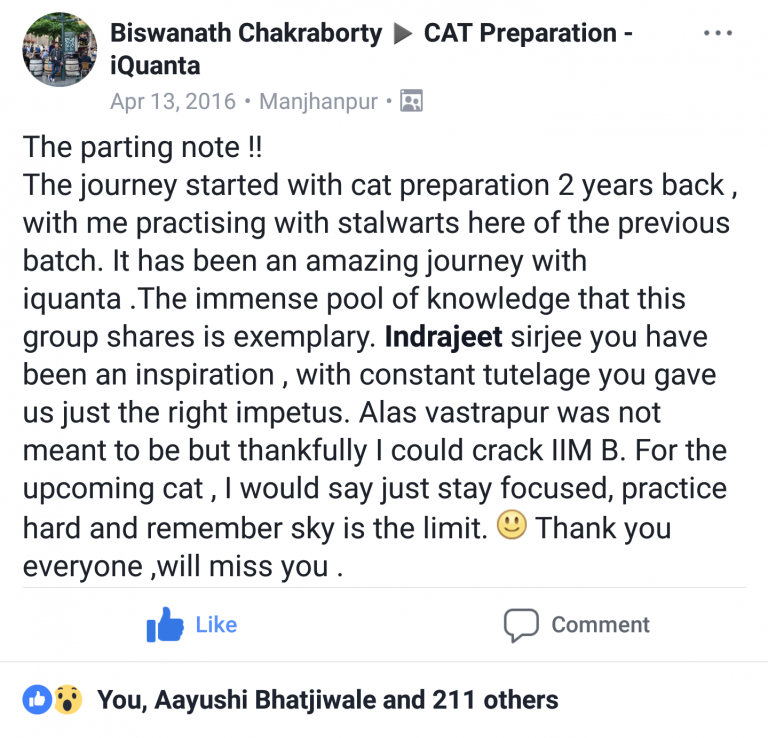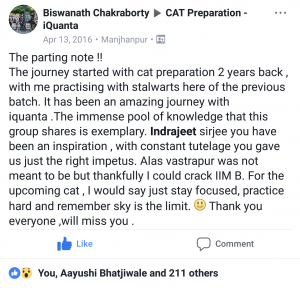 "Let me start by saying one thing " iQuanta and CAT Preparation-iQuanta" has been my home for 2 years , when I was preparing for one of the most difficult and coveted exams " CAT". Its creator and my mentor Indrajeet Singh sir has been instrumental in my race to BELL THE CAT. With their constant help and tutelage I have been able to take another step towards my coveted dream of becoming a successful manager.
The preparation for cat is not that difficult but strategic. You might well have belled the cat even before you have started, if you have the correct strategy

The way the mentors of iQuanta and cat preparation-iQuanta gauge the depth of the problems is state of the art. In iQuanta community, you would find the right mix of hard as well as difficult problems which gives a congenial environment to practice and clear your doubts. Cat preparation-iQuanta is the only group where you have stalwarts practicing with amateurs , end result is that you LEARN which is the most important thing. Indrajeet Singh sir himself a connoisseur of Quants lays down his concept in front of the students in the most lucid and interesting way.
I am not an expert of verbal ability but can talk about Quants and DILR . It is very important to clear your basics first before you start attempting mocks. A caveat , do not rush and do not get depressed if you are weak at something. After you go through your basics it is very important to check the previous years cat papers which gives you an idea of the important topics for the exam.
In quants I can name a few ARITHMETIC, PNC, PROBABILITY ,ALGEBRA,GEOMETRY, are very important , make sure you strengthen them. Number system which is practiced a lot in the group is personally my favourite. It showcases the beauty of mathematics, but alas this year(2015) cat had very few questions. Though in 2016 CAT there were seen many questions in second slot. Nevertheless no matter if it comes or not, if in future you have any propensity of taking finance , this is like the fodder to your finance dreams. So practice number systems. Important concepts like fermats theorem, eulers theorem etc. should be understood by heart. The iQuanta page has plethora of such concepts , written in the most lucid language.
 Coming to DILR , there is only one mantra PRACTICE. It is advisable to practice a set daily. In DILR it is more about understanding the patterns . It is advisable to practice from the past year cat papers .
  It has to end with a cliched dialogue" Practice makes a man perfect". That's the ultimate mantra. Practice hard , and be sure that Indrajeet sir and other mentors of iQuanta are there to help you anytime you need them. I thank them from the bottom of my heart for being so supportive.
 The end result: IIM BANGALORE, IIM INDORE, IIM KOZHIKODE(WL), IIT BOMBAY(SJMSOM), IIM SHILLONG.
CAT SCORE:-99.06%ile(va:88%ile dilr:99.8%ile qa:98.3%ile).
Don't worry, I am a GEM(general engineering male). Yes you can too , just keep faith on yourself.