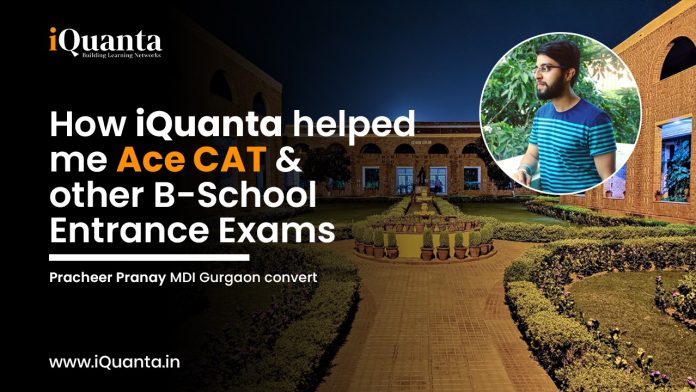 ---
After graduating from a decent Engineering college in India, I was clueless as to what path to take next. Although I did have an offer from an international construction firm based in Dubai, yet I was not really sure if I wanted to take that up and pursue my career in the construction industry. Given my association with a plethora of clubs and committees in my undergrad, I was always inclined towards Management (People's Management in particular). Although, I had heard about the Common Admission Test (CAT) that serves as the gateway to the prestigious IIMs and other top-notch B-Schools of India for an MBA, yet I had no clue as to how to go about taking the same.
Then it was one fine day when a friend of mine (who had already started prepping up for CAT) introduced me to iQuanta and told me about it being one of the very first online platforms that helps prepare candidates to ace CAT and other B-School entrance tests. He also suggested that I join iQuanta's open Facebook Group that lets aspirants from various parts of India put up questions, queries, suggestions or any kind of post relevant to CAT. I really liked this idea of having an open forum which any CAT aspirant (irrespective of the fact whether they are a part of iQuanta or not) can join it and hence, get their queries resolved.
With CAT 2019 just 6 months away and I, being a working professional, did not have enough time at my disposal to prepare for the test. Since I spent most of the day's time at my work, I decided to join iQuanta's evening batch wherein live lectures were conducted post-dinner (Around 9-10 PM). This helped me focus on both my work and my preparation simultaneously. Initially, it was hectic to attend classes after a day full of work, but then it was only a matter of a couple of weeks after which I got accustomed to this routine.
One of the best things that I found at iQuanta was that of the concept of a diagnosis mock test. A diagnosis test, as the name suggests, is a mock test that you take even before you go through the syllabus of CAT (let alone starting to prepare for it). It's a way of helping you out assess your initial stand as to what kind of preparation is needed going forward. I still remember that I scored a low score of 78 out of 300 in my very first mock. Yet, the mentors that I found at iQuanta were truly motivating as they not only helped me out by underlining my strong areas but, at the same time, also suggested as to how I could go about improving my weak areas.
Over the course of 2 months, my mock scores consistently improved from 80 to 90 and then to 105. However, around September, my mock scores had hit a plateau and were not going beyond 110. This was a frustrating phase during my preparation since I could not figure out as to what I was doing wrong. During this time, I happened to talk to one of a very senior mentor at iQuanta who had a sneak-peek into my past mock scores. One striking factor that we both observed was that I was scoring decently well in DI-LR and QA, but my VA-RC scores used to fluctuate a lot, which in a way used to bring my overall score down at times.
The problem with my VA-RC section was that I used to attempt almost all the questions in that section (irrespective of the difficulty level) and because of this, my accuracy level used to go for a toss. In VA-RC, usually, you are able to easily eliminate two options and are stuck between the other two. Since there are no quantified answers in numerics (unlike DI-LR and QA section), you tend to get carried away and then attempt the question anyway by choosing either of the two options wherein you were stuck between initially. AND THAT'S EXACTLY WHAT YOU SHOULD NOT DO!
Post this analysis, I started to focus a lot more on my accuracy than on the number of my attempts. My target was to get as many questions in VA-RC right that I can without sacrificing on my accuracy, even when it meant attempting 5-6 questions lesser than what I otherwise would have. Adopting this approach not only helped me boost my VA-RC accuracy significantly but at the same time, also helped me break that threshold of 120 marks. And by the end of October, I was easily hitting scores in the range of 130 to 150.
Eventually, with immense practice and hard work, I could replicate my same strategy on the D-Day that I had been following for months and was able to score a 97.9 percentile in CAT 2019. Now, another significant advantage of iQuanta is that how close and similar the mocks of other B-School entrance tests are designed. As a result, I took other B-School entrance tests like NMAT, SNAP, XAT, IIFT and TISS, and was able to perform decently well in all of them. I had eventual converts from MDI Gurgaon, NMIMS Mumbai, SCMHRD Pune, IMT Ghaziabad and a few new IIMS. Because of its rich legacy, I decided to join MDI Gurgaon wherein I'm currently pursuing my PGP-HRM.
To structure your CAT Preparation in an efficient way consider visiting iQuanta website and being a part of iQuanta CAT 21 Course at www.iQuanta.in.
You can also check out and be a part of their Facebook group for peer learning, doubt solving and free material. https://www.facebook.com/groups/Rockthecat

To join India's largest Facebook community with 24*7 Doubt solving and peer-to-peer learning, visit the link below.