iCAT Mocks 2022 by iQuanta
The mock season has started and iQuanta's iCAT 2022 mocks are out. Get the most relevant CAT level questions which are at par with the CAT exams. Curated by our experts, iCAT mocks is the best test series you can refer to for an efficient CAT preparation.
iCAT 2022 Details
20 Full Mocks: You'll be provided with 20 Full CAT Level Mock Tests
60 Sectionals: In addition to the full mocks, you'll also be provided with 60 sectional tests (20 for each section).
15 Non-CAT Mocks: 

The 15 Non CAT mocks will help you prepare for the OMETs.

Solutions:

Textual solutions for all the mocks will be provided.

Video Solutions: Video Solutions for all the LRDI sets in CAT full mocks.
---
Get flat Rs. 999/- off on the iCAT Mocks.
Use Code: MOCK999
Enroll for
iQuanta CAT Course
to get iCAT Mocks for
Free!
---
Why Should You Take Mocks?
With around a few months remaining for CAT 2022, we hope everyone has started appearing for CAT 2022 Mock Tests already. Mock tests give you a clear picture of the type of questions and difficulty level of the exam. Regularly appearing for mocks helps increase your Speed and Accuracy. While a lot of people appear for mocks, they don't analyze the results. Appearing for these tests is only fruitful if you analyze your score and thereby work upon improving it. CAT 2022 mock analysis is important as it will help you focus upon your weaker areas.
iCAT Test Series Feedback
The iCAT mock test series by iQuanta has brought several results. iQuanta has a history of setting questions which are at par with the CAT exams.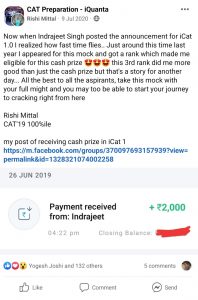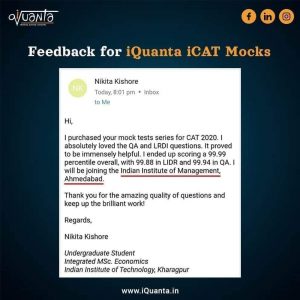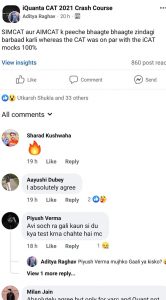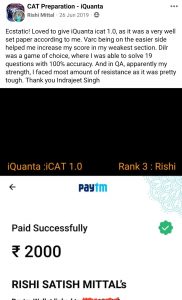 To purchase the most CAT relevant test series, enroll for iCAT 2022. Visit the link below.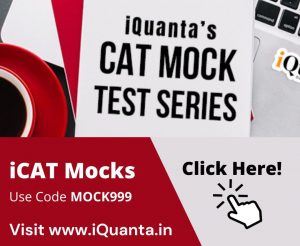 To join India's largest Facebook community with 24*7 Doubt solving and peer-to-peer learning, visit the link below.