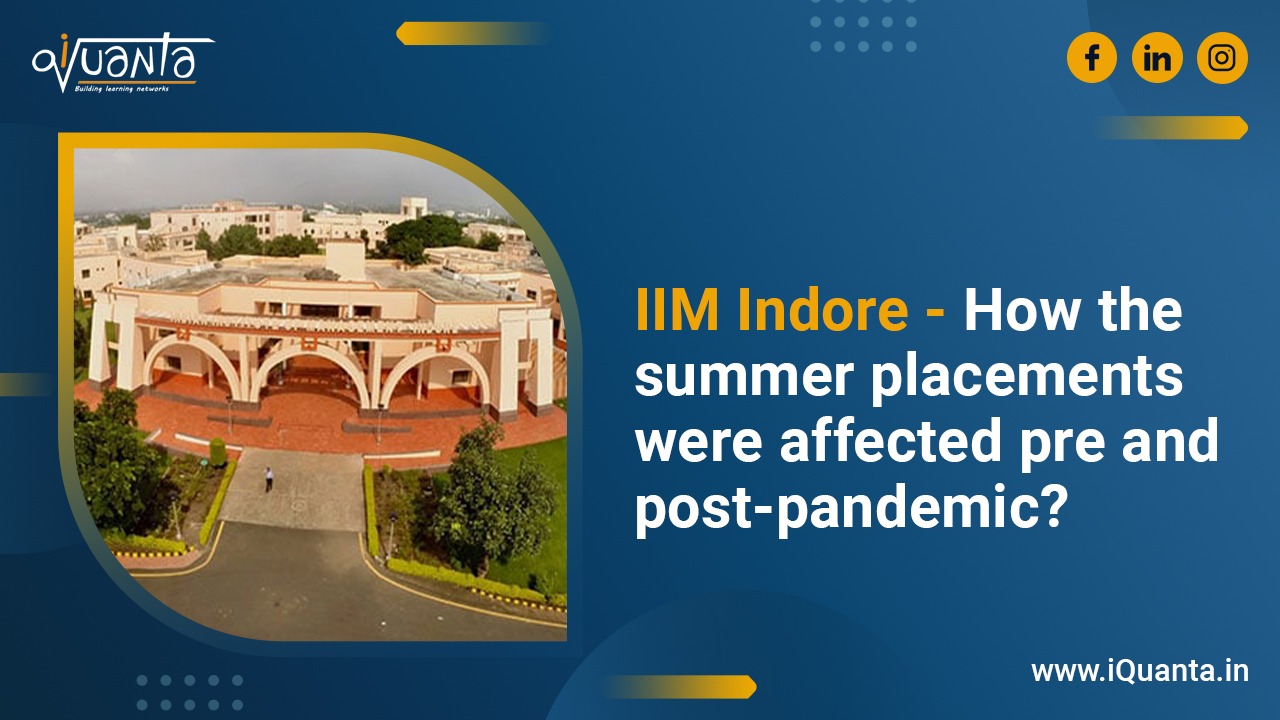 IIM Indore Summer Placement Report's Comparison.
---

IIM Indore has the largest and most diverse batch across all the IIMs. 190+ recruiters participated in summer placement round offering various roles in Automobiles, Consulting, E-commerce, FMCG, Healthcare, Pharma, Technology, Media & Telecom etc. Despite the pandemic, there were 70+ new recruiters participating out of which many were startups who have recently become unicorns.
There was a 7% increase in the average stipend offered and a 9% increase in the median stipend offered compared to last year. The average stipend stood at Rs 1.8 lakhs. The average stipend for the top 100 students stood at Rs 2.95 lakhs, while the average stipend for the top 200 students stood at Rs 2.62 lakhs.
Batch Profile
Total Batch Size – 473 + 102 (Dual Degree)
The gender diversity split is 58% for males and 42% for females.
Educational background split is 72% from engineering, 8% from commerce, 5% each from economics and management, 10% from others.
Work experience split is 6% for 3+ years experience, 34% for 2-3 years experience, 47% for 1-2 years experience and 13% for less than a year experience (includes freshers). The average work experience comes out to be 21 months.
Since most students are from an engineering background so majorly have work experience in the IT sector.
Domain Wise Distribution and Key Statistics

The insights that can be drawn are:
There is a 6% decline in S&M roles offered compared to last year as Sales and Marketing was highly hit due to the pandemic. Last year, S&M offers dominated the placements with a 21% difference between the next best, making IIM K a marketing campus.
The 37% offers in S&M last year were highest among all the IIMs.
Genman and Operations saw the highest growth of 9% from 10% last year to 19% this year.
IT and analytics also witnessed a decline of 10% from 21% last year to 11% this year.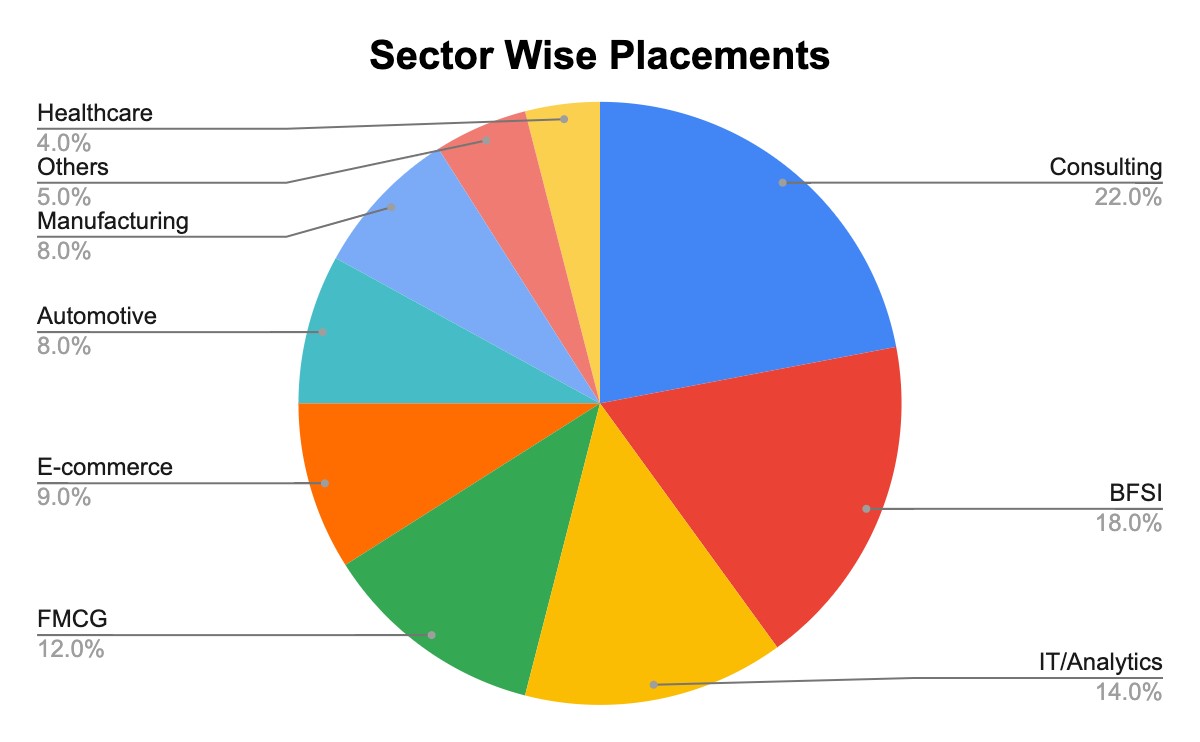 The consulting sector has the most number of offers i.e. 22% followed by BFSI with 18% offers.
Last year, manufacturing saw 15% of offers which reduced to 8% this year which shows manufacturing was one of the sectors hit due to pandemics.
The largest recruiter in Consulting Domain is BCG while other recruiters are Bain & Company, Deloitte, McKinsey, Everest group, PwC, Synergy Consulting etc.
The top recruiters in the Finance domain are Axis Bank, CRISIL, D.E. Shaw, Deutsche Bank, Goldman Sachs, ICICI Bank, JP Morgan Chase, State Street etc.
The top recruiters in Sales & Marketing are Asian Paints, Bajaj Auto, HUL, ITC, L'oreal, Marico, marsh etc. Some first-time visitors are BridgeStone, GSK Consumer Healthcare, Lubrizol etc.
The top recruiters in General Management and Operations are Mahindra & Mahindra, Amazon, Cipla, Cummins, L&T, MX Player, Jubilant Foodworks etc.
The top recruiters in the IT/Analytics domain are Amazon, American Express, Capgemini, Google, Microsoft, Walmart, Sony Pictures, Wipro etc. First-time recruiters are Hexaware and VOIS.
Comparison Table of two years
| | | |
| --- | --- | --- |
| Pointer | 2020-22 Batch | 2019-21 Batch |
| Batch Strength | 473+102 (Dual Degree) | 479+110 (Dual Degree) |
| Number of Recruiters | 190+ | 160+ |
| New Recruiters | 70+ | 39 |
| Highest Stipend | INR 3.2 L | INR 4 L |
| Average Stipend | INR 1.8 L | INR 1.68 L |
| Top 100 Average Stipend | INR 2.95 L | INR 2.86 L |
| Increase in Top 100 Stipend | 4% | 10% |
| Most opted Domain | Consulting (24%) | Consulting (27%) |
Conclusion
Despite tough times, there was a significant increase in the number of recruiters visiting the campus along with an increase in median and average stipend. Many new recruiters in the category of emerging firms/start-ups participated offering different roles across various domains. The most opted domain was consulting which was the same trend last year also.
References