Journey to MDI Gurgaon
In a typical lower middle-class family of Bihar, the best option for a bright student completing their +2 exams is to pursue B.Tech. And yes, going for UPSC after completion of their Undergraduate program is another viable option. Like others, I also joined a tier-2 Engineering college with a single motto of at least grabbing a job at the end of course. But the few incidents and the learnings led me to join a B school 7 years later.
Being actively involved into extra-curricular activities since childhood led me to look for different feasible options at Haldia Institute of Technology (HIT). But, being the largest and oldest private B.Tech. college made it heavily focused on studies and research. The urge to find a seek away from studies and do something fruitful in fields of my interest made me to explore different options. After some unsuccessful attempts, I was able to form an e-media group that later went on to become the official students' portal of the college. The learnings, experiences, and the aftereffects that I had become pivotal for me to pursue the field of management. It not only led me to explore different fields but also gave confidence to experiment with my life. Later I founded/co-founded multiple other groups, held multiple PORs including head of student council and unsuccessfully attempted a no. of entrepreneurial ventures. Yet, I didn't have the urge of pursuing the proper MBA majorly because of the High college fees, mediocre state board academics and the lack of confidence in belling the CAT.
30th September 2016, Infosys had visited the college campus for the recruitment, and I had a smooth interview. Results came late at night and I was selected. Despite of being happy and relieved, I couldn't sleep because the main reason why I had joined B.Tech. was accomplished, and I didn't have anything to run after. After some days of research, motivation and planning I decided to start my own company with a senior of mine. Rest of the 9 months in college, I spent building the company, strengthening the networks, and enjoying the college life. Later when I delved deeper into the decision making and had to build strategies considering all the aspects together, I was struggling hard. I was taking the decisions in conventional way to establish a modern business which was proving inefficient. To be able to do so I needed to have the knowledge from all the aspects of business which was lacking. After completion of my college, I decided to give my full time to the company but soon realized, it wasn't going to be easy. Being a student pursuing entrepreneurship sounded cool as I always had a backup option. Now I was a graduate, priorities of life and perception about me was changing. The peer pressure to opt for an established career path and the jolt by an unforeseen incident led me to quit the company and join Infosys in December with the aim of coming back to the field of business in more professional way later.
June 2018, I shifted to Bangalore after completion of my training and started preparing for CAT. As it wasn't feasible for me to join a classroom coaching, I opted only for the Mock test Series.  The very first mock stuck me, and it stuck hard; I couldn't cross 20 in any of the sections. I have failed in my life a no. of times but whenever I wanted something, I devoted myself completely to get that. I decided to start from scratch and start building myself from there. With the job I was able to devote 2-3 hours daily, yet that wasn't proving enough. I knew the consistency is going to matter and kept myself motivated about what lies ahead if I crack the CAT. The scores in mock were improving, yet I wasn't in the driving position. By November, I was able to score 100+ consistently and I knew that wasn't enough for me to land in a tier-1 b-school. That year I only applied for CAT and TISS Mumbai, barely managed to clear the cut-off for TISS Mumbai and CAT percentile lied in the range of 90-95%.  Got waitlisted in TISS Mumbai and obviously didn't receive any call through CAT. When the final merit list for TISS was published and I was stuck at Waiting List 2. It was clear that I will have to appear again and this time competition was with the people in top 10 percentiles.
June 2019, I started preparing for CAT again, with new strategy and motivation. The only deal I had with myself was to join only a tier-1 b-school. The job responsibilities were increasing day by day, and I was struggling to give time to preparation. But this time I was in a better position to analyze the mocks and build the strategy. I focused on sharpening my strengths and improving the weak areas. Giving mocks, analyzing them, revising the topics, and repeating them again was my only strategy. I Applied for all the major exams i.e. CAT, XAT, TISS, SNAP and NMAT. Performed decently in all of them and received the PI call from IIM L, NITIE, MDI, TISS, NMAT and missed the cut off for XLRI and SIBM by a slight margin. After a series of battle called GD-PI and the havoc caused by COVID-19, I finally joined MDI Gurgaon to pursue MBA in International Business.
Although its just a beginning and a lot is going to come in future, this time I am prepared to face them. It wasn't just my journey of joining a b school, but it was the journey self-exploration. The strengths that worked for me might work for anyone. The clear reason of pursuing the MBA journey always helped me to prioritize things in life. Everything comes at an expense and willingness to pay for your dreams make one achieve them. Self-belief and consistency are the two key pillars of the bridge to our dreams. Desire to achieve something is the only carrier that connects you to the dreams.
See you on the other side.
To structure your CAT Preparation in an efficient way consider visiting iQuanta website and being a part of iQuanta CAT 21 Course at www.iQuanta.in.
You can also check out and be a part of their Facebook group for peer learning, doubt solving and free material. https://www.facebook.com/groups/Rockthecat
For a structured CAT preparation and one-on one counselling, visit the link below.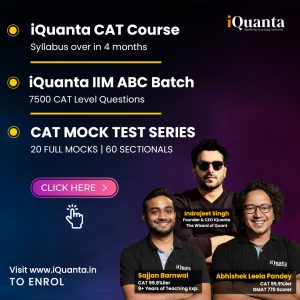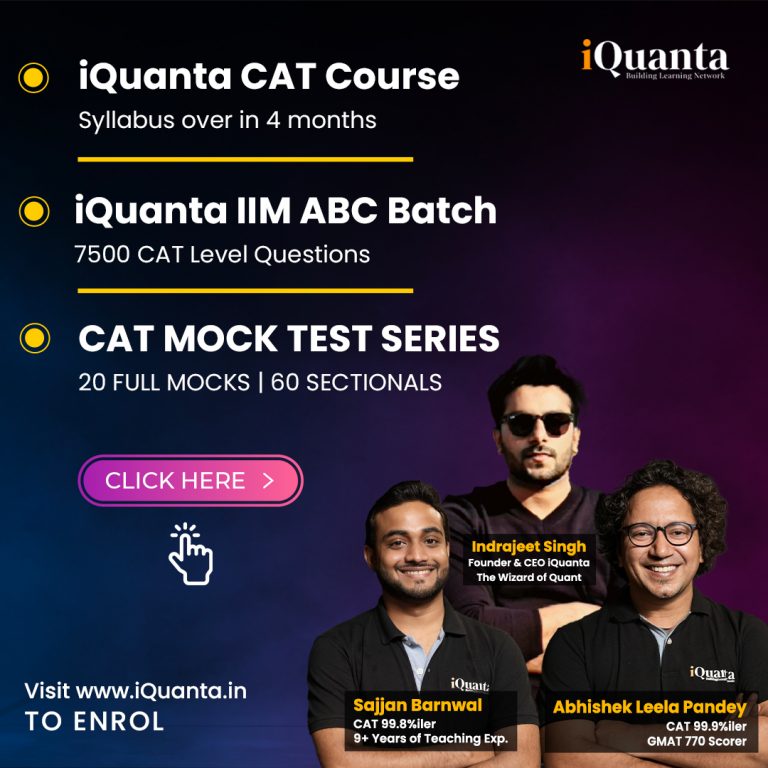 To join India's largest CAT preparation community and for free 24*7 doubt clarification, join the group linked below.