Selection Process of Clubs and Committees at IIM Ranchi.
---
Clubs, Committees, Self Interest Groups (SIGs) and Independent bodies play a crucial role in any B-school. These bodies perform various functions, organize events and fests, arrange facilities for the students and interact with various stakeholders inside as well as outside the Institution. In this article, we will have a look at the Clubs/Committees /SIGs /Independent Bodies at IIM Ranchi and their selection process.
Clubs at IIM Ranchi
Clubs at IIM Ranchi function throughout the academic year and play a crucial role in organizing events, seminars, webinars, Fests as well as Live projects and interactions with industry experts. There are 8 clubs in IIM Ranchi. Each of the clubs have different functions and Responsibilities.
The list of Clubs at IIM Ranchi is: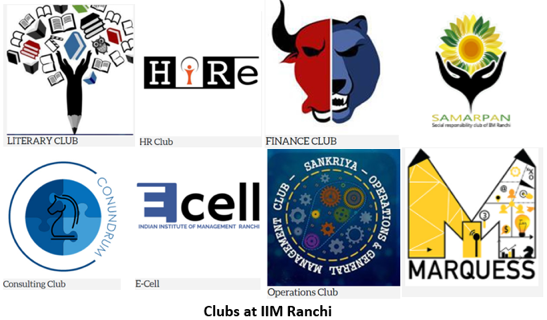 Operations Club (Sankriya)
HR Club (Hire)
The Finance Club
The Social Responsibility Club (Samarpan)
Consulting Club (Conundrum)
Entrepreneurship Cell (E-Cell)
The Marketing Club (Marquess)
The Literary Club
Committees at IIM Ranchi
Committees too function round the year in a variety of fields for the better running of college activities. There are 7 Committees at IIM Ranchi that look after the working in various aspects of the Institution: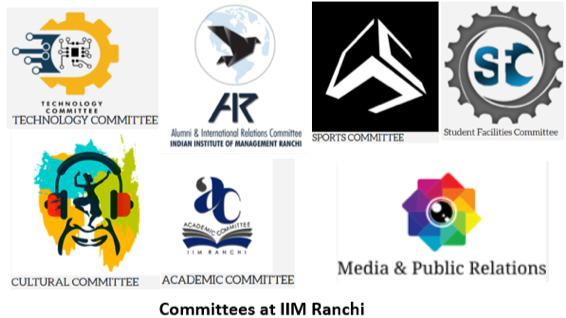 Academic Committee
Technology Committee
Sports Committee
Students Facilities Committee
Cultural Committee
Media and Public Relations cell
Alumni & International Relations Committee

Self Interest Groups (SIGs) at IIM Ranchi
IIM Ranchi has 9 Self Interest Groups (SIGs) that perform various activities in and out of College. The Self Interest Groups are Groups or Teams that have formed based on variety of interests such as Dance, Music, Drama, Entertainment, Lifestyle, Quiz, Economics, Technology and many more.
The SIGs of IIM Ranchi are: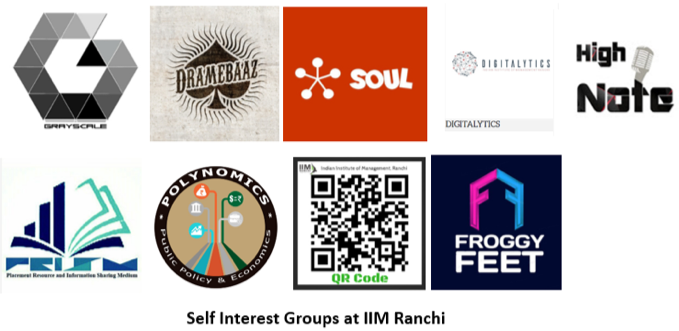 Digitalytics
Grayscale
Dramebaaz
Soul
Froggy Feet
Polynomics
Prism
High Note
QR code
Independent Bodies at IIM Ranchi
Independent Bodies at IIM Ranchi function independently of the Committees, Clubs and SIGs and are International bodies or affiliated bodies. These are International Organizations which follow International standards and work for the well being and development of the student in general.
There are 6 Independent Bodies at IIM Ranchi: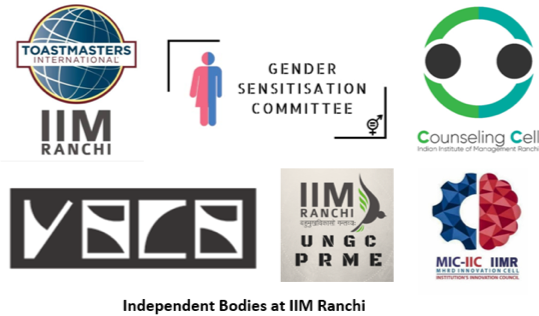 IIM Ranchi Toastmasters
Gender Sensitization Committee
Counselling Cell
Visual Branding and Content Body (VBCB)
UNGC PRME
Institution's Innovation Council (IIC)
Selection Process of Clubs/ Committees/ SIGs / Independent Bodies
Clubs, Committees, SIGs and Independent Bodies at IIM Ranchi and most b-schools follow a rigorous selection process to find the best-suited candidates. The selection process is done to select collaborative and compatible team members who can work together for fulfilling the goals of the respective Club/ Committee/SIG/ Independent body.
The selection process is divided into the following rounds:
A Google form is floated where interested candidates apply for the position
Applicants are given certain problem statement/ Task/assignment relating to the function of the body which has to be submitted within the deadline
Candidates are shortlisted based on their submissions
Shortlisted candidates are divided into groups. Group task/ assignment/ Group activity is assigned. Group dynamics and teamwork are evaluated.
Group Interview/ Group discussion may be held for evaluation and elimination
Finally, Personal Interview of candidates are taken and final selected member list for the respective bodies are announced.
Clubs / Committees/ SIGs / Independent Bodies provide a significant learning experience for students pursuing an MBA. Being an active member/ Team leader in such a body helps in developing and practising a number of critical skills such as Teamwork, Leadership, Organization, Communication and Empathy. Myself being a member of Dramatics club and Toastmasters IIM Ranchi, I can be a testimony to the fact that being an active member of such a body, I have been able to improve a lot. And there is a huge potential that one can actualize by joining these bodies while pursuing an MBA at a B-school.