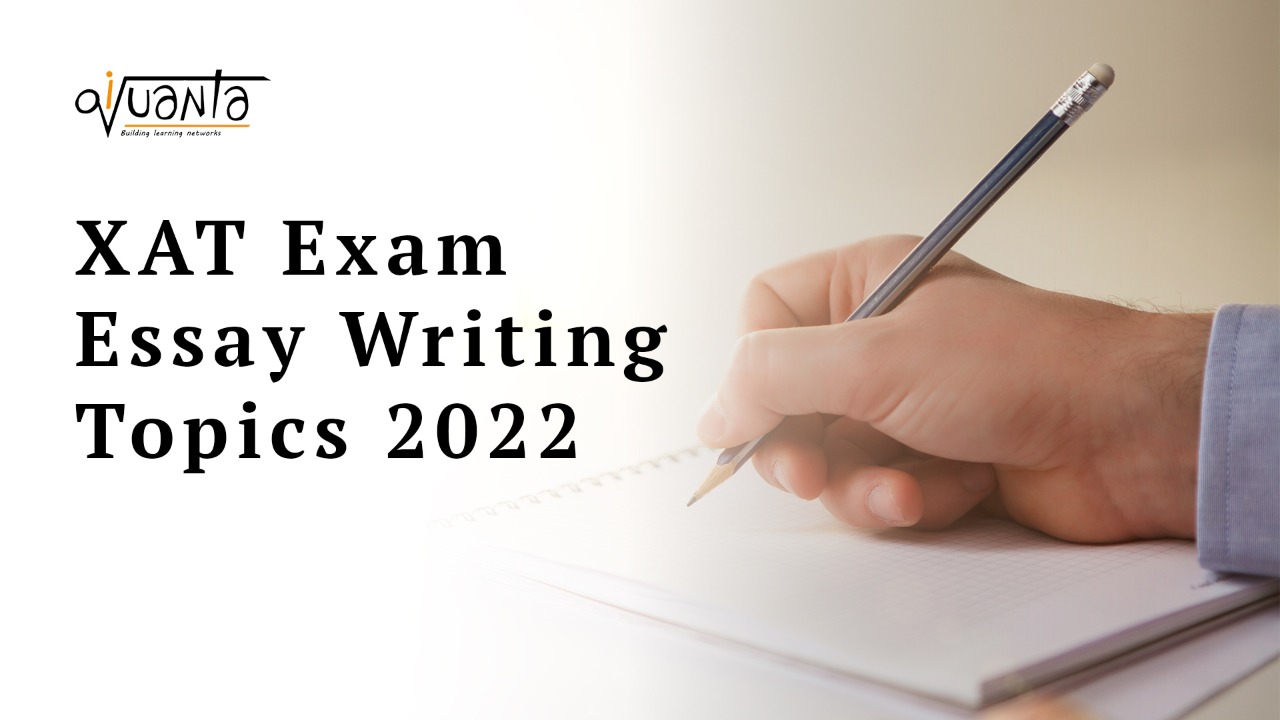 Topics for Essay for XAT 
The essay has been reintroduced as the 5th section of the XAT exam. The essay will form part of part 2 of the exam along with the general knowledge section.
The general knowledge and essay will combine have a duration of 25 minutes, and these sections can only be unlocked after you have completed part 1 of the XAT exam.
Upon introducing the essay in the XAT 2022 exam, the exam duration is 3 hours and 10 minutes from the earlier 3-hour duration.
The essay for the XAT exam would not be calculated in the percentile, for which only the first part of the XAT is calculated. The essay will be considered only for the shortlisted candidates.
Essay topic for XAT
The essay topics in XAT are mainly focused on social issues or abstract ideas. They are framed in a way that asks for your opinion instead of facts so as to be able to learn about your point of view and personal identity and choices.
The essay will help the admissions committee judge your attitudes and perceptions and your ability to express your ideas in a coherent and meaningful way.
Previous Year Essay Topics
Year of XAT Exam
Essay Topic
2018
Ethical Practices and Sustainability: Do they co-exist?
2017
Globalization and Jingoism always coexist
2016
Technology and Nature are natural enemies
2015
Listening is a dying art. We hardly listen to understand. We only listen to refute or reply.
2014

The most beautiful thing can neither be seen nor be touched but can only be felt
2013
Corruption is the root cause of economic slowdown in India
2012
Government is not addressing the root cause of poverty
OR
Government is not able to implement the policies properly due to the huge magnitude of poverty
2011
The statesman who would attempt to direct private people in what manner they ought to employ their capitals, would not only load himself with a most unnecessary attention, but assume an authority which could safely be trusted to no council and senate whatever, and which would nowhere be so dangerous as in the hands of a man who had folly and presumption enough to fancy himself fit to exercise it.
2010

Earth provides enough to satisfy everybody's need but not everybody's greed
2009

The Inherent vice of Capitalism is unequal sharing of blessings and the inherent virtue of Socialism is equal sharing of misery
2008
Gender Imbalance would lead to Third World War
2007
Economic growth without environmental damage – a mirage or a reality
2006

India has one of the largest pools of talented manpower, but few innovations and patented products
2005
More than one billion Indians: A gigantic problem or a sea of opportunities
2004

Asked at the age of 83, as to which of his project would he choose as his master piece, Frank Lloyd Wright, the architect answered, "The next one"
2003

To give real service, one needs to add something that cannot be bought or measured, like sincerity and integrity
2002
Indian economy in the post WTO era

Tips for Essay Exam
As the essay has been reintroduced, it becomes essential that you go through certain key points for the preparation of the essay section of the XAT exam 2022.
Coherent thought: when writing an essay, make sure that you present your viewpoints in a coherent and effective way so that the examiner is able to analyse and understand your perspective.
Balanced viewpoint: try not to adopt an extreme or biased viewpoint. Have a neutral and balanced perspective on the issue at hand so that you can critically examine the issue at hand.
Facts: an essay should not be completely based on subjective opinions, but these same opinions must be backed by facts to provide credibility to your claims.
Knowledge: you must aim that you understand the topic well and answer the question from all perspectives. It should look well-researched and must display your subject knowledge of the same.
Practice: if you wish to be good at essays, nothing can beat practice. At first, you might struggle with finding the right points for your answer, and you might take some time. However, you will eventually be able to write effectively within minutes with practice.
Presentability: make sure that you present your essay well. Do not write long paragraphs. Instead, focus on writing small paragraphs. However, do not make them very short. Remember, balance is the key.
Tips for improving essay writing in XAT 
Newspapers: when you refer to newspapers, you will understand the current affairs that will keep you updated on the latest social events. This will help your reading skills as well as your knowledge of various topics.
Literature: reading literature will enrich your vocabulary, and you will also learn to frame your viewpoints in unique ways. The knowledge of various parts of speech is a valuable tool to help you in essay writing.
Other tips include practising essays, referring to top national and international affairs, with a special focus on events of social importance like climate change. Try not to use vague and general words in describing your essay topic. Make sure your thoughts are communicated precisely to the examiner.
These are some of the tips you can use to enhance your score in essay writing for the XAT exam 2022.
To experience iQuanta's dual pedagogy for its CAT exam, visit the link below. In the 2020 CAT exam alone, more than 65 iQuanta students scored 99%ile+.

To get FREE guidance, counselling and 24*7 doubts solving, visit the iQuanta's CAT preparation Fb group: