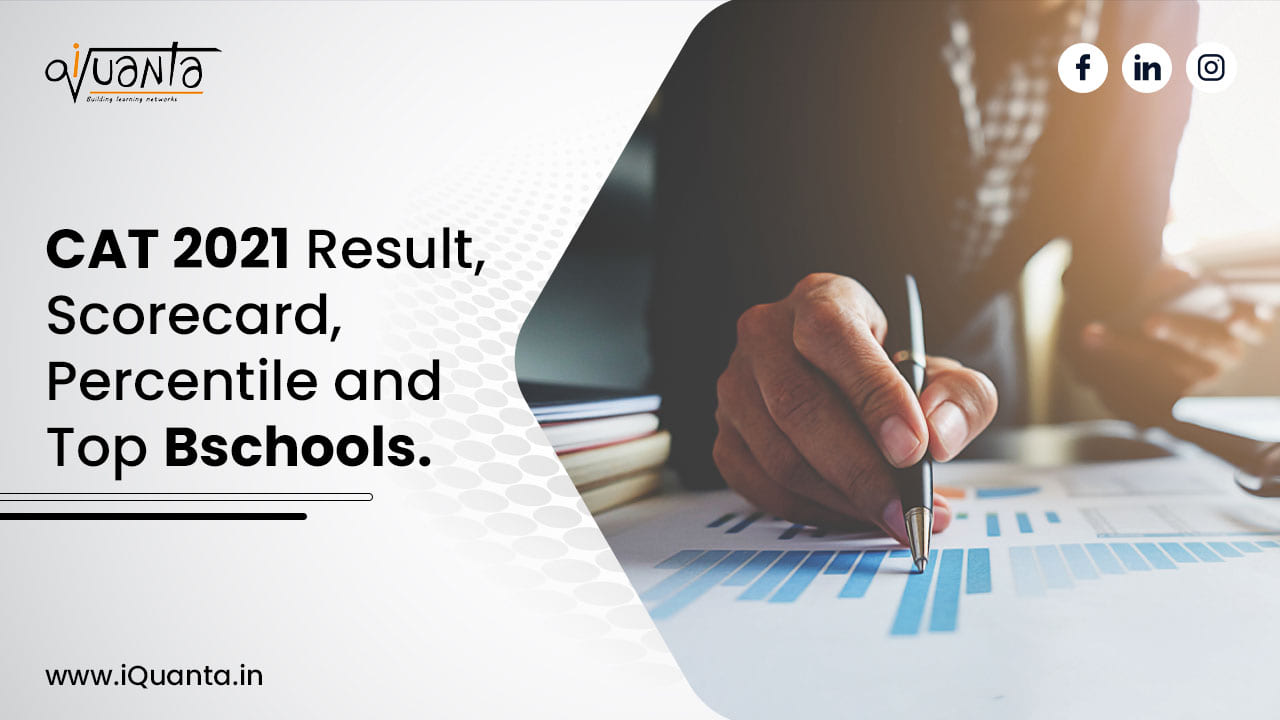 CAT exam result 2021 and 55 – 95 Percentile Colleges 
CAT 2021 result has been announced. The Indian Institute of Management, Ahmedabad has announced the result on its official website (@iimcat.ac.in). The CAT exam 2021 was conducted on 28th November 2021, with approximately 2 Lakh candidates appearing for the examination.
The CAT 2021 result has been announced, be very calm and take the scores in a positive way. Visit the official website as mentioned above for your result.
The Common Admission Test or CAT exam was conducted on 28th November 2021, with around 2.31L candidates registering for the exam. Of the 2.31L candidates, 1.92 lakh candidates finally appeared for the exam. 65% of the candidates who appeared were male, 35% females, and two transgender people.
Indian Institutes of Manages released the official circular on the CAT (Common Admission Test) exam in July 2021. The registration for the exam started on 4th August 2021, and the registration deadline was 22nd September 2021.
What is the CAT exam?
The CAT exam, also known as Common Admission Test, consists of MCQ and non-MCQ questions across three different sections: Quantitative Ability, Verbal Ability and Reading Comprehension, Logical Reasoning, and Data Interpretation. The difficulty level of the exam ranges from moderate to tough.
The CAT 2021 exam was conducted in three slots across 156 cities in India. CAT 2021 was a little tougher than CAT 2020, with Slot 3 being toughest, followed by Slot 2 & Slot 1, though the variations are not too vast. This year, the number of questions was reduced to 66 from 76.
For slot 1, 64,185 candidates appeared for the exam; 63,380 appeared for slot 2; finally, in slot 3, 64,095 appeared for the CAT exam.
As the results have been declared, candidates can download their scorecard and view their percentile on their official website (@iimcat.ac.in)
CAT 2021 Exam Details
Exam Name
Common Admission Test (CAT)
Exam Level
National
Test Conducted By
Any one of the IIMs in rotation
Eligibility
50% aggregate in graduation. 45% aggregate for SS & ST students
Pattern
Computer-based test with MCQs & non-MCQs
Exam Date
28th November 2021
Exam Duration
2 Hours
Exam Result
(Expected) 1st Week of January 2022
Exam Pattern
Computer-based exam with MCQ and non-MCQ based questions
CAT Exam Syllabus
Quantitative Ability (QA)
Verbal Ability & Reading Comprehension (VARC)
Data Interpretation & Logical Reasoning (DILR)
Official Website
iimcat.ac.in
How to Check CAT 2021 result
To check the result, visit the IIM's official website for CAT at @iimcat.ac.in.
Go to the "CAT 2021 Scorecard Download" tab and press login.
Fill in your credentials as the website will ask for your ID and Password. Then press login.
Once you are logged in, you will be able to view your CAT 2021 scorecard and percentile.
We hope that we could provide all the required information for the upcoming CAT 2021 result. As the result is expected by released by 1st week of January, make sure you regularly check the blog for updates. We wish you the best for your results.
Check the various B-Schools you can apply to at your percentile (50%ile and above):
90-95%ile
GIM, Goa
XIMB
FORE School Of Management
SJMSoM, IIT Bombay
Great Lakes Institute of Management Studies
SDA Bocconi
IRMA
MICA Ahmedabad
VGSoM, IIT Kharagpur
IMT Ghaziabad
KJ SIMSR
IMI New Delhi
85-90%ile
DoMS, IIT Roorkee
DoMs, IIT Madras
IMI Bhubaneswar
TAPMI, Manipal
IMT Nagpur
80-85%ile:
S.P Jain Institute of Management and Research
Loyola Institute of Business Administration
TAPMI Manipal
IIFM Bhopal
Department of Management Studies (IIT Delhi) New Delhi
SJMSOM (IIT B)
BITS Pilani
Prin. L.N. Welingkar Institute of Management Development and Research, Mumbai
IMI Delhi
DSE, Delhi University
75-80%ile:
KIIT School of Rural Management, Bhubaneswar
GLIM Gurgaon
Kirloskar Institute of Advanced Management Sciences
IMT Nagpur
IBS Hyderabad
FLAME University, Pune
IRMA
Christ University, Bangalore
Indian Institute of Social Welfare & Business Management, Kolkata
Alliance School of Business, Bangalore
65-75%ile
Amity School Of Business
Christ University
NL Dalmia School Of Management
ITM Navi Mumbai
BIMTECH
55-65%ile
IBA (Indus Business Academy), Bangalore
IILM Noida
Army Institute Of Management, Kolkata
XIME Bangalore
XISS Ranchi
These are some of the colleges you can apply for your percentile if it ranges between 55 and 95.
Top B-Schools Accepting CAT Score 
To check the top-bschools against your CAT percentile, you can do so by visiting the link here. The details provided include the MBA tests, application form, test dates, top B-schools, tests accepted by them, fees, average salary, cut-off, eligibility, website link, and many more details!
To check the iQuanta's dual pedagogy for its CAT 2022 course, visit the link below:

For FREE counselling, guidance and 24*7 doubt solving, visit the CAT Preparation Fb group by visiting the link below: