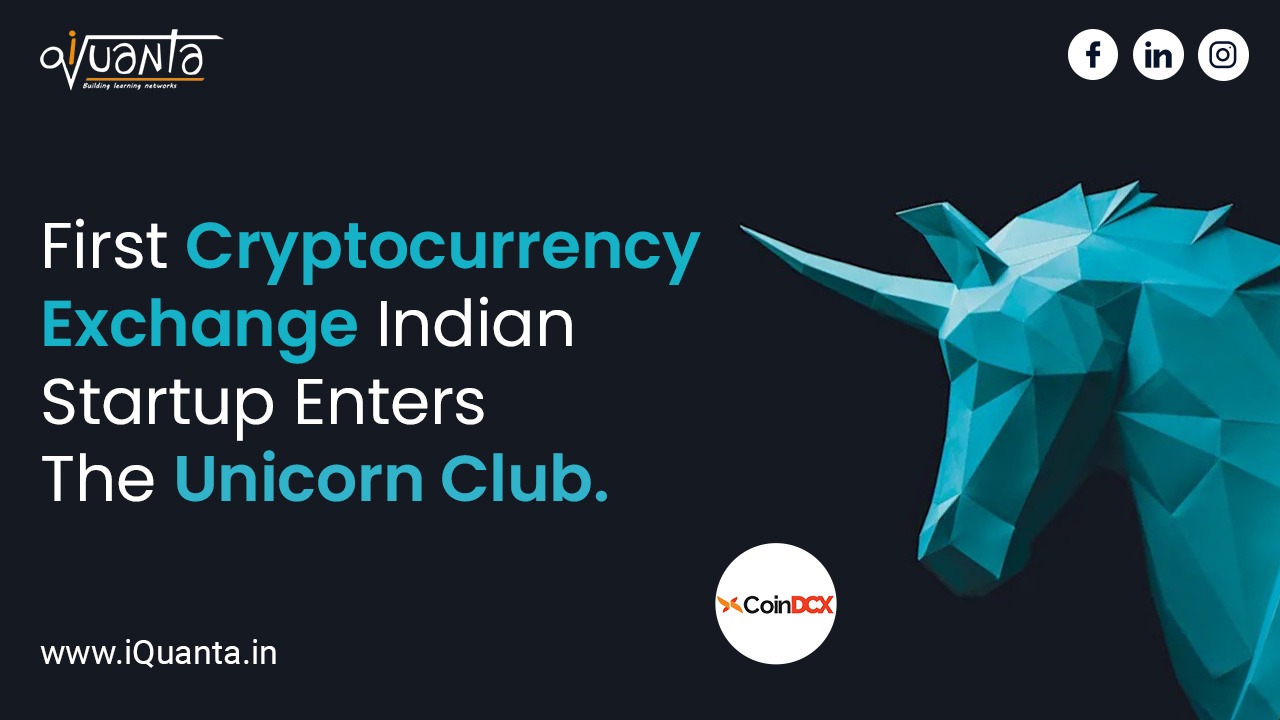 CoinDCX is India's first crypto unicorn
CoinDCX is the 21st startup this year to enter the unicorn club. It is a crypto startup that has raised $90 million in the latest round and is now valued at $1.2 billion.
It is the first cryptocurrency exchange Indian startup to join the unicorn club. The Series C funding round was led by Facebook co-founder Eduardo Saverin's B Capital Group along with Coinbase Ventures, Polychain Capital, Block. one, Jump Capital among others.
The company was founded in 2018 by Sumit Gupta and Neeraj Khandelwal. It claims to have more than 4 Mn users. In fact, most of their user base has grown in the last 2-3 months. 
CoinDCX also operates CoinDCX Go, a crypto investment app, a professional trading platform called CoinDCX Pro and DCX Learn, a crypto-centric investor education platform. 
In the coming months, the company plans to launch the CoinDCX Prime product for HNI and enterprise customers, providing legally vetted and safe investments, as well as Cosmex, CoinDCX's global trading product.
CoinDCX will use the bulk of the funds raised to improve crypto awareness in India. They have plans to expand, strengthen their workforce by hiring talent across multiple functions, and focus on new business initiatives.


Furthermore, CoinDCX will enter into partnerships with fintech players to expand the crypto investor base, set up a research & development (R&D) facility, and work with the government to introduce favourable regulations, bring the policy discussions into public discourse, besides hiring and product development.
The crypto market has been performing well amid the pandemic. Globally, the crypto market cap has risen 10x, from more than $200 Bn in March 2020 to $2 Tn in mid-May this year. 
In spite of certain apprehensions regarding the volatility of the crypto assets, the effect of the crypto boom is quite apparent, given the rise in transaction volumes across crypto exchanges. 
Challenges faced by CoinDCX 
The issue CoinDCX may face is the uncertainty around cryptocurrencies in India right now. The RBI has also been pretty frank about how they don't like any of the cryptocurrencies out there as they think they pose a risk to our national currency.
The RBI is also planning its own CBDC which may come anytime soon in this year. Once that happens, the main question is if the RBI will ban cryptocurrencies? 
CoinDCX is aware of these challenges and already planning for that case by putting their money to it. A part of the money raised in the latest round will be used to set up an R&D facility so they can strengthen policy conversations about cryptocurrencies with the government. 
CoinDCX, along with the other crypto exchanges, has been asking for regulations and is hoping that the R&D facility will help with favourable regulations.
CoinDCX also plans on using around Rs 10 cr from this round to spend on educational initiatives across India.
Hence, there are many plans they have in mind. Time will tell how the entire regulation situation pans out.
To structure your CAT online preparation in an efficient way consider joining iQuanta which is a top online cat coaching institute and being a part of the iQuanta CAT 22 Course.
You can also check out and be a part of their Facebook group for peer learning, doubt solving and free material.


For 24*7 doubts-solving, FREE guidance and counselling and peer to peer learning, join the CAT preparation Fb group below: