CUET Exam: Subject-wise Domain Requirements for DU Admissions
CUET exam changed the whole admission criterion for various prestigious in India, one such example is the Delhi University. DU is the topmost destination for students wishing to pursue non-technical courses.
Why Delhi University (DU)? 
Many just apply for the university without understanding its importance. Understanding its importance will provide every student with an internal motivation to give their best in CUET. Let us understand its benefits below.
DU provides an all-round support to its students, be it in curricular or extra-curricular activities. DU is famous for its student-run 'societies' that are organised around various themes, from sports and debates to discussion forums on various issues of social importance. These societies provide a lucrative environment to students so that they not only develop themselves academically, but also evolve themselves socially.
The debates and discussions that form part of teaching pedagogy of its teachers as well as the functioning of various societies, ensures that students like you are able to learn to speak in public forums as also develop the abilities to think logically and communicate these thoughts coherently, all of them are necessary skills required to succeed professionally and personally.
DU colleges also have various placement societies that ensures that the students get placed into reputed companies immediately after their graduation. DU takes care of a student's personal, academic and professional development with care.
Not to stretch further, it is now understood that the opportunities presented by DU are immense and are completely worth the effort.
---
---
Advantages of CUET Exam for DU Admission
CUET offers a level playing field to all the students coming from different central and state board with different difficulty levels on a level playing field through one common entrance test with uniform difficulty for all the applicants: Central Universities Entrance Test (CUET).
Now, CUET will ensure a level playing field for all the aspirants as they will be judged according to only a uniform metric for all. This also means that accidental poor performance in 12th boards would not harm the future prospects of any student.
Subject-wise Requirements in DU for CUET
Every student after high school aspires to pursue their undergraduation degree from a prestigious college. Getting into Delhi University is one such dream and the CUET exam is the gateway to fulfill that dream of yours. Here we describe the step by step admission procedures to different courses in DU.
You might be facing difficulties in helping understand the different subjects/domain to choose if you want to pursue any XYZ course, below-mentioned infographics will offer you a way to help clear this mess.
The detailed infographics entail all the basic admission requirements for entry into various prestigious colleges of the DU.
Requirements for B.Sc. Through CUET in DU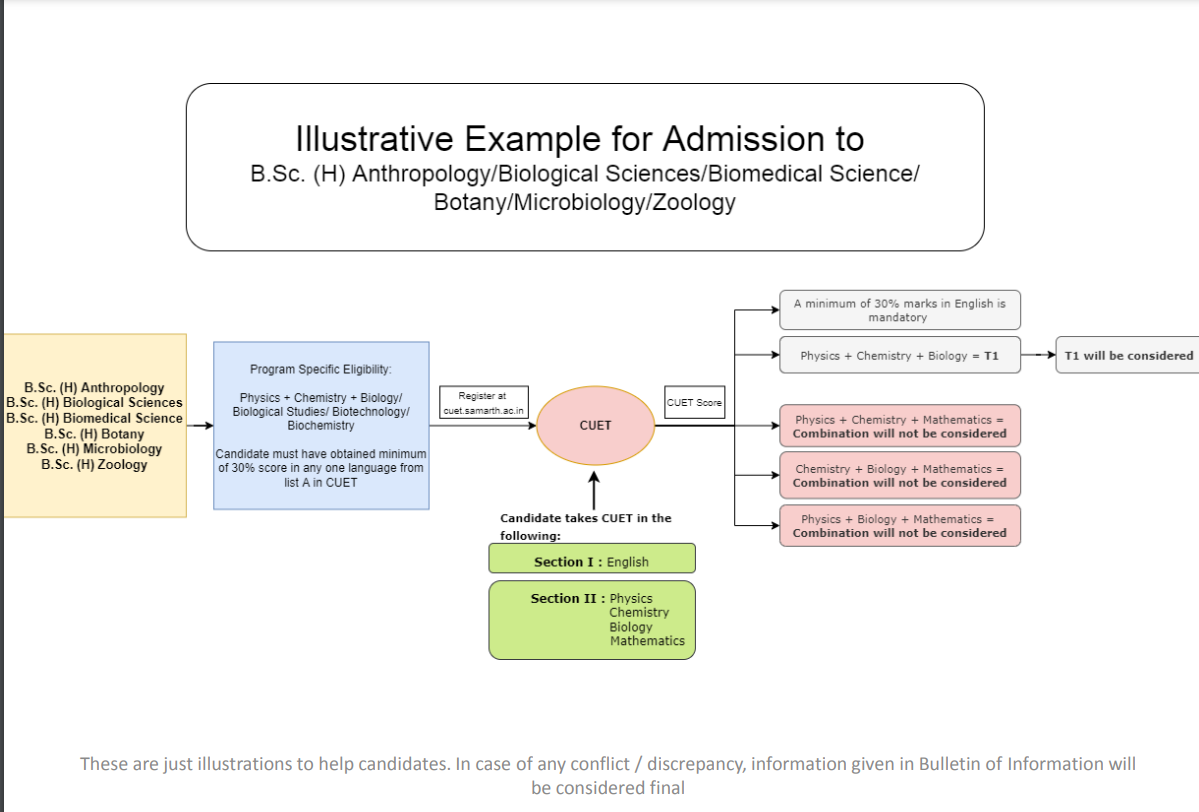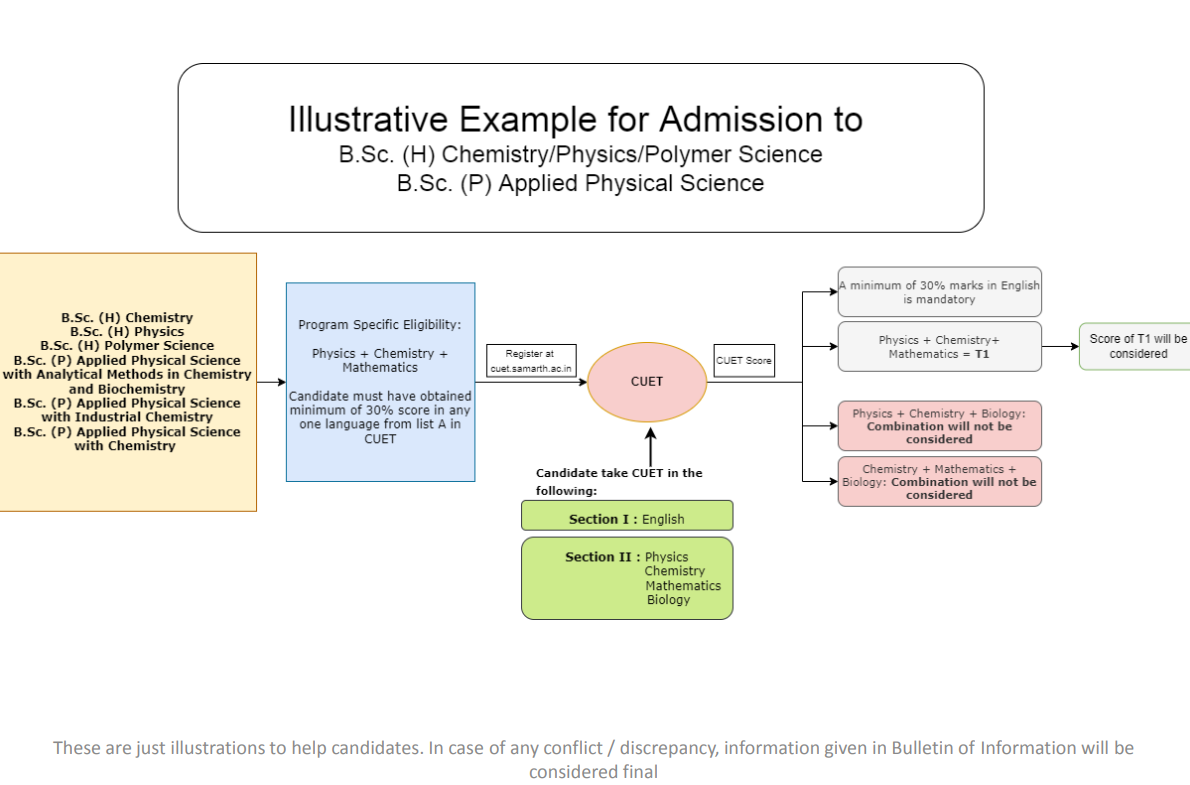 Requirements for English (Hons.) Through CUET in DU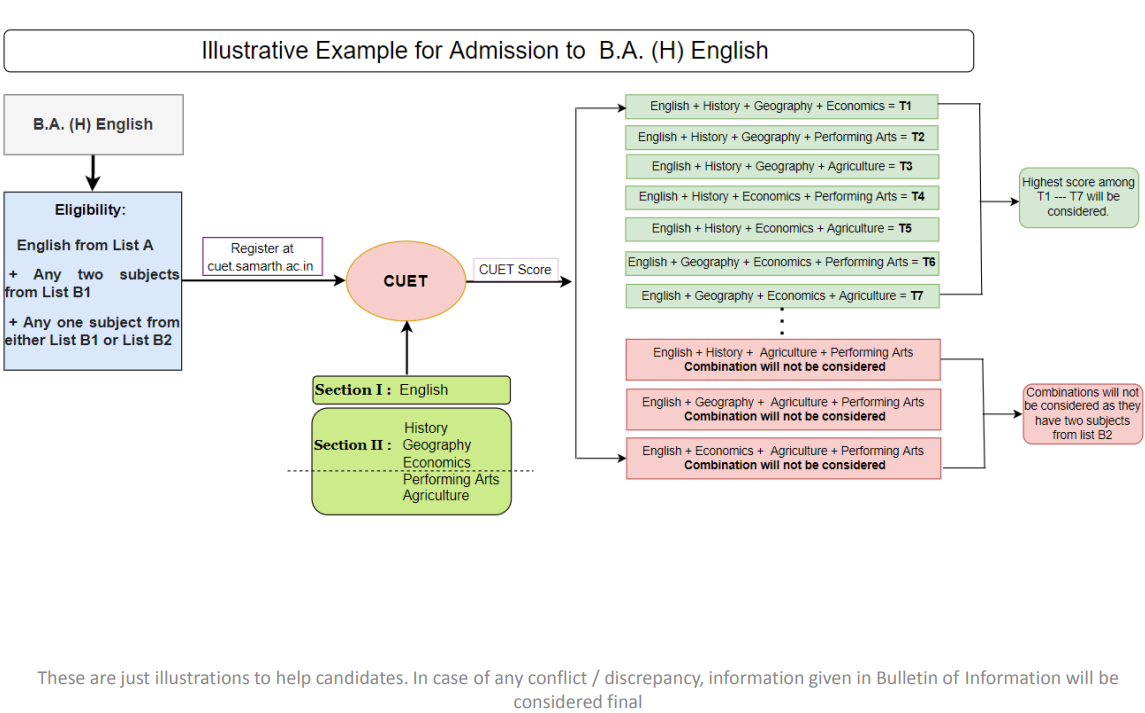 Requirements for B.Com. Through CUET in DU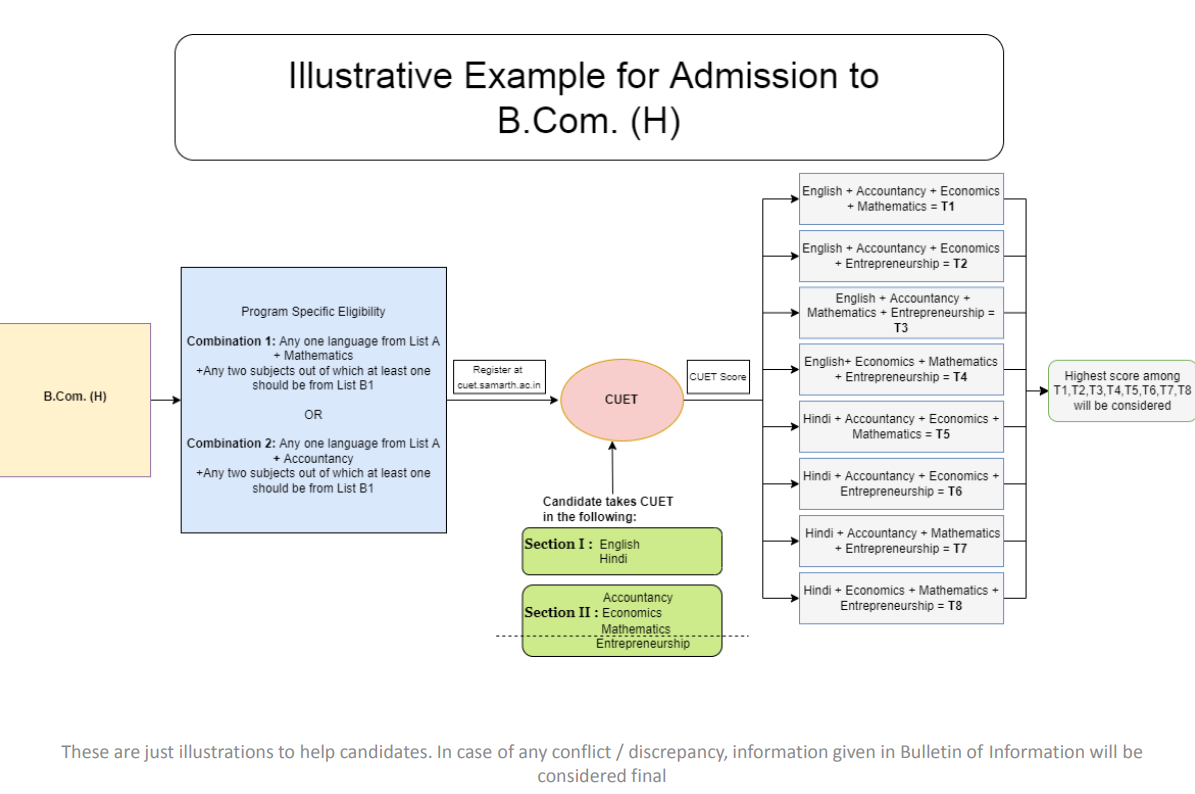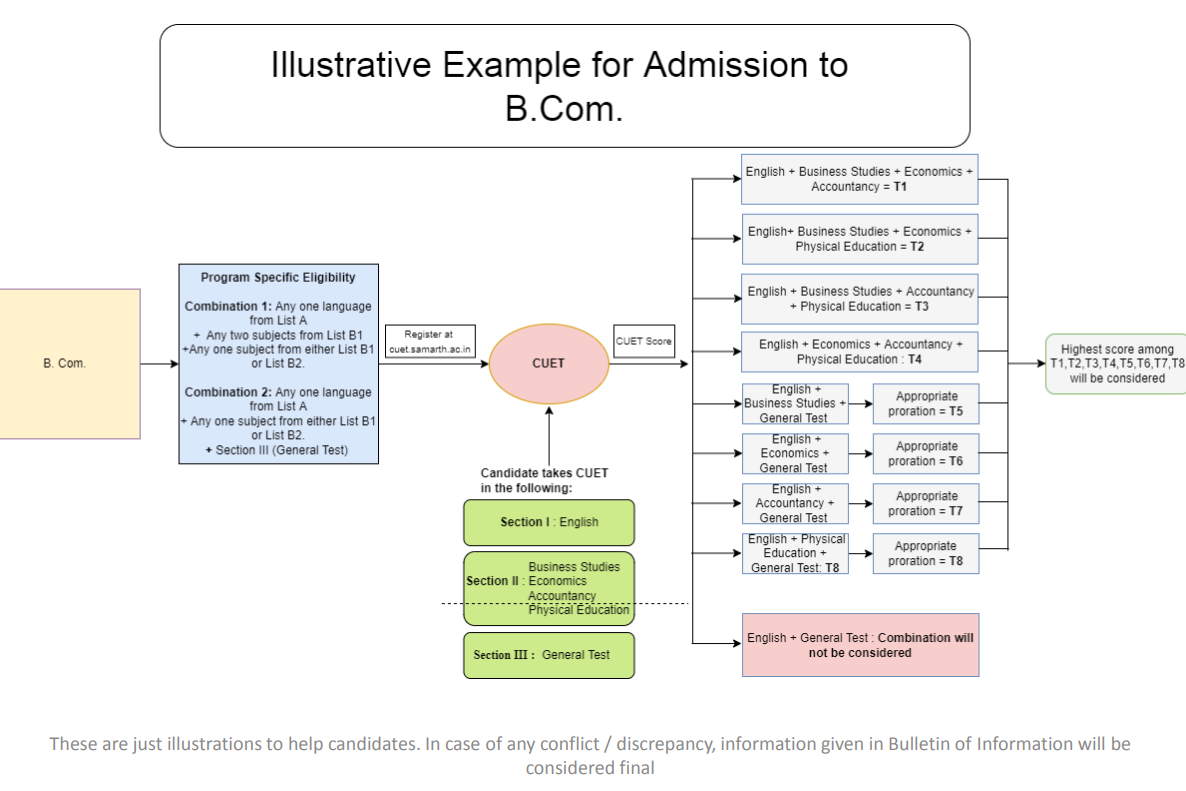 ---
---
Requirements for B.Sc. Through CUET in DU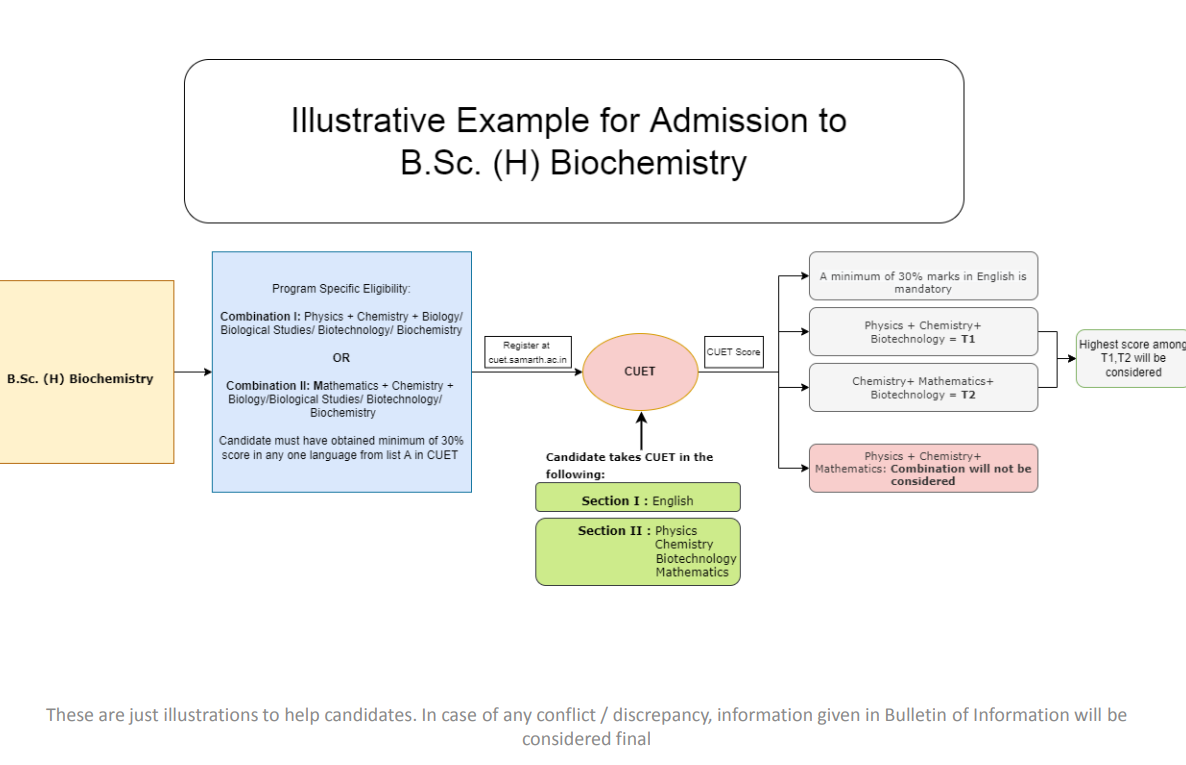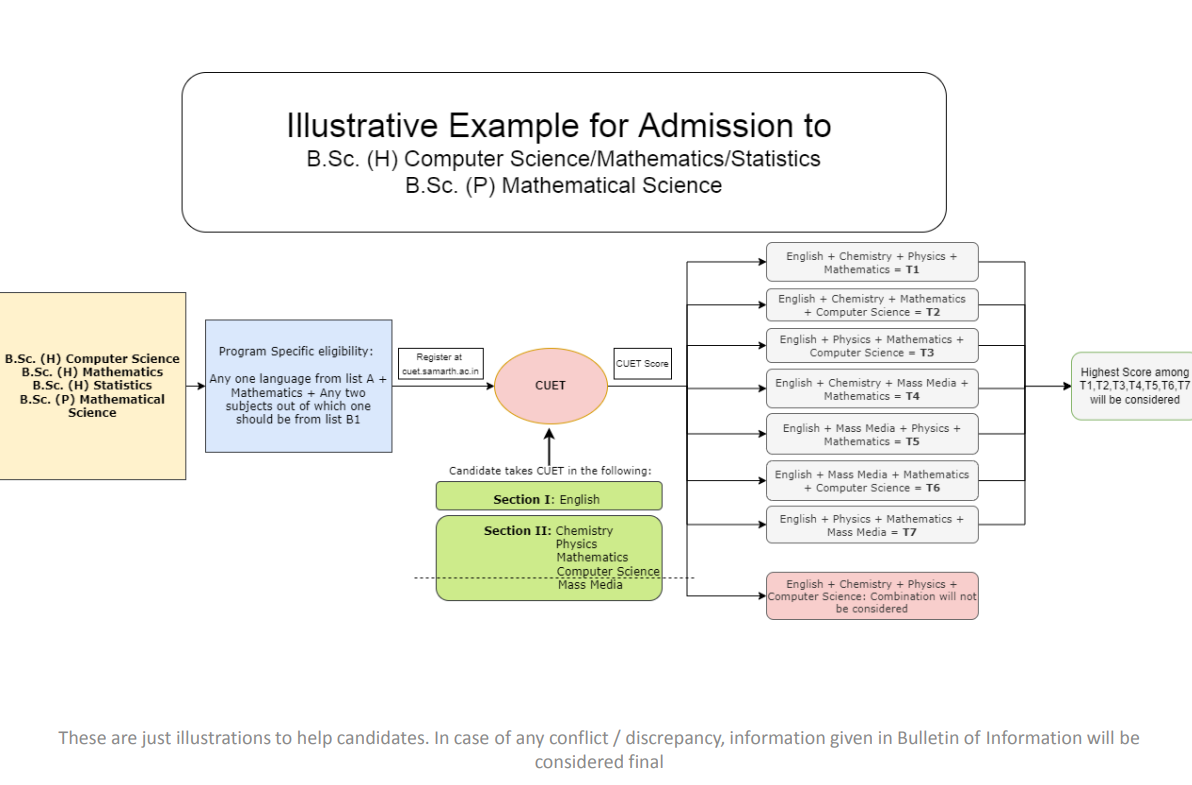 Requirements for Economics (Hons.) Through CUET in DU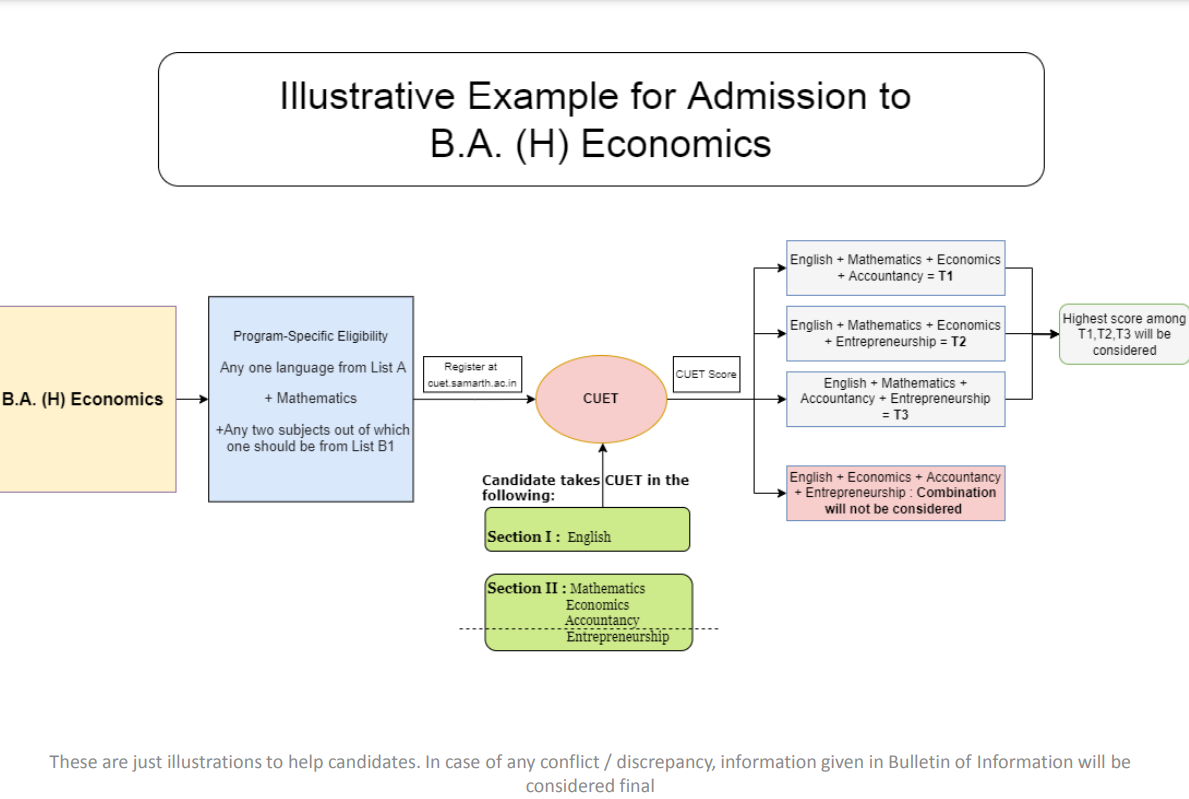 This was all you needed to understand the basic procedure for getting admission into various prestigious courses of Delhi University.
After having understood the importance of Delhi University (DU), CUET exam as well as procedure of getting admission into various eminent courses of DU, you are well-equipped to plan your preparation strategy according the field you wish to join after 12th.
Important Dates for CUET Exam
The exam will be conducted by the NTA (National Testing Agency) as the governing body for both Undergraduate and Postgraduate courses in the top Central Universities of India.
Candidates can apply on the official website i.e. cuet.samarth.ac.in for the UG and PG courses.
Moreover, you can join iQuanta's After XII preparation group for daily updates and 24*7 doubt solving, along with a community of CUET aspirants to discuss various strategies and for fun interactions.
Join the interactive CUET community of students like you by clicking on the banner below:

You can also enrol in iQuanta's quality CUET preparation course by top mentors by clicking the banner below: