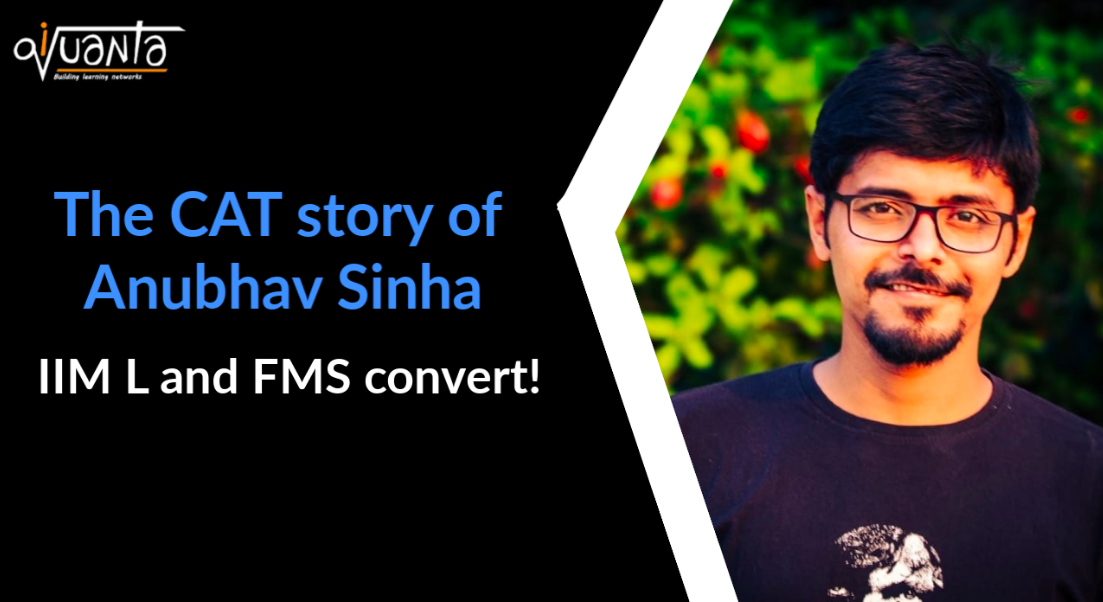 The CAT story of Anubhav Sinha, an IIM L and FMS convert!
An Electronics and Communication Engineering Undergrad from BITS Mesra, Anubhav was focused on MBA, so much that he decided to leave a well paying job at PwC. Read on to know his story:
Hi Anubhav,
What was your academic profile and work-ex?
My scores were 90 in 10th, 95 in 12th and 85 in Engineering from BIT Mesra. After my graduation in 2016,I worked with PwC for 5-6 months after which I left to focus on my GDPI Prep.
What was your CAT percentile and what calls did you receive?
I had a percentile of 99.67 with 96 in DILR, 99.13 in VA and 99.67 in QA. Apart from IIM A & B,I had all other calls like C,L,K,I,S,FMS Delhi and MDI Gurgaon. I have converted IIM L,S,FMS Delhi and MDI Gurgaon till now.
Why MBA?
While in college also I was pretty much into extra-curriculars.I was the Vice President of the Student Mentorship Club at BITS Mesra. I was also involved in organizing various fests where I was leading the Hospitality Team. These activities made me realize that I wanted to be involved in a decision making role in the longer run. While working at PwC too, I consulted some of the top level partners who too suggested me to do an MBA from the top B-Schools. These reasons spurred me to do an MBA.
When did you start preparing for CAT?
Around July- August of 2016.The first two months were at a normal pace, but I really stepped on the pedal during the last two months.
Did you follow any specific strategies for CAT?
There was no specific strategy as such as I realized that the CAT exam is all about Practice. What I thought was practicing more questions in a limited time frame, say 30 questions in 60 minutes was more important and I focused on that.
How many mocks did you take?
I didn't take too many mocks. I took around 20-25 , but I guess around 50 would have been ideal.
What was the role of iQuanta in your preparation?
iQuanta was very helpful. The crucial factor of iQuanta is that it helps you maintain a regularity in your preparation, as classes are held 6 days a week, and even on Sundays, tests or marathon classes are held. That helps you keep in touch. Moreover whenever I had a doubt, Indrajeet Sir and the rest of the faculties responded pretty quickly.
What do you think about online coaching in general?
In India, online coaching has been picking up pace recently. iQuanta is a great example of that, considering the Fb group has more than 250k members. You can get quality coaching in the comfort of your home, no matter wherever you live in India. Apart from that iQuanta's result is much better than any other coaching with more than 100 99%lers in just 3 years.
Any message for the future aspirants?
All I will say is, practice is the key. The more you practice, the better you'll get. Also, at some point of time you might think that you've reached the zenith, but you have to go beyond that. There is always scope for important, always a scope for improving your percentile from a 99.5 to a 99.99.So push yourself to the limits, and that should land you in a good B-School!