How to write SOP tips and samples 
We all have times when we have to think of drafting an SOP but we get stuck on how to proceed with drafting one. Do not worry, this article will guide you through all the required points you need to keep in mind for an ideal Statement of Purpose.
What is SOP?
The SOP full form is Statement of Purpose is most often in the form of an essay that informs your desired university about your future goals, academic achievements, your career trajectory till now, your motivation behind pursuing the desired stream, and so on.
SOP serves as a crucial step in the selection process. This is the step wherein you will be provided with the maximum freedom of thought to put forward your eligibility for the course you applied for.
It becomes crucial that you let your creativity flow and be very natural. Try not to exaggerate while putting forward your points in an effective and concise way.
This article will provide you with a framework to help you guide your SOP in a way that impresses the admissions committee while being yourself.
Is SOP really important?
Many might not realise the crucial role of a Statement of Purpose in your selection process. However, SOP is as important as your test scores and LORs as it is like your mirror image. Everything noteworthy about your qualities must be mentioned here.
Statement Of Purpose will work to highlight those factors about you which could not be screened in the earlier selection process. Therefore, be as creative as you can in a straightforward way.
Points to remember
Let your creativity flow: the point of an SOP is to inform the admissions committee. You can inform them about your career goals or your achievements in an engaging way as possible. You should be able to hold their attention and impress them. To this end, having a real organic story is an excellent way to go. You can mention at what particular point of time did you decide to pursue the desired course.
Every university is looking for students who can add value to their institution. Therefore, demonstrate your capabilities as a valuable asset of the institution. You can do this by highlighting your skills. Also, universities are looking for those who are capable of taking up new challenges, are adaptable, and have a promising career graph.
You can also share your experience and past accomplishments to provide credibility to your claims. Your promises must be rooted in reality. They are not looking for a flowery language, but simple straightforward capabilities within you.
Express yourself: allow full freedom to yourself by highlighting your passions and how the desired course and the university will help you achieve them. Do not be afraid to write your failures too, remember no one is perfect, adding your failures could work in making your SOP more realistic and lively.
Be very precise in your words. Try not to use vague and exaggerated words without providing substance to them, like "goal-oriented": about what? do you have a plan ready to achieve your high goals? are they realistic? and a lot more questions need to be justified.
Remember, providing credibility to your skills is very important. You can do so either by highlighting your past accomplishments or by creating a story that will lead to a logical conclusion to the skills you have provided.
Ideal Features
Page length: should not exceed 1-1.5 pages. Try to be as concise and straightforward as possible. Do not provide excessive information.
Font size: the ideal font size is 12 pt.
Paragraph length: no will read overly wordy long paragraphs with long sentences. Divide your content into multiple small paragraphs with concise sentences.
What all to include in an SOP?
Introduce yourself, give a brief about your past, followed by your immediate career objectives. Highlight what inspired you to take up that particular course, and mention any relevant books you have read or taken up any relevant projects.
Also, provide a piece of brief information about your work history, certification and other relevant work done. Close the SOP by providing your long-term goals.
Points to note
Try to maintain a positive voice throughout.
Start good as the first impression is highly significant to draw the interest of the admissions committee.
Do not be stressed, just be yourself throughout the SOP. Just act out your natural creative self.
There should be a logical flow in your writing.
Be precise and try not to exaggerate your accomplishments.
Do not get too emotional.
Do not be too focused on your aspirations. Remember to be rooted in reality.
You can mention the influences in your life.
Add your distinctive and unique qualities.
These are some of the points you should keep in mind while drafting your SOP. Refer to the referenced SOPs below:
1.) For IIM Bangalore: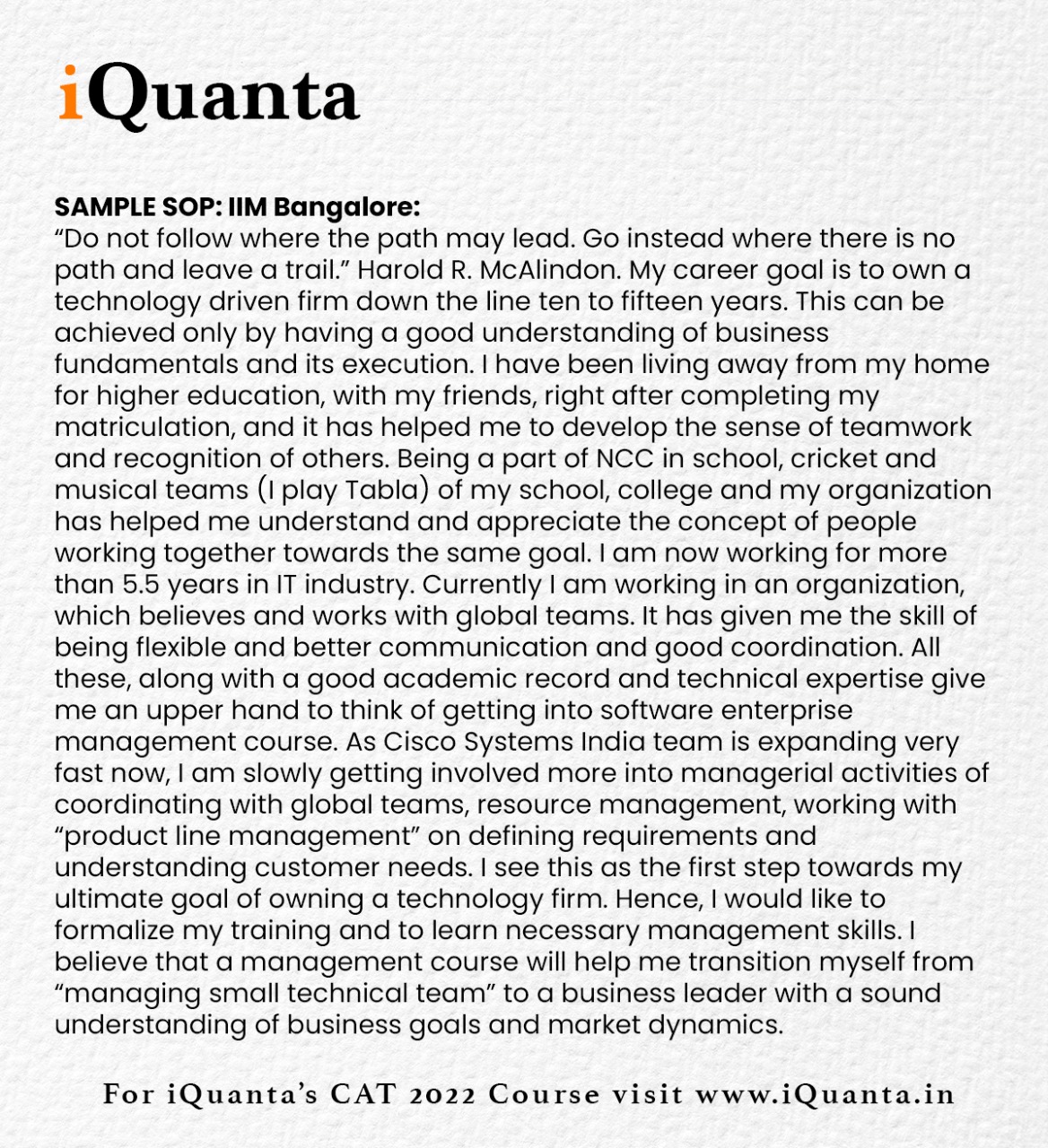 2.) For FMS: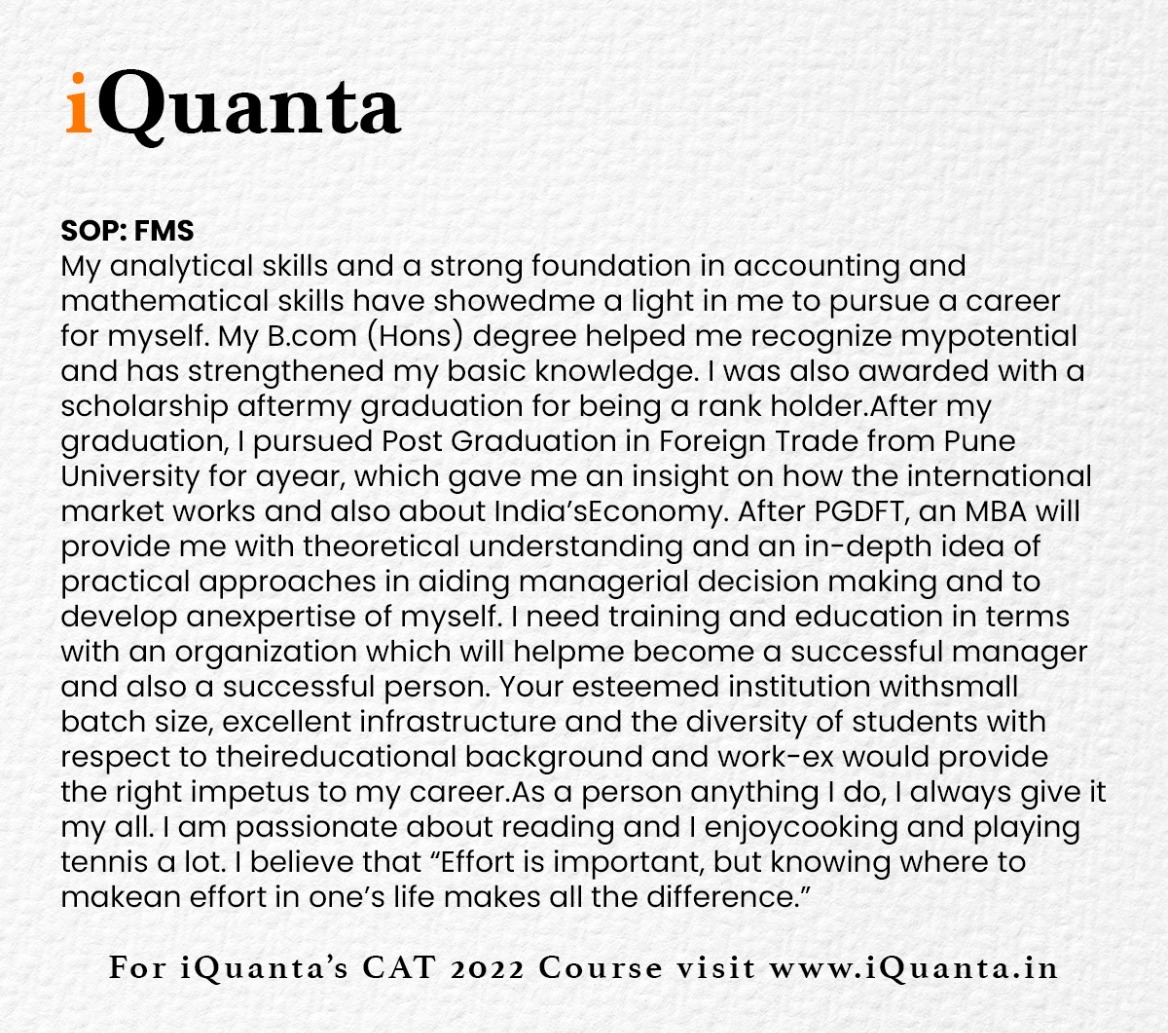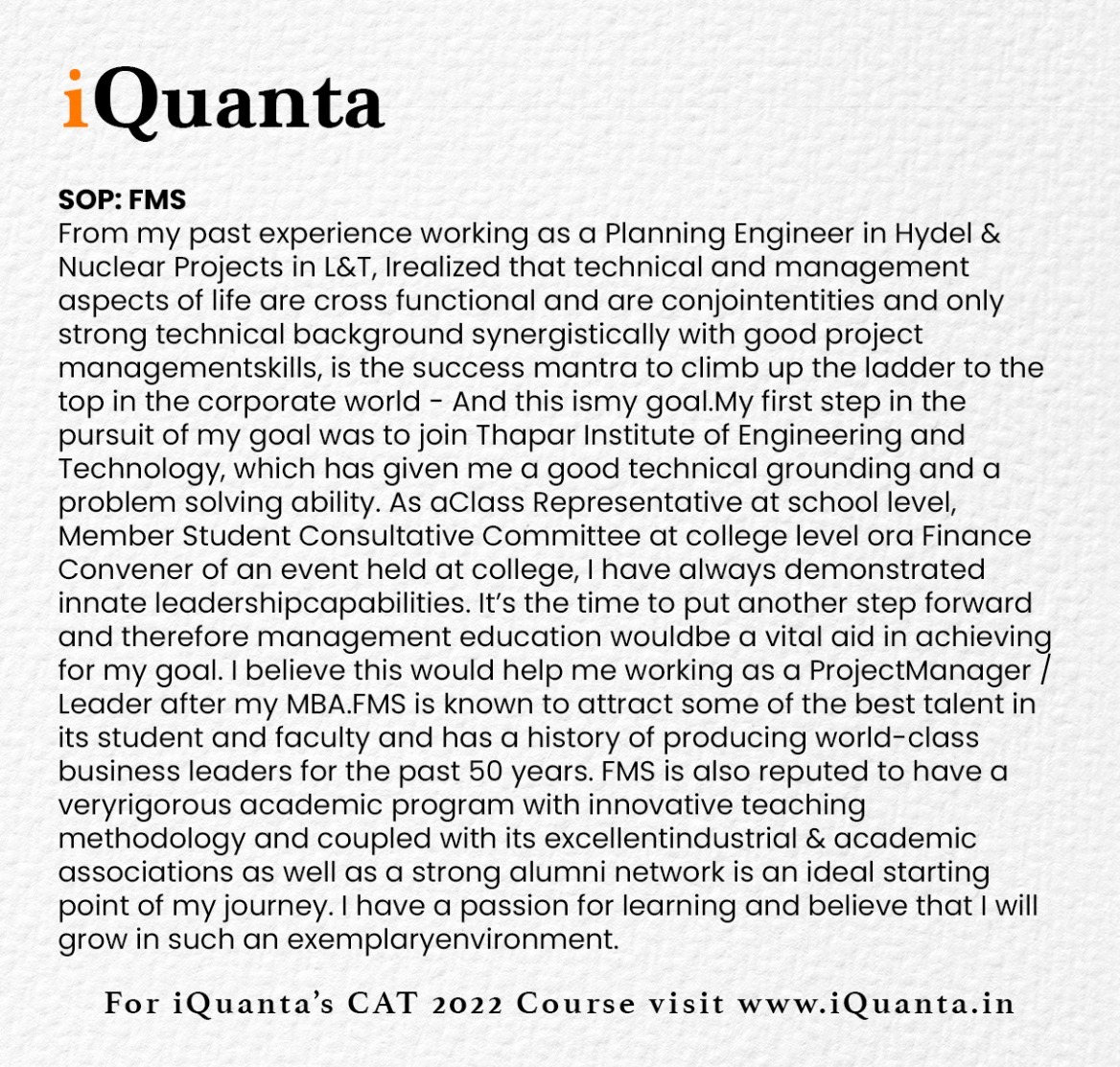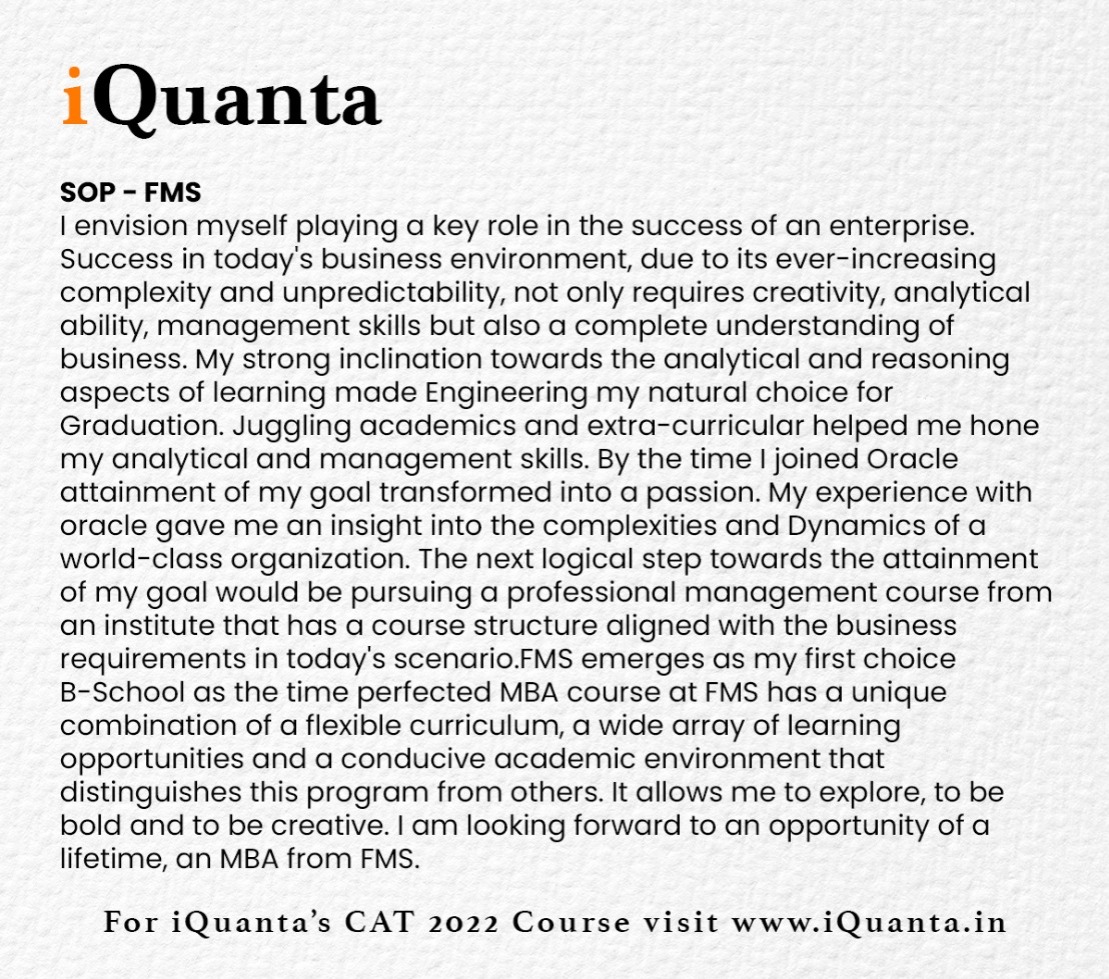 3.) For IITs: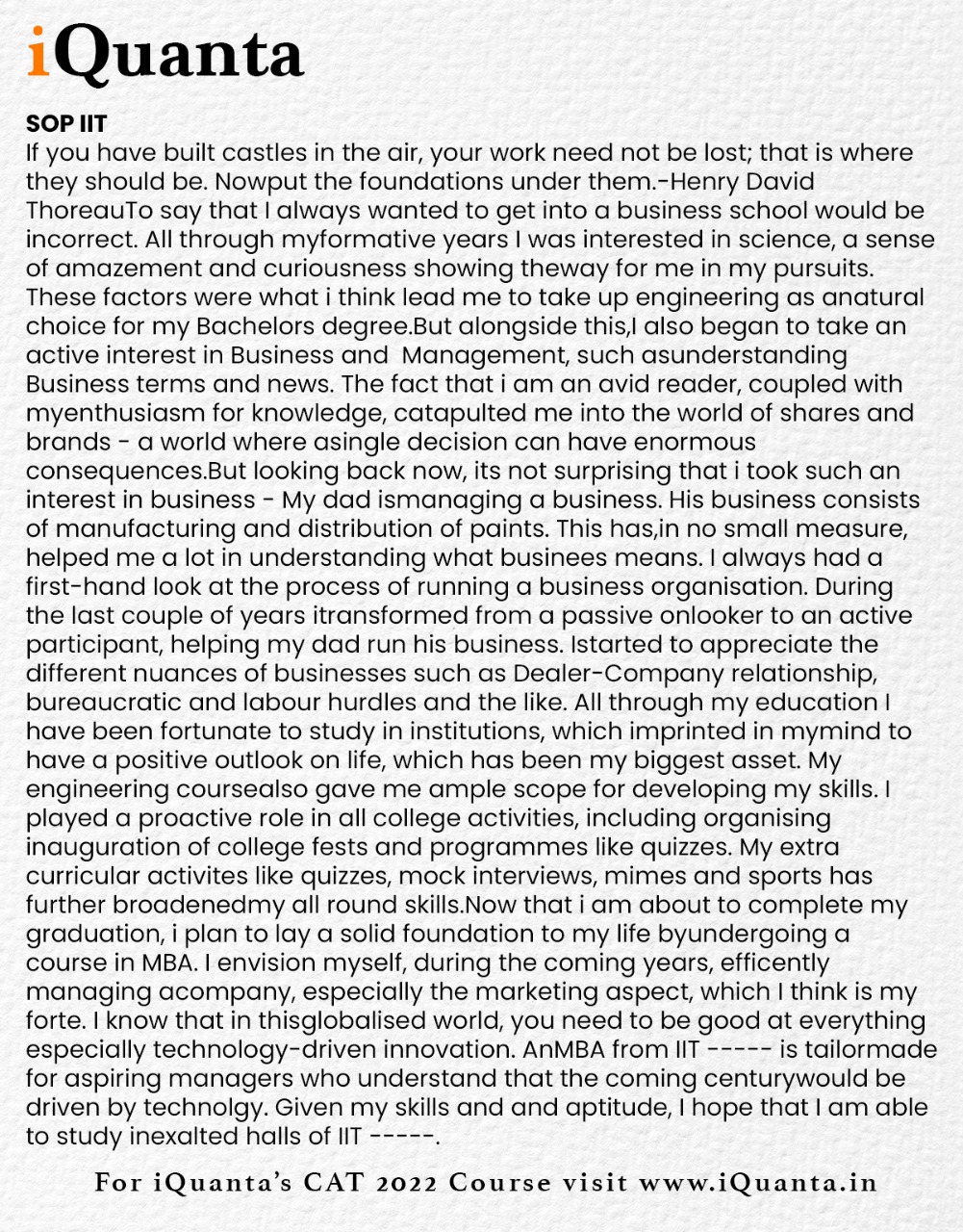 4.) For IIMs: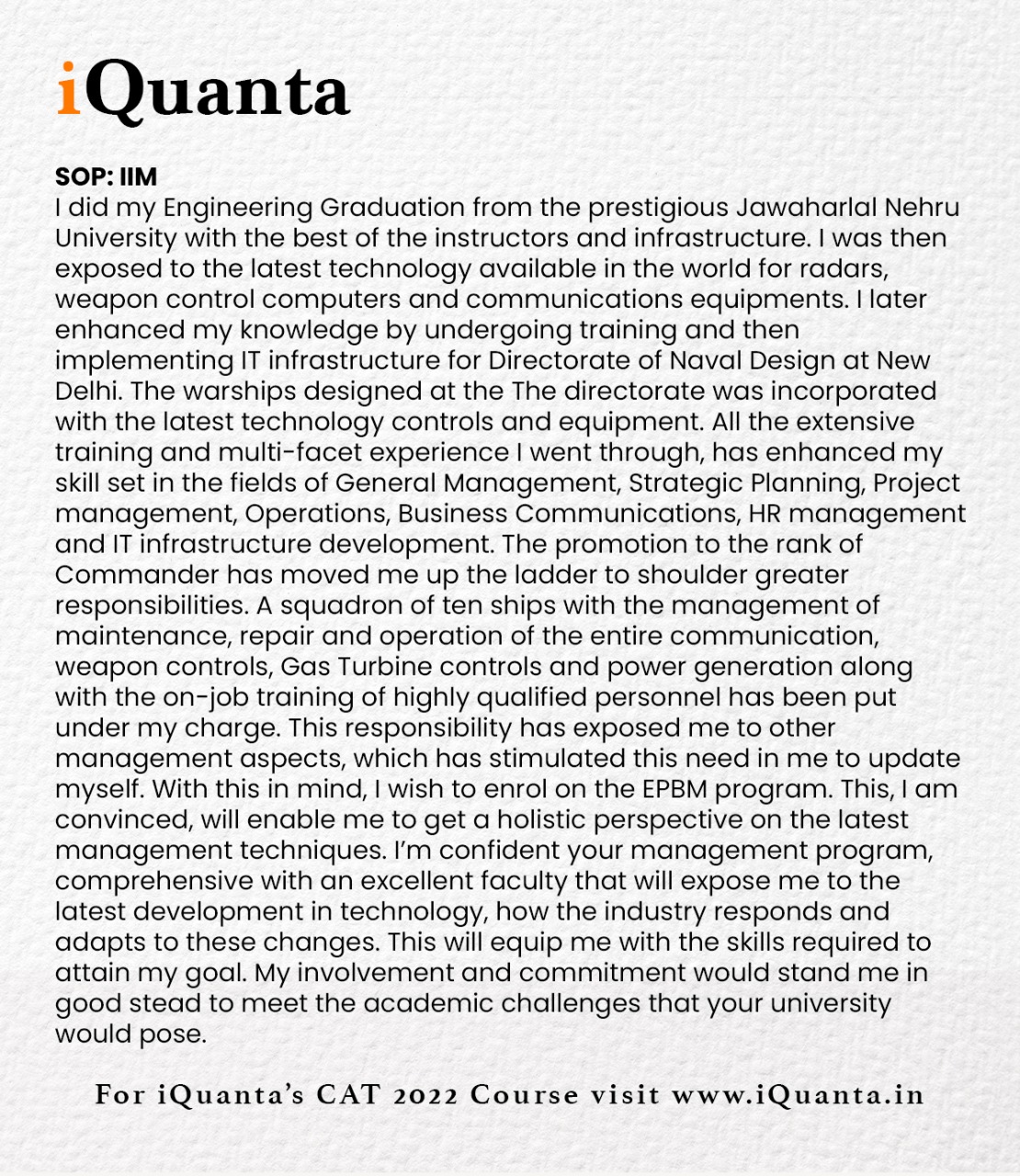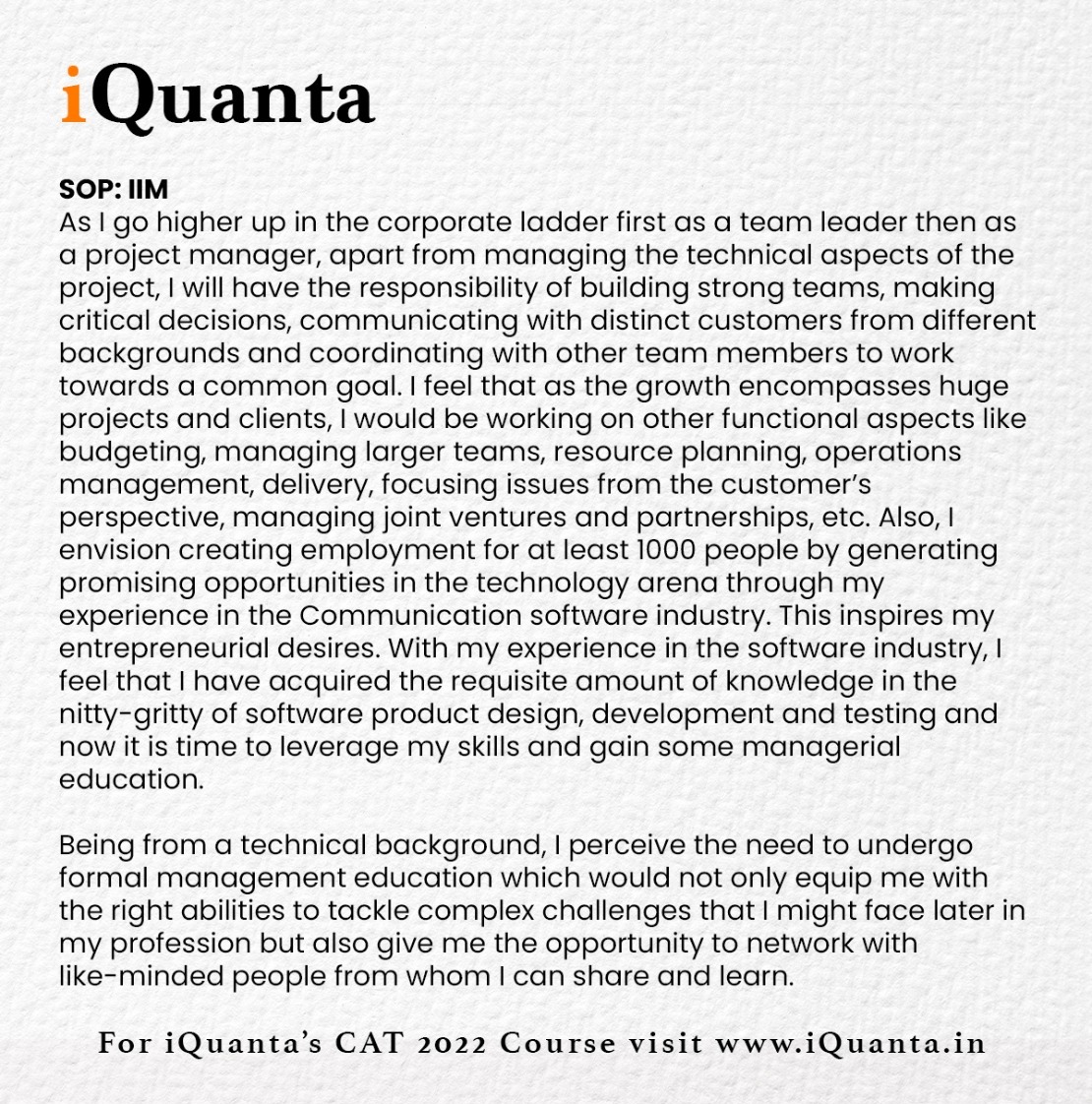 To get comprehensive guidance for your CAT 2022 preparation, visit the link below:

You can also get your doubts resolved 24×7, get FREE counselling and general guidance on our Facebook group: