TISS

Summer Placements 2022
Placements have always been a deciding factor in choosing an institution for higher studies and same goes for TISS. Since I have been part of HRM & LR program I will mostly deal with that but I will try to include some bit about other courses also. Apart from HRM & LR courses like Analytics, ODCL, MPH, MHA etc have good placements. Within its three campuses TISS Mumbai has the highest strength and is known for some top placements in India both in corporate as well as in civil society institutions. I am Rohit Kumar, a student at TISS Mumbai and I'll be sharing my personal TISS Placements 2022 experience along with the TISS summer placement statistics.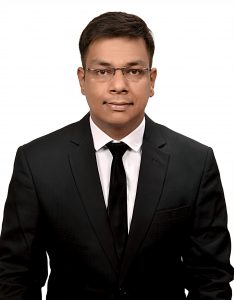 Moving on with a bit of introduction of HRM & LR course and this year's batch. Human Resource Management and Labour Relations is the flagship program of TISS and is known for providing best HR professionals in India or even outside India. The course started with a number not even crossing 20 and today in 2022-24 batch we are seventy seven aspiring HR professionals. A batch which has a diverse background from fresher to people having 5-6 years of work experience to people having 5 years of gap. Students of engineering, Business, commerce, sciences, doctors and what not. Now let's talk about the TISS placements 2022 process and how was the experience.
---
---
TISS

Placements 2022

Guidelines
Before even attending our first day at the institute we were given guidelines about CV preparation, what to wear in pre placement talks, interviews and placements in general. This was done by senior student committees to prepare us for the TISS placements 2022 process which starts as soon as we enter the campus. Now placement process here includes both preparation and actual placements. We were to attend regular pre placement talks, sessions by seniors for our summer placement stages and all this while completing assignments, attending classes, preparing for tests etc. As far as I know this is how a normal B-school life is.
---
---
TISS

Placements 2022

Preparation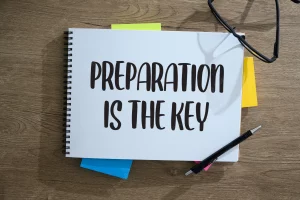 When it comes to preparing for TISS summer placements, mostly it comes to revising the concepts what is taught to us and preparing for behavioural aspects. We were divided into small groups of two to three and each group is assigned with a senior to guide us for overall preparation. We were given around 20 questions to prepare and write content on them then they were reviewed by our seniors and feedback is given to us. Seniors used to take sessions where concepts are either taught or revised. Then we were asked to give mock interviews, mock GDs to seniors and go through whatever has been taught to us as a part of our TISS placements 2022 preparation.
TISS

Summer Placements

Process
Finally, the day came when we were sitting for our TISS summer placements 2022 process. It started with filing forms for some organisations like TAS, Amazon, AON, etc which was followed by preliminary tests. Later we were called to our lecture hall known as A R Wadia where all of us were seated and organisations are sending list of students for group discussion on the basis of CVs or preliminary tests. It was day zero, people were continuously called for this organisation, that organisation. I was among those who didn't get a single Group Discussion call and there were not many people in this category. We were done for GD part by 8 in the evening and we were called again at 2:30 A.M. in morning.
---
---
It was the day for interviews. Again the cycle started. People were continuously called for interviews whereas I was still waiting for my first call for interview or GD or anything. It was 5 in the morning; I was sleepy, tired and emotionally drained. I was rubbing my eyes when a senior called my name Rohit! Rohit! Immediately, I straightened myself thinking that he must have seen me yawning and closing my eyes, which was the normal state of the class I don't know why I was worried about that. He said you are up for the interview with AON consulting. And then there was a lot of heart beat, my resume in my hand and me running down the hall towards the person who called me.
He escorted me to the interview room where panellists were waiting for me and I entered. Two panellists both were young and very serious looking. After exchange of greetings there were barrage of questions about my resume, my work experience, my choice of consulting as a career etc. It ended in ten minutes and I was disappointed as my confidence level was zero during interview, I was not ready at all. I came back to the hall sitting there waiting to disappoint myself again. Then that senior came back and called my name again I went there and he smiled at me saying you are in for summer placements at AON consulting.
---
---
TISS Summer

Placement

 Statistics
In the Summer TISS Placements 2022, the highest stipend was INR 4.4 Lakhs for two months, representing a 33% increase over the previous year. The top 10% and top 25% received average stipends of INR. 3.45 Lakhs and INR. 3.2 Lakhs, respectively. The mean stipend was INR 2.62 Lakhs, and the median stipend was INR 3 Lakhs, up 11.49% and 25%, respectively, from the previous year. 95% of the 77-member batch received a stipend of INR 2 Lakhs or more. Conglomerates will have the most candidates interning, followed by FMCG, Consulting, and Pharma.
Top Recruiters : The top recruiters in the TISS 2022 placements included Amazon, followed by Aditya Birla Group, Asian Paints, Dr. Reddy's Laboratories, Piramal Group, Reliance, and Tata Steel. Pernod Ricard India & Texas Instruments were back on campus after a hiatus.
S

ector Wise

Recruiters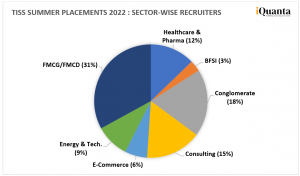 By the end of the day, 100% of the class was successfully placed, and the highest stipend was INR 4.4 lacs for two months. The TISS summer placements 2022 program's history's largest numbers ever were recorded during the placement season.
Recruiters : Accenture Strategy, Asian Paints, Aditya Birla Group, Citi, HUL, ITC, Mahindra and Mahindra, Marico, Nestle, Piramal Group, P&G, TAS, etc.
Every placement season, TISS Mumbai sets new records, and we hope this trend continues in the future. We congratulate the HRM & LR batch (2022-24) students and wish them the best of luck in their future endeavours.
If you are looking for a structured plan to prepare for TISSNET 2023, visit www.iQuanta.in/mba or click on the image below.