Zomato IPO, register on it via Zerodha app 
---
The IPO round which happened between 14th-16th July saw a subscription of 38.25 times on the final day of the bidding process. Being a startup that is yet to become profitable, getting such an overwhelming response was quite unexpected.
In the last few years, Zomato has grown tremendously with 30 million orders in 2018 which increased to 400 million orders in 2020. Along with orders, there was significant growth in revenue, average cart size, number of partner restaurants, delivery partners etc.
In 2019, Zomato was making close to 1400 crores which increased to 2700 crores in 2020 despite pandemic times. This shows the importance of food delivery and a shift in the eating preferences of consumers.
Unit Economics
Whenever a user places an order, a certain amount is paid to Zomato. Zomato then cuts the commission along with delivery charges and then pays the remaining amount to the restaurant partner.
In order to have positive unit economics, Zomato needs to make more from commissions and delivery charges than what they spend in delivering orders. But Zomato was not able to do that for quite a long time.
However, this changed during the pandemic because of an increase in a metric called the average order value (AOV) or cart size. More the AOV more will be the commission for Zomato.
Zomato spends the same money to ferry a Rs 200 order or a Rs 500 order. But more money is made from the Rs 500 order due to the high commission amount. Hence, an increase in average order value will help in improving unit economics which happened due to the pandemic.
The average order value rose   from Rs 264 for the period between March and June 2019, to about Rs 400 during the last 3 months of 2020.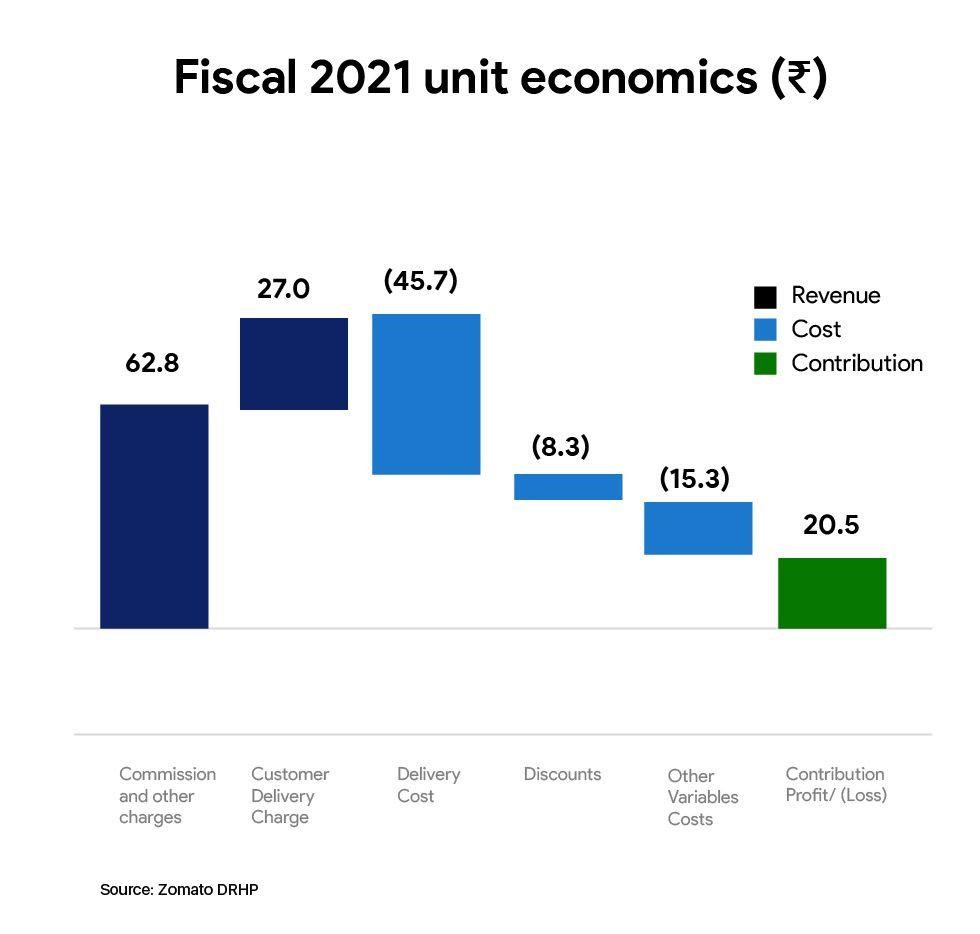 Reason for Increase in AOV
The major reason is that restaurants have shifted to deliveries and take-aways thus changing the eating behaviour. People prefer to order online rather than going to a restaurant.
People are working from home so the family size has increased. Due to this, more food is being consumed thus increasing the average order value.
Also, a lot of students and bachelors used to order online. They have now shifted to their homes and are exerting their food habits on their families. As Zomato noted in an interview in September 2020 — "Orders with meals for 3 or more persons have recovered well and are higher than even pre-covid levels currently"
Due to the pandemic, people are adjusting to the new normal. The overall AOV numbers have increased but as things started opening up, some people have returned to their work cities and there is a decrease in AOV numbers.
Hence, it is difficult to say if positive unit economics is going to continue for long.
Zomato Financials
In the initial few months of the pandemic, revenues took a hard beating. There was a visible dip in gross order value (GOV) as there were fewer active users on the platform.
Despite recovery and becoming positive unit economics, the company is still loss-making. There are many other costs like advertising and marketing expenses, employee cost, rent etc which when comes into the picture makes it loss-making.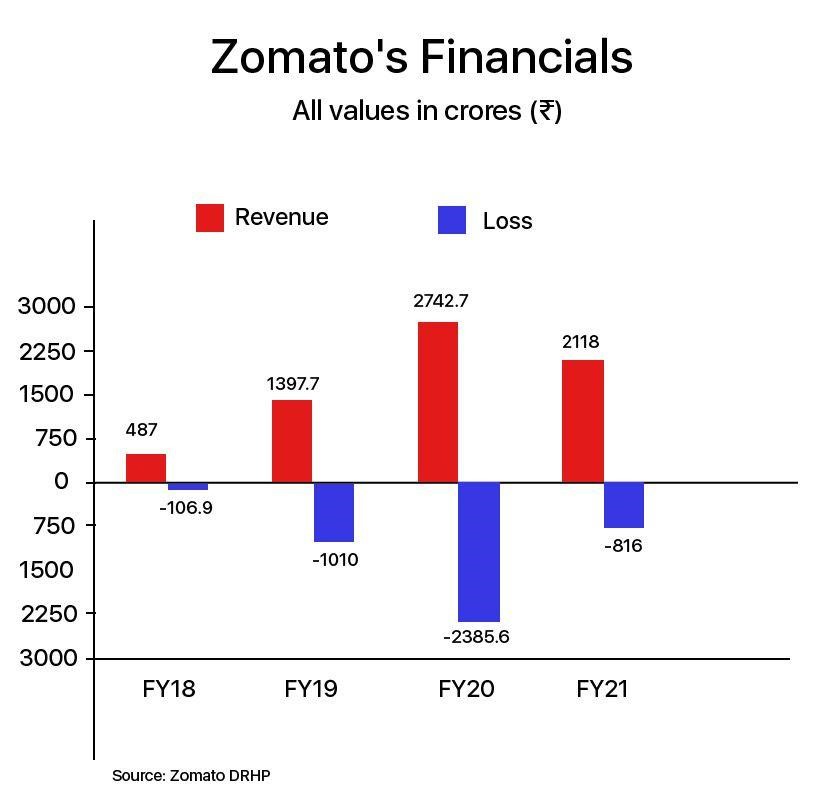 There are other sources of revenue too like advertising, hyperpure business, Zomato pro membership but the food delivery business dominates the top line and that's how people value the company.
Coming to valuation, there aren't any listed peers of Zomato so no one can say for sure if investors can make huge profits from the IPO.
One global option Doordash can be looked at. It's a US food delivery company that only recently went public with an eye-popping valuation.
However, Doordash and Zomato are miles apart. Doordash has better growth numbers, higher-order values, and makes more money by operating in a more mature market. Their shares are also not as expensive as that of Zomato.
Things are quite different in India. The food services industry contributes only about 8–9% to the food market in India. In countries like the USA and China, they make up nearly 40%-50% of the food market. So there is huge growth potential.
Conclusion
No one can say for sure how the profits are going to pan out. For now, the IPO has been oversubscribed even though a share was trading at a price band of Rs 72 to Rs 76. The target of raising Rs 9375 crores has been easily achieved.
To structure your CAT online preparation in an efficient way consider joining iQuanta which is a top online cat coaching institute and being a part of the iQuanta CAT 22 Course.
You can also check out and be a part of their Facebook group for peer learning, doubt solving and free material.


For 24*7 doubts-solving, FREE guidance and counselling and peer to peer learning, join the CAT preparation Fb group below: