BMW Car for iQuanta's 100%iler in CAT 2022
Yes, you heard that right. iQuanta, to motivate its students, is giving a BMW car to CAT 100%iler as a gift!
Motivation is key to cracking your exams. Therefore, iQuanta offers this prize to help their students win big! Study hard and crack not only your dream B-school but also get your hands on a BMW car with 100%ile in CAT 2022.
Your preparation is ready to take a drive on CAT journey! (no pun intended :p)
The rule is simple: Any one of the 100%iler enrolled in the iQuanta CAT 2022 Course will get a BMW car!
Now, moving on, keep yourself motivated and stay on the course of your preparation to ensure that you crack your dream b-school. Remember to always focus on gaining long-term happiness over short-term pleasures. This concept is best explained through the psychology term 'delaying the gratification of wants'.
Implement this idea, and keep a promise to yourself that you will avoid all distractions, and all short-term pleasures so that you are able to secure your long-term future.
There are a lot of things that can be achieved with this idea. Let us start by implementing your CAT journey first.
Now you are all motivated and want to proceed further, how should I do it? you might ask, therefore iQuanta's founder Indrajeet Singh himself laid out a clear strategy for you all. If you follow it, your chances of converting your dream will increase manifold!
---
---
Check out the CAT 2022 syllabus and iQuanta's course flow here!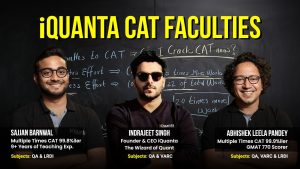 Prepare for a 100 percentile in CAT with the best mentors and best strategies with iQuanta.
The final batch for CAT 2022 has been launched and last few days are left to enroll. Do not miss out on the BMW! Visit the link below and enroll now.

To become a part of India's largest CAT preparation community, join the group linked below.