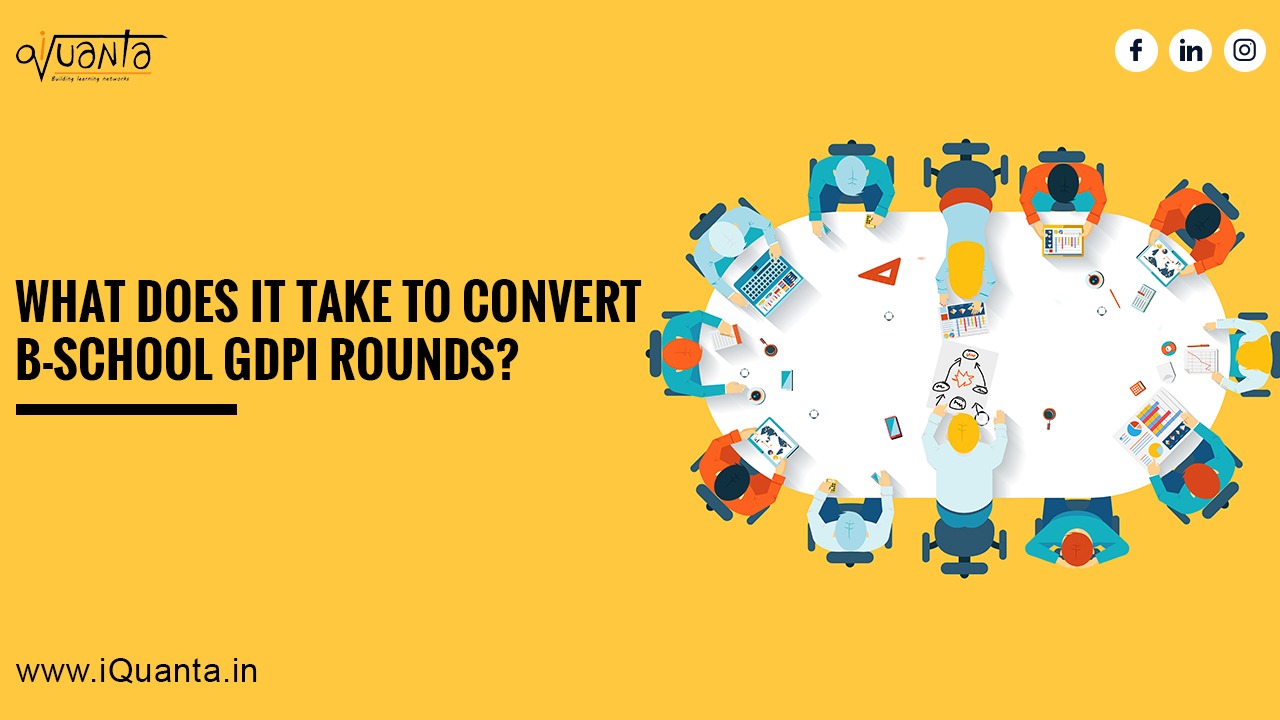 What does it take to convert B-school GDPI rounds?
The GD-PI rounds are the final mile in the journey of your coveted B-school. They are as tough, if not tougher, than their preceding aptitude tests like CAT because of the following reasons:
Tougher competition because you are pitted against the best performers of CAT etc.
You need to know, not just the answer to the questions, but also 'how' to answer them.
They have a broader testing area than aptitude exams like CAT.
This article contains tips and techniques regarding how you can tackle the above challenges and clear these rounds.
Self-awareness
This is a good time to explore and know and recollect the important things in your surroundings. Whether it was your school's motto or the chapters of a subject in your second year of college; whether it is the MLA of your constituency or a famous actor who hailed from your city – start to note these things in one place. The closer something is to you (for example, your city), the more depth you are expected to have about it as compared to something which is not (for example, a neighbouring country).
Good communication has a distinct advantage in the GDPI process because it is an integral part of your personality. This does not mean that merely good communication skills will help you sail through because you need the practice to apply them in the interview and GD scenario. On the contrary, if you believe your communication skills are not up to the mark, it does not mean that you cannot clear these rounds – you can work on communication like any other skill.
Just like you cannot perform well in CAT without adequate practice and mocks, you cannot perform effectively in these rounds without practising for these rounds. Ensure that you have mock interviews with trained professionals who not only ask you the right questions but deep-dive into your profile to help you craft the right answers. Know how we can help you with this through our course here.
Steer clear of generic answers
If you are googling "how to answer Why MBA?" and copy-pasting those answers, so are 20,000 other candidates. How impactful do you think your answers will appear to the interview panel? Ensure that you craft customised answers to HR questions based on your life story. The idea is not to have perfect responses but rather those which represent your unique personality.
iQuanta GDPI course will help you ace your B-school rounds. This is a 1:1 coaching format and our expert coach, Mudit Yadav helps you prepare the most effective responses to expected questions based on your profile.
Link to the course: www.iquanta.in/course/gdpi

Features of the iQuanta course:
3 mock interviews and personal coaching sessions with Mudit Yadav.
2 videos on WAT, Resume, GD preparation.
WAT coaching and practice (unlimited).
GD coaching and practice.
Resume building and checking.
SOP building.
Communication and confidence enhancement.
Extempore speaking.
About the coach
Mudit Yadav is the founder of MY Success Coach and works as a keynote speaker and an internationally certified success coach. He has spoken to more than 415,000 people from more than 48 countries and also at multiple TEDx events. He is the author of the book: Be Invincible – The mindset, skills and habits for sustainable growth and success.
At 23, he became India's youngest coach and also works with celebrities, executives and entrepreneurs to be more successful, develop greater presence, enhance their communication and lead a life of abundance. He has conducted sessions for Google, Big 4 firms, IIM Ahmedabad, IIM Calcutta, XLRI, Big 4 firms and many other renowned organisations. He represented India in 2014 at London for a Speech Contest and ranked finalist among 44,000 global contestants. He is also a Chartered Accountant, CFA Charterholder and ex-strategy consultant.

Link to the course: www.iquanta.in/course/gdpi